A 71-year-old Sikh man was attacked by two masked men while on his early morning walk in Manteca, California, on Monday in what authorities say could be a hate crime.
The attack on the man identified as Sahib Singh was captured on a nearby home's security camera shortly after 6 a.m.

In the video, two masked men approach Singh and after a brief interaction, Singh tries to walk around the two men by going into the street. The masked men follow him and after another brief interaction, one of the assailants suddenly kicks Singh, causing him to fall back to the ground with his turban falling off.
After getting up, Singh tries to defend himself and is kicked again, falling to the ground a second time. The 71-year-old remains on the ground as the two men walk away, but then suddenly, one of the men returns and kicks Singh three times and appears to spit on Singh before leaving.
The Manteca Police Department did not immediately reply to a request for comment from BuzzFeed News, but the Manteca Bulletin reported that authorities were looking into the incident as a robbery attempt, but "are not ruling out the possibility of it being a hate crime."
In a statement, the Sikh Coalition, a civil rights organization based in New York City, said it was "deeply concerned" about the assault.
"We are currently investigating the case and looking to directly connect with the impacted community member to guarantee that his legal rights are protected and that all steps are taken to thoroughly investigate this crime," Sikh Coalition Legal Director Amrith Kaur said. "At this stage, we are closely monitoring the situation in order to determine what the evidence shows the motivation of this vicious attack to be. We hope to learn more soon and will share appropriate updates then."
Sikhism, a religion that started roughly 500 years ago in the Punjab region that now inhabits India and Pakistan, has over 30 million practitioners worldwide, with an estimated 250,000 living in the United States.

Practicing Sikhs like Singh are usually identifiable by their beards and turbans, which are important symbols of their faith.
Sikhs are often mistaken for Muslims in the US, and since 9/11, the community has been the subject of many hate-inspired attacks.
On Sept. 15, 2001, just days after the terrorist attacks of 9/11, Balbir Singh Sodhi, a Sikh gas station owner in Mesa, Arizona, was shot and killed by Frank Roque, who mistook him for an Arab.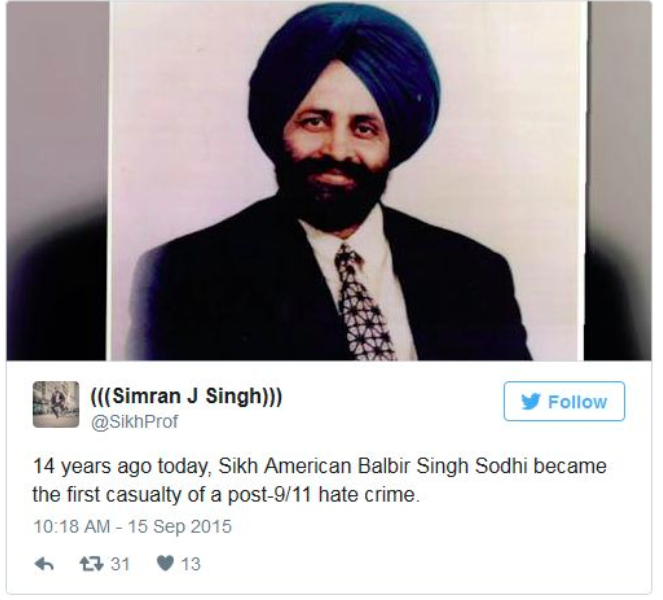 This is the second attack on a Sikh man in California's Central Valley in the last week. On July 31, Surjit Malhi was attacked by two men who threw sand in his eyes and beat him while allegedly shouting, "Go back to your country!" according to an interview he gave to CBS Sacramento. That phrase, along with a Celtic Cross, was also spray-painted on his truck. Malhi credited his turban for saving his life, saying it softened the blows.
"I'm American, 100 percent, no doubt, so they say, go back to my country? This is my country," Malhi told the TV station. "If you are a real American and you love America, you should not do that. That is not the American way."
Republican Rep. Jeff Denham said in a statement that Malhi was placing lawn signs for his campaign when the attack happened and that he had spoken with him in the hospital.

"This is the third incident in less than two weeks where a member of my team has been a target and it must come to an end," the Republican congressman said. "Hate crimes have no place in our society. The people responsible for this reprehensible act of hatred must be brought to justice."