This is James Van Kuilenburg, a transgender 16-year-old boy from Frederick, Maryland.
Last Thursday, James and his mother, Nicola Van Kuilenburg, attended a Ted Cruz rally in their hometown.
James told BuzzFeed News he's interested in history, politics and the presidency. He said he talks about politics frequently with his parents and watches most presidential debates. Despite what Cruz has said about transgender people, James thought it would be cool to meet a presidential candidate.
Wrapped in a trans pride flag and donning a T-shirt from the National Center for Transgender Equality, James and his mother went to the campaign rally at the Weinberg Center for the Arts.
Nicola said James believed most people attending the rally likely have never met a trans person before — and James wanted people and Cruz to know that anti-LGBT rhetoric hurts people like him.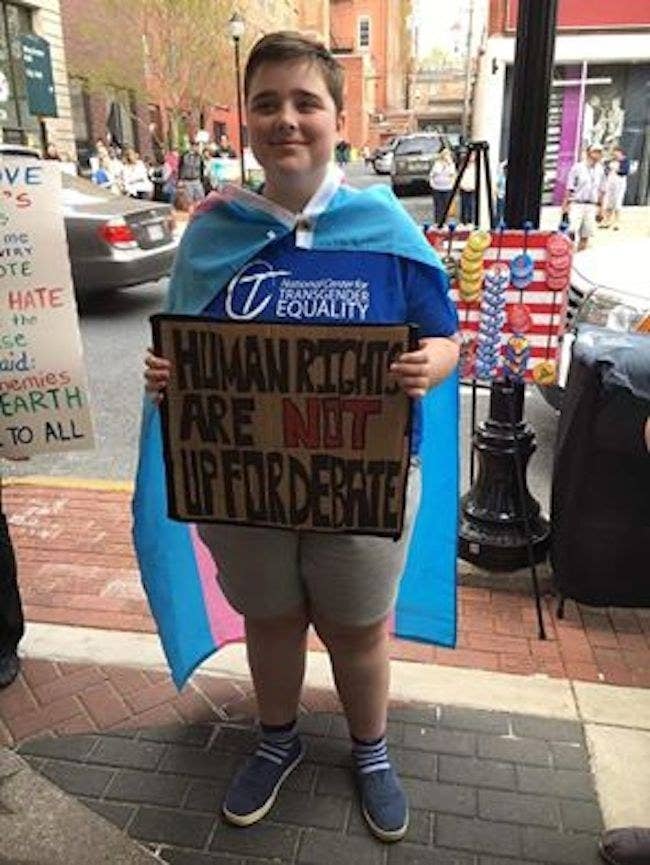 Cruz has openly supported the controversial North Carolina state law that bans transgender people from using restrooms in government buildings that match their gender identity. He also slammed Donald Trump for opposing the law.
"Gosh, he thought that men should be able to go into the girls' bathroom if they want to," Cruz said. "Have we gone stark raving nuts? Here is basic common sense. Grown adult men, strangers, should not be alone in bathrooms with little girls."
Over the weekend, Cruz compared transgender people to Trump dressing like a woman.
"Even if Donald Trump dresses up as Hillary Clinton, he shouldn't be using the girls' restroom," he said.
James told BuzzFeed News that the rhetoric of Cruz and some GOP supporters concerning the LGBT community "is very dismissive and almost like we're not real people."
He said he worse his trans-pride T-shirt and flag not to make a statement but to identify himself. "If everybody is going to go wearing American flags, why can't I wear my flag," James said. "I'm not afraid to be visibly trans."
When they arrived, Nicola and James encountered a number of protesters mocking Cruz. Nicola said she and her son smiled but moved along.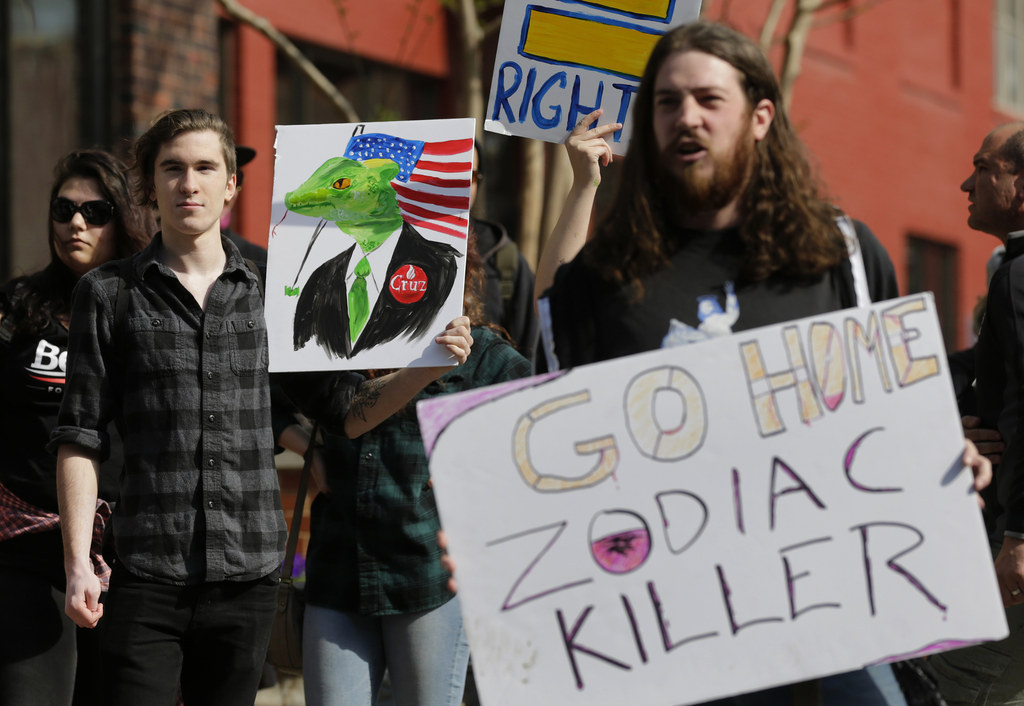 "They were very loud, but I wasn't looking for that," James said, adding that he and his mom hung around outside the venue holding up a sign that said "human rights are not up for debate."
"He was protesting by existing," Nicola said. "He was daring to sit in a room and listen to hateful myths about how scary trans people are."
Nicola and James discarded the sign before entering the arts center because he wasn't allowed to have it inside. Once they walked through the door, Nicola said showed her purchased event tickets to a staff member and had her purse checked by security.
They reached their seats about thirty minutes before Cruz was scheduled to speak. Nicola took a photo of her son and then checked work emails. James was playing around on his cell phone.
"It hit me while we were sitting there that my son, a 16-year-old kid, was sitting in a theater full of people who deny his very existence," Nicola said, adding that she was extremely proud of James.
While they were sitting "minding our own business," Nicola said, two men — a police officer and someone wearing a suit — came over, tapped James on his shoulder, and told him he has to leave. A photographer captured the moment: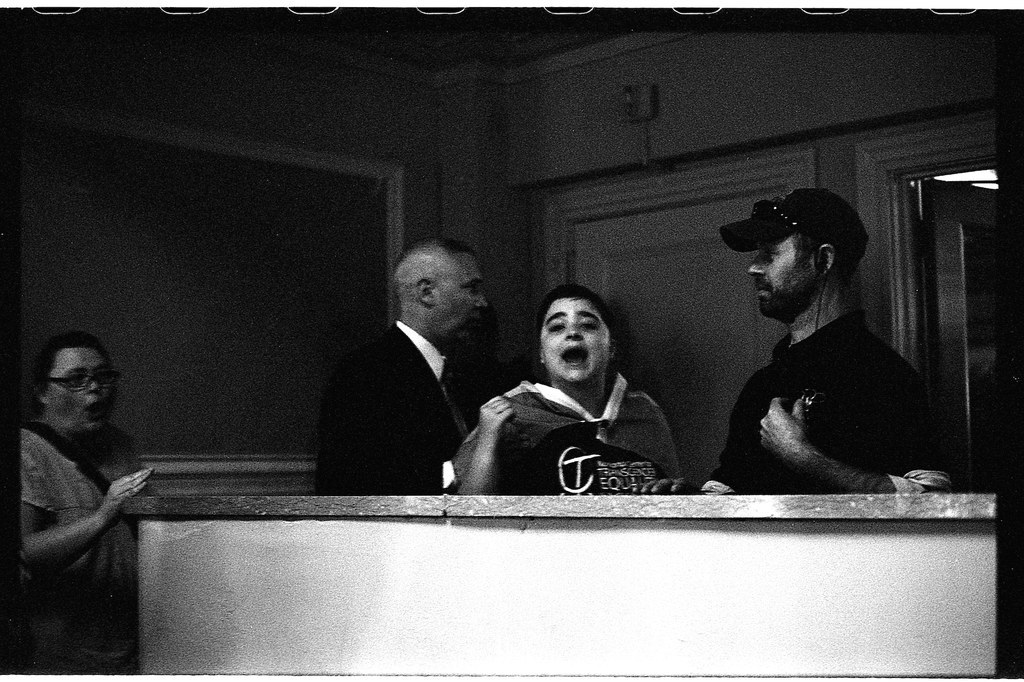 Nicola said she tried to intervene and ask the men what was happening.
"They don't want you here," Nicola recalls the man in the suit telling her.
James said he was grabbed by the shoulder and marched out of the theater. Nicola said asked the man in the suit again why this was happening, and he said, "the campaign doesn't want you here."
Messages to the Cruz campaign and the Frederick police department were not immediately returned.
James captured part of the interaction on his cell phone, which he was holding as he was walking out of the theater. In the audio recording, a man can be heard asking the Van Kuilenbergs to leave.
"We are not troublemakers," Nicola said. "It made no sense at all. We didn't want to escalate the situation but it felt like a walk of shame."
Nicola said she and James would have loved to sit through Cruz's talk — but she is nonetheless proud of her son and his bravery.
"It's just wild," James said. "I wasn't there with the intention of making a scene. Because I was visibly trans ... they acted as if I didn't deserve to hear him talk."