Penn State Forms Task Force After Fraternity's Secret Facebook Page Discovered
The move comes as police investigate allegations that members of Kappa Delta Rho posted photos of nude women to a private, invitation-only Facebook page.
University president Eric Barron announced Monday the formation of a task force that would examine a number of potential issues within Penn State fraternities and sororities, including sexual misconduct, alcohol misuse, hazing, diversity, and accountability.
The move comes as police investigate allegations that members of Kappa Delta Rho posted photos of nude women, some of whom appeared passed out, to a private, invitation-only Facebook page.
"This comprehensive examination of fraternity and sorority life and its culture will not be simple and it may not be comfortable," Barron said in a statement. "It will, however, be thorough and it will provide a blueprint for creating a stronger community that brings out the very best of what our fraternities and sororities can be."
He declined to take any immediate steps to suspend or expel students, citing the ongoing police investigation as well as that of the university's Office of Student Conduct.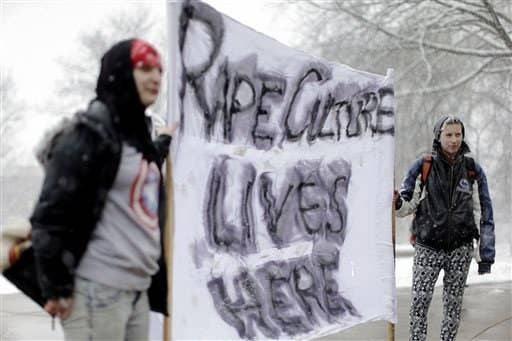 Dozens of Penn State University students held a rally at the snowy campus on Friday in support of the victims of Kappa Delta Rho fraternity's secret Facebook pages.
"We are here both to support the victims of Kappa Delta Rho and to call upon University leaders to take stronger, more decisive action," the organizers of the rally said in a statement.
It took Josie Rose, an alumna of the university, and Lauren Lewis, a junior studying journalism, two days to organize the rally.
"We march today to be clear that you, our leaders, must take a stronger stance to protect and defend the Penn State community from those who would disrespect and destroy it," the statement read.
The fraternity members are "cheapening the value of our Penn State degree," Rose told BuzzFeed News. "It's not OK when people are allowed to graduate having done something like this and say 'I'm a Penn State graduate.'"
In a letter sent to the university's administration, Penn State students are asking that all current students who are listed as members in the private Facebook group be placed on interim suspension while the criminal investigation is ongoing. They're asking for those found responsible to be expelled from Penn State.
"We want to be clear that students who are actively and passively responsible should be held accountable," Rose told BuzzFeed News. "It's not just about the people who took the photos. Anyone who was sitting idly by and laughing, thinking it's a joke is just as complicit."
Students are also asking for the university to sever all ties with Kappa Delta Rho.
"Most of the administration is at our board of trustees meetings at a different campus location today, including me, so I'm particularly sorry that I cannot be there to show my support," Penn State University spokesperson Lisa Powers told BuzzFeed News.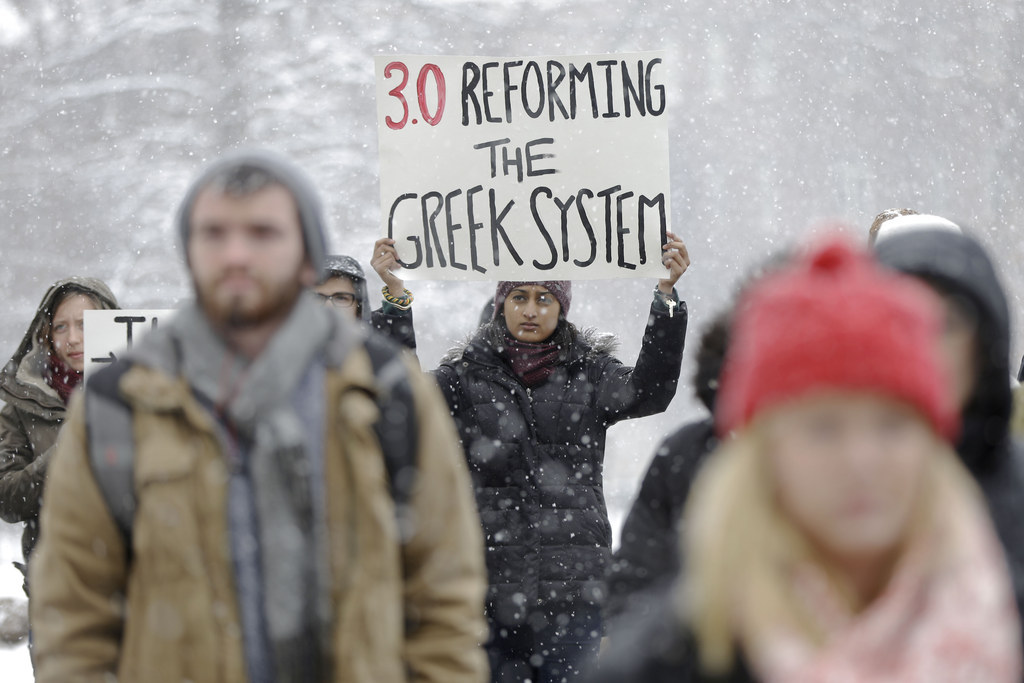 "I applaud our students for this initiative and for their willingness to step forward and share their emotions and thoughts on the KDR issue, and on sexual assault in general," Powers said in a statement. "Our community has the right to be outraged by the alleged actions that demean and objectify other human beings. The ongoing University and police investigation ultimately will reveal the facts, and those facts will be followed as the disciplinary and criminal processes unfold. Those found guilty will be held responsible."
Powers said the vice president for student affairs will be at the rally to meet with students and speak to the crowd. "He also hopes to meet with the rally organizers to share what is being done related to this ongoing investigation," she said.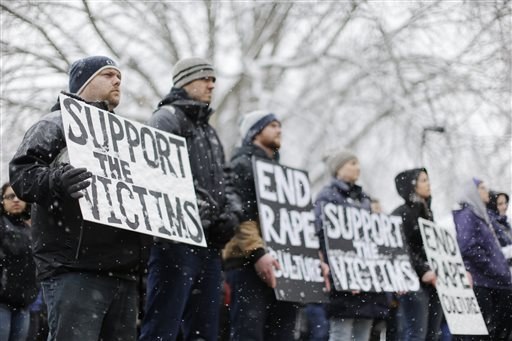 Some signs alluded to the anonymous comments a Kappa Delta Rho fraternity member made in an interview with Philly Mag in which he said the photos of nude women were "satire."
The rally comes a day after the phrase "Tear It Down" was spray-painted on a wall in front of the fraternity house.
It's not clear who wrote the message on the fraternity house, but it was quickly covered by a wooden board and some red cloth.
The same phrase was written on a wall outside the Sigma Alpha Epsilon house at the University of Oklahoma, which was suspended after a video surfaced of fraternity members singing a racist chant.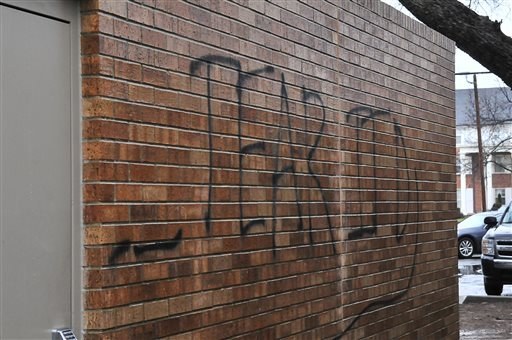 Powers reiterated that the university does not own the fraternity house, so unlike the Oklahoma case, Penn State cannot shut it down.