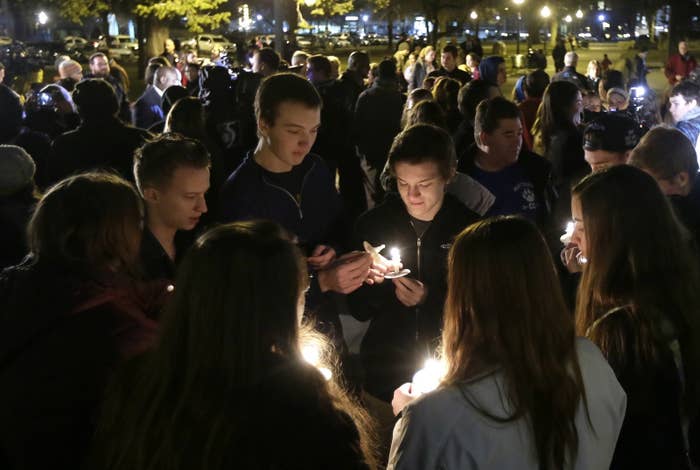 The former Uber driver accused of killing six people and injuring two others during a shooting spree in Kalamazoo, Michigan, surprisingly pleaded guilty Monday to all of the charges against him.

Jason Dalton's plea comes as prosecutors were preparing for a trial and lawyers were scheduled to interview potential jurors. As a result of his plea, Dalton faces a mandatory sentence of life in prison without the possibility of parole. He will be sentenced Feb. 5.
Dalton was accused of driving around Kalamazoo for several hours in February 2016 shooting at his targets, seemingly at random, killing six people and injuring two.
Prosecutor Jeffrey Getting said there was never a plea agreement on the table, adding that Dalton pleaded guilty against his lawyer's advice.
Dalton's lawyer, Eusebio Solis, said his client wanted to spare the victims' families of more grief, according to the Associated Press.
"I've been practicing law for 30 years and have never pleaded to life in prison without parole," Solis said.
Getting, the prosecuting attorney, said that Dalton's motive the night of Feb. 20, 2016, remains a "key question" that "everybody wants to know."
Dalton had told police after he was arrested that he was a "puppet" of the Uber app, which showed him a devil's head when he used it.
Dalton had recently started driving for Uber and told police that when he pressed a button on the app, he saw an "Eastern star" — a five-pointed star used by a sister society to the Freemasons — and a devil head.
"Dalton described the devil figure as a horned cow head or something like that and then it would give you an assignment and it would literally take over your whole body," the police report said.
Dalton was found competent to stand trial, and his lawyer said he would not pursue an insanity defense.
The victims' family members — as well as Dalton — will have the opportunity to address the court at his sentencing next month.
Thumbnail image credit: Carlos Osorio / AP; Bryan Bennett / Kalamazoo Gazette-MLive Media Group via AP.