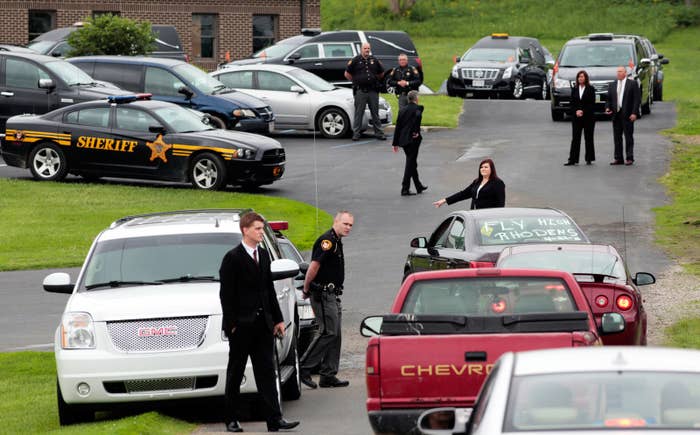 A family of four was arrested Tuesday in connection with the "execution-style" killings of a family of eight whose bodies were found at multiple sites in rural Ohio two years ago.
Ohio Attorney General Mike Dewine announced that a married couple and their two adult sons were charged with multiple counts, including aggravated murder, in the killing of seven members of the Rhoden family and the fiancé of one of the victims.
"We promised that the day would come that arrests would be made in the Pike County massacres," DeWine said. "Today is that day."

The suspects, identified as George "Billy" Wagner III, his wife, Angela Wagner, George Wagner IV, and Edward "Jake" Wagner, spent months "meticulously" planning the crime, DeWine said. They could face the death penalty if convicted.
The eight victims were found in April 2016 in four houses in the village of Piketon. All of them had been shot in the head, "execution-style," some of them in their beds, DeWine said at the time.
Killed in the attack were Christopher Rhoden Sr., 40; his former wife, Dana Manley Rhoden, 38; their three children — Clarence "Frankie" Rhoden, 20; Hanna Rhoden, 19; and Chris Rhoden Jr., 16 — and a cousin, Gary Rhoden, 38.
Frankie Rhoden's fiancée, Hannah Gilley, 20, was also killed.

Autopsies revealed that most victims were shot multiple times, including Christopher Rhoden, who was shot nine times.
Three babies, including a 4-day-old, were present during the rampage but left unharmed.
DeWine refused to discuss a possible motive for the killings, but said "the custody of a young child plays a role in this case." Edward "Jake" Wagner had fathered a child with Hanna Rhoden, according to the complaint.
Two other people — Angela Wagner's mother, Rita Newcomb, and Billy Wagner's mother, Fredericka Wagner — were also arrested Tuesday in connection with the alleged cover-up of the killings.
Authorities said they investigated more than 1,1000 tips from the public, conducted more than 550 interviews, and tested over 700 items of evidence. DeWine said the Wagners have been prime suspects "for some time."
Prior to the killings, DeWine said the Wagners studied the Rhoden family's routines and knew the layout of their homes.

"They did this quickly, coldly, calmly, and very carefully — but not carefully enough," Pike County Sheriff Charles Reader said Tuesday. "They left traces, they left a trail ... they forged documents, the cameras and cell phones they tampered with. And all the lies. All the lies they told us."
Authorities had previously said they discovered marijuana-growing operations at three of the four houses where the murders happened.
"This is not a plant in a window or six or seven plants in the backyard," DeWine told a local radio station in 2016. "They were doing this to sell."
DeWine said Tuesday that while drugs were not a motive in the crime, there is "an undercurrent of drugs" in the case.