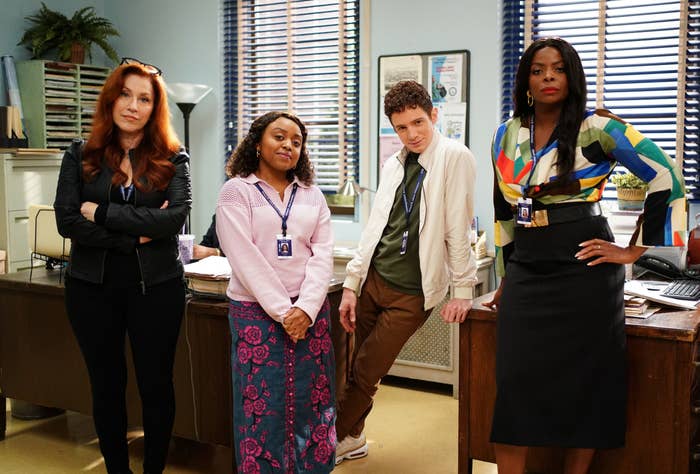 The moment Miss. Redacted, 24, a former early Head Start and high school teacher, knew that Abbott Elementary, a mockumentary-style comedy following a group of passionate teachers and a self-absorbed principal at an underfunded Black and brown majority school in North Philadelphia, was something special was when she watched the episode "Desking."

In the episode, students start a dangerous TikTok trend where they jump from desk to desk. Determined to put a stop to these antics, the faculty, which includes show creator Quinta Brunson as do-gooder Janine, self-assured Barbara (Sheryl Lee Ralph), no-nonsense Melissa (Lisa Ann Walter), substitute teacher Gregory (Tyler James Williams), and the egocentric principal Ava (Janelle James), ultimately decide to have Jacob (Chris Perfetti), the nerdy white teacher in school, participate in the trend so that kids think desking is lame.
Miss. Redacted, who uses an online alias to protect her privacy, found herself in a similar scenario where students would much rather learn a TikTok dance than the day's lesson. Instead of standing by and not doing anything, Miss. Redacted did what any creative teacher would do and pulled a "Jacob."
"[I'm thinking] I'm literally gonna get fired if one of these goes viral, and I'm sitting in the background doing nothing about this," Miss. Redacted said. "So I started jumping in the videos and doing it with them. They were like, 'Stop! Now, I can't post it,' and I was like, 'Yeah, that's what happens. Now, it's not cool.'"
Abbott Elementary just concluded its first season and is the highest-rated debut ABC comedy in years. It's also gotten a lot of positive feedback from people in the profession it portrays. New York middle school teacher and assistant principal Malikah Mahone, 26, finds the show surprisingly relatable and even discusses the episodes with fellow teachers at staff meetings.
"I've always said that I wish there was a show like The Office that reflected my life as a teacher," Mahone said. "It was just so nice to be seen on TV and, I know that's already a thing for Black people in general, but it's different to see such a specific thing like your career. To see that on TV is absolutely hilarious."
The prominence of Black teachers on the show is particularly meaningful to the real-life Black teachers I talked to, especially since Black teachers make up less than 7% of all teachers in the United States. The writers take great care in showing the support Black teachers give to their students. They also made an important character decision by including Abbott's only Black male teacher, Gregory, who begins as an emotionally uninvolved substitute and ends as a driven full-time teacher.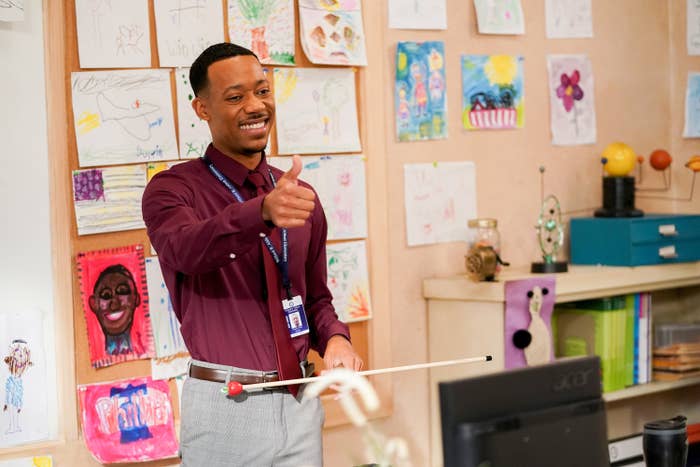 Marquise Richards, 26, who formerly taught fifth grade and currently teaches high school literature in North Philadelphia, connected with Gregory's attention to his students and his sometimes carefree dance breaks. Although Gregory may seem like just another teacher in the show, he's a necessary representation, especially when only 2 percent of teachers are Black men.
"There's not that many Black men in education [and] we don't get to see Black men all the time really interact with children," Richards said. "So, to see [Gregory] have to let loose during an episode and start dancing, I said, 'Oh, my gosh, this is so nice to see.'"
Representation isn't the only thing the show gets right. It also highlights how funny teaching can actually be. What's going on in school might be more sitcom-esque than people think. Some teachers, like Mahone, the New York middle school teacher, wonder if they're in a hidden camera–style show themselves.
"There's so many inside jokes as teachers that we make when something happens and [we'd] look at each other and wish that there was a camera that had just captured that moment," Mahone said. "Because there's no other way of explaining the insanity of what happens in school buildings sometimes."
One time, Mahone's middle school rented an ice cream truck to reward the students for state testing. After telling students to walk calmly and stay in line, Mahone face-planted in front of 200 middle schoolers in the pursuit of an ice cream cone — and she has the bruises to prove it.
Other times kids make teachers question everything. A fifth-grader in Richards's class said, "'If I die young, if I don't die old, I'm going out like a G!'" Similarly, in Abbott Elementary, Janine's transfer student, Courtney, created new renditions of the Pledge of Allegiance and wrote profanities on a chalkboard.
"There's so many inside jokes as teachers that we make when something happens and [we'd] look at each other and wish that there was a camera that had just captured that moment."
Overwhelmed teachers and unabashed students aren't the only things that make the sitcom relatable. Janine goes to great comedic lengths to fix Abbott's flickering lights and to get more school supplies, something teachers in real life definitely relate to.
"It can seem funny like we had to take our kids to the library for a trip because that's all we could go [but] it's really not funny," said Kaci Kelsey, a 27-year-old middle school music and math teacher in Philadelphia who has been teaching for four years. "This is all that we can provide for the students, and it's really unfortunate that it is that way. But I just feel like that happens a lot. Just the lack of support from school districts is … you would think it was something straight from a TV."
According to a 2020 report by the Public Interest Law Center, a Philadelphia-based nonprofit, public schools in Philadelphia need $5,000 more per student "to adequately support their students' learning needs and graduate them ready to compete in today's economy." It's the difficulty of getting that funding that Abbott Elementary can sometimes downplay. Janine's viral TikTok video to crowdfund for school supplies racked in thousands of dollars, but that isn't as easy in the real world.
"A lot of people don't realize that education is that way. I think a lot of people think it's like, oh, it's just sunshine and roses and rulers and 'I love my teacher' coffee mugs," Miss. Redacted said. "They don't realize it is a government entity and it is being controlled by a government entity. So there's a lot of baggage that comes with that."
At the same time, though, there's a reason Abbott Elementary isn't a documentary, because otherwise, we'd be watching older teachers like Barbara struggle to use a broken stapler because there isn't enough funding for new school supplies.
"I don't want to turn on the sitcom and be like, damn, y'all are also struggling for Kleenex?" Mahone said. "Sometimes you want a convenient relief … and that's what I think people need right now."
Are there other moments of the sitcom that feel a bit impractical? Can principals have a makeshift spa day during school hours and can a teacher get a pedicure during their lunch break? Probably not. But that's television for you.
If there is one thing that Abbott Elementary nails, though, is its humanization of teachers.
"Sometimes you want a convenient relief … and that's what I think people need right now."
"[Parents] expect us to be superheroes and they only have one insight into what we do as a job. They're not with us when we have to learn how to de-escalate children," Richards said. "We have to learn how to love on these kids but also have to potentially … ensure that these kids are safe, these kids are learning, [and] these kids are able to survive into the future."
The show gives parents an insider's look into the world of teaching and opens up the conversation about giving teachers compassion. It's also about much more than just the household; these stories can also create change in school policy.
"On a larger scale … for many members of our society who are in positions of power, who do not value educators, and do not value the amount of work and money that should be put towards developing our future," Mahone said, "hopefully, they're also getting a glance added on their evening scroll through TV, [and] can kind of acknowledge 'Wow, these are some of the challenges that teachers are being faced with yet they're so persistent and persevere.'"
At Abbott Elementary's core, it inspires teachers to continue bettering the schools they teach at and motivating the students that walk into their classrooms every day. Kelsey, the Philadelphia middle school teacher, was also a student in the same district and has seen just about every issue it's faced from two very different perspectives. Yet, she's inspired by the show's own portrayal of bettering the education system.
"I've seen probably all the bad things that are possible, and now, as a teacher, [I see] what I can do differently to make that a little better," Kelsey said. "Seeing it on TV also makes you think that is possible, too. 'OK, if they can do it? I might try that on my classroom today.'" ●