A Hashtag Pleading For Forgiveness Failed To Save This Man's Life
A Yemeni family had offered to pay the victim's family money while hundreds took to Twitter to ask for forgiveness.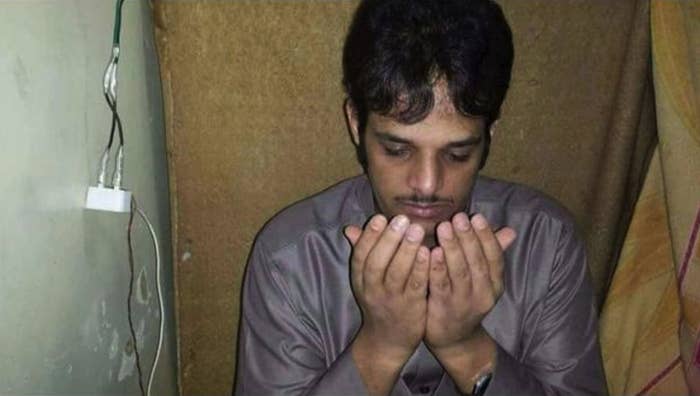 Abd Rabou Ouaidan spent the whole of his Tuesday night doing nothing but watch people on social media ask a Saudi family to accept his money and forgive his son. The family refused. His son was beheaded on Wednesday.
Four years ago, Ouidan's son, Ahmed, found himself in a fight with a Saudi man, Saleh Al-Fettaih, which ended in Ahmed stabbing Fettaih, killing him.
Saudi police arrested the Yemeni man and placed him on trial, which recently concluded in the judge handing down a death sentence. Saudi Arabia carries out death sentences by decapitation, in accordance with Islamic law, also known as Sharia.
But Sharia also gives the right to the victim's family to pardon their son's killer if he pays them money in a practice known as "deeah." The amount that is generally paid depends on what tribe and level of society the victim comes from.
When the date of the of the execution of the death sentence was announced, scores of people took to Twitter and used the hashtag #عتق_رقبة_احمد_عويضان, which translates to "Spare the life of Ahmad Ouidan," asking for the family's mercy and to stay Ouaidan's execution. Fettiah's killing was accidental, they said, according to the account provided by Ouaidan's friends.
Walid al Shumairy tweeted: "We call on Allah to inspire the family of the killed forgiveness and spare the life of prisoner Ahmed Ouaidan for Allah's sake."

Others tried using pictures of Ahmed's young daughter, pleading with the family of the victim to spare his life for her sake. "You people of high ethics and morals, please spare a girl who cannot stand the execution of her father," wrote Adel al Yamani.
Others thought the image of Ouadan's elderly father might trigger mercy in the hearts of the victim's family. One user published an image of the elder Ouidan and tweeted: "Forgiveness is the maximum level of power. Plant a tree today and you will bask in its shade tomorrow."
The last thing the man received from his son was a sad poem in which he spoke about his prison and hatred for restriction and his yearning for freedoms.
According to a video uploaded on Facebook, the chief of the Qahtan tribe, one of the larger tribes in Saudi Arabia, tried to interfere but was not allowed to meet the family of the victim.

When the victim's family made clear that it was rejecting any options for reconciliation, Saudi officials executed Ahmed. In a statement, the Saudi Ministry of Interior said it carried out the death sentence "out of keenness to preserve security and justice and warn anyone who might think of similar acts in the future."
Ahmed's execution comes at a time even as Saudi Arabia faces widespread criticism over the harsh punishment it continues to hand to people who protest against the regime or commit crimes. On Oct. 15, leaked cables reviewed by BuzzFeed News showed that Saudi Arabia had tried to spin its executions by managing media coverage as it tried to secure a bid to be elected to the UN Human Rights Council.