Egypt Has Sentenced This Teenager To Eight Years In Prison For Posting On Facebook
17-year old Raaga Imara was charged with spreading hatred of the regime on Facebook.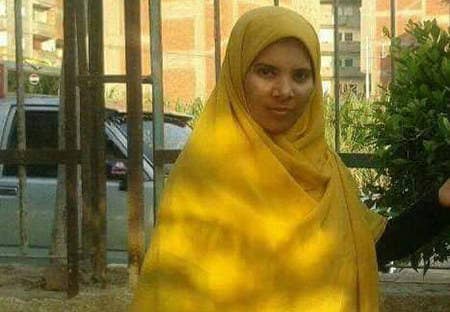 CAIRO — Egyptian authorities have sentenced a 17-year-old girl to eight years in prison after arresting and charging her with "spreading hatred of the regime on Facebook."
Raaga Imara, a student at a high school in the village of KomAl Noor in the Nile Delta, was arrested on Jan. 5 after police came and asked to search her home. "They took Ragaa and her father with them and said they just needed to ask them few questions and there is no need to worry," Imara's mother said in an interview with Al-Jazeera. "But they released her father only."
Imara has been sentenced to five years for "spreading hatred of the regime" on Facebook, and to an additional three years on charges of joining the Muslim Brotherhood, which was banned by Egyptian authorities in 2013. "They have decided to put an underage girl in prison with the adult criminals," Malek Al-Ghazaly, Imara's lawyer, said.
Imara's family denies that she is a member of the Brotherhood.
The sentencing of Imara is not the first time Egypt has charged teenagers in such cases — in 2014, 18-year old Mahmoud Mohamed was arrested and imprisoned for wearing a t-shirt with the slogan "Homeland Without Torture." Last year, four girls were given a suspended prison sentence for waving balloons with the Rabea hand gesture.
"Ragaa didn't kill or burn or call for vandalization," Samah, a friend of Imara's, told Buzzfeed News. "All that Ragaa did was express her political opinion on Facebook and even the Facebook page that Ragaa is accused of maintaining isn't calling for violence." The Facebook page — Students Against The Coup — has over 200,000 "likes" and contains posts and images that are critical of the government.

Samah said that they were against President Abdel Fatah el-Sisi "but that doesn't make us criminal or give them the right to destroy our future."
Since her arrest, Imara's friends and supporters have created a hashtag #Ragaa_Omara and tried to tell her story there. The official website of the Freedom and Justice Party, the political arm of the Muslim Brotherhood, has also published Imara's story with the headline "Secondary student facing Sisi's repression."
Imara's case is reminiscent of the case of "Girls of Alexandria," in which a court in Alexandria sentenced 11 teenage girls for joining the Muslim Brotherhood. The court later suspended its verdict.