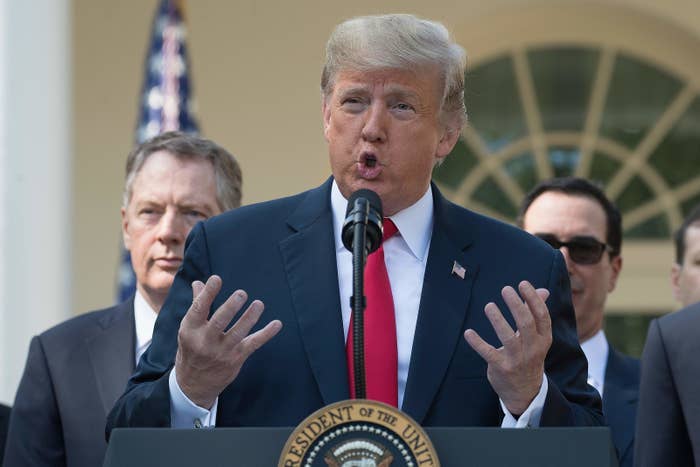 President Donald Trump suggested Monday that he's seen a Democratic senator in a "compromising" situation while answering questions about his Supreme Court nominee Brett Kavanaugh.

Trump's comments — interpreted by some as a veiled threat — came during a White House press conference, but he left the comment vague and never suggested who the senator might be.
"I happen to know some United States senators. One who is on the other side who is pretty aggressive. I've seen that person in very bad situations, OK? I've seen that person in very, very bad situations," Trump said. "Somewhat compromising. And you know, I think it's very unfair to bring up things like this."
His comments came in response to a question about whether Kavanaugh should be interviewed by the FBI as part of an investigation into "credible" allegations of sexual assault and other misconduct against him.
Asked later which senator and what situation he was referring to, Trump would not go into detail.
"I think I'll save it for a book like everybody else," Trump responded. "I'm not giving it to you."
BuzzFeed News reached out to Senate Minority Leader Chuck Schumer, the top Democrat in the Senate, for comment on Trump's suggestion that he has information on one of his members.
Trump's comments come the week after Kavanaugh testified in a high-profile hearing in response to allegations that he sexually assaulted Christine Blasey Ford in the early '80s, while both were still in high school. The Senate Judiciary Committee voted in favor of Kavanaugh's nomination along party lines Friday, after promising Arizona Sen. Jeff Flake that a one-week FBI investigation would be completed.
During his press conference, Trump praised Kavanaugh's response to the allegations during the Thursday hearing. "I think that he spoke very conclusively, and very well," Trump said.