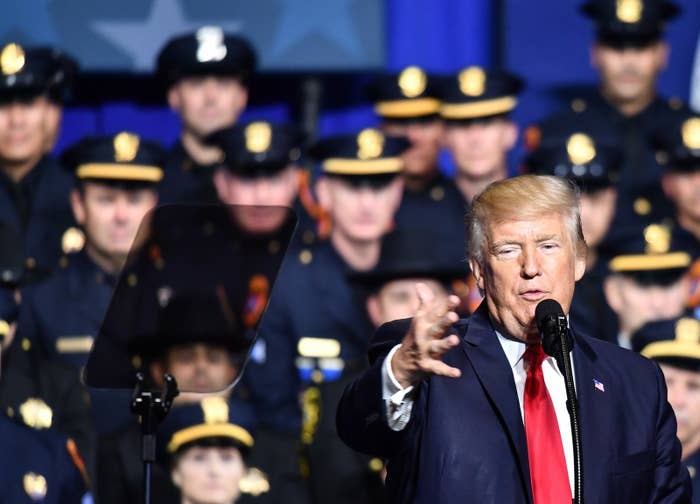 A civil rights organization said earlier this week that the Trump administration is violating the rights of underage immigrants by detaining them as gang members without sufficient investigation.
At least nine minors from New York's Suffolk County have been put in "restrictive detention" based on "unconfirmed allegations of gang involvement," according to a Thursday statement from the New York Civil Liberties Union (NYCLU).
"No child deserves to have his life upended or be ripped away from family based on flimsy allegations," NYCLU Executive Director Donna Lieberman said in a statement. "Children who in many cases came to America to flee gang violence are being disappeared to face deportation without adequate protections or investigation."
BuzzFeed News has reached out to Suffolk County Police Department for comment.
Phil Desgranges, a staff attorney for NYCLU, told BuzzFeed News one of the nine minors was alleged to be part of a gang for wearing a black T-shirt. Another one was accused of gang membership for a hand gesture at school.

"He reports that he gave another boy the middle finger, and the teachers said no, it was a gang sign," Desgranges said.

"None of them have been accused of any crimes," Degranges added. "They were not a safety risk."

This news comes amid growing concern about the MS-13 gang, and Suffolk County has become a focal point for MS-13 anxiety as President Donald Trump pushes gang violence into the spotlight.
On Friday, Trump was in New York to speak to law enforcement officials about street gangs, where he encouraged law enforcement authorities to be rough with suspected immigrant gang members. He had a receptive audience.
"When you see these towns and when you see these thugs being thrown into the back of a paddy wagon, you just see them thrown in, rough, I said, 'Please don't be too nice,'" Trump said. "Like when you guys put somebody in the car and you're protecting their head — you know, the way you put their hand over — like, 'Don't hit their head' and they've just killed somebody. 'Don't hit their head.' I said, 'You can take the hand away, OK?'"

In a letter sent earlier this week to the Office of Refugee Resettlement (ORR), the NYCLU warned ORR that putting the minors in "restrictive detention" without cause is a rights violation. It accused the office of failing to independently investigate the allegations.
"Detained children are entitled to the least restrictive conditions, including placement with relatives, unless an ORR investigation determines children pose a threat or they have been charged with a crime," NYCLU's release states.
Desgranges said NYCLU had received a confirmation that ORR had received their letter and would respond.
"The U.S. Department of Health and Human Services (HHS) Office of Refugee Resettlement (ORR) is currently reviewing correspondence recently received from the New York Civil Liberties Union in reference to the unaccompanied alien children (UAC) program," Victoria Palmer, an official in the Administration for Children and Families, told BuzzFeed News in a statement.
An ORR spokesperson said in a statement assigning these minors "to the most appropriate residential shelter is complex and done with great care in light of ORR's statutory requirements."

After evaluation, each "unaccompanied alien child" is "assigned as quickly possible to the most appropriate shelter in the least restrictive setting."
"Approximately 95 percent of UAC referred to ORR are placed in one of our standard shelter or foster care settings," the spokesperson said in a statement.