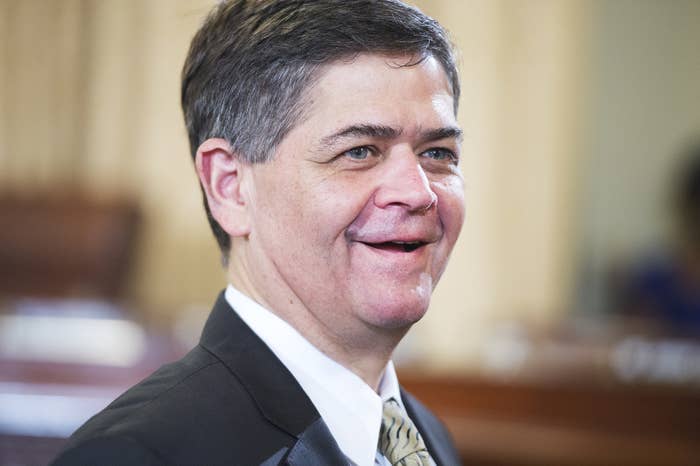 Democratic Rep. Filemon Vela is well known for one thing and one thing only: taking aggressive jabs at his own leadership.

Over the last several months, Vela has broken through the daily noise on Capitol Hill as one of Nancy Pelosi's most vocal critics. While Pelosi has other Democratic detractors in Congress, some of whom contribute to the small rebellions against her leadership that gain headlines and then fizzle every two years, Vela isn't as deferential about it as most.
Where other Democrats speak about their desire for a "fresh face" in leadership — often anonymously — and rarely delve into personal criticisms of Pelosi or her work, Vela is much more blunt. At a press conference earlier this year, he openly accused Pelosi of misleading her own caucus to provide a "down payment" for President Donald Trump's border wall. The dramatic charge was out of step with most Democrats and was fiercely denied by Pelosi and even many of her critics and immigration advocates in the Democratic ranks. (The funding actually went to replace existing border fencing).
When Democrats lost a special election in Georgia this year, Vela shot off a late-night, two-sentence email to BuzzFeed News laying the blame on Pelosi. "Pelosi lost the [O]ssoff election. Obviously the party can only succeed if she goes," he wrote. (Pelosi never went to the district, but she did raise money for Democratic candidate Jon Ossoff and was prominently featured in negative ads.)
Two days later, Vela took part in an anti-Pelosi meeting with approximately a dozen House Democrats. The group took no immediate action afterwards.
In an interview, Vela argued there is "no way in hell" Democrats will succeed in the next election if she remains on top.
"When we go to 2018, if we're going to win the majority, Democrats have to win swing districts, which means, winning independent voters, swing voters, and even Republican moderates," Vela, who's from a safely blue district, told BuzzFeed News. "The problem is, is that in that demographic...it is real clear that the drag on our candidates is Nancy Pelosi."
"If you have an obvious obstacle, why not remove it?"
Pelosi's office did not comment specifically on her relationship with Vela. But the minority leader has defended herself against similar criticisms in the past. Asked whether her image hurts Democratic candidates in a press conference following the Georgia election, Pelosi said: "I think I'm worth the trouble, quite frankly. I love the fray. I'm not— I'm not disrespectful of people's views. I respect any positive things that people want to say, or even negative, as — as long as it's constructive."
Things weren't always so tense between Vela and Pelosi. Vela, who's represented Texas's 34th District since 2013, is a relative newcomer to the ranks of Pelosi critics. Back in 2014, she visited Vela's district at his invitation and the two toured a detention facility there. According to a transcript of a press conference from the leader's office, Pelosi was complimentary of Vela.

"Congressman Vela is such a tremendous intellectual resource on this because this is something we have to be very smart about," Pelosi said. About a month after the visit, Pelosi met with a delegation of border mayors and local officials Vela had brought to Washington.
"She was very helpful during that time," Vela told BuzzFeed News. It's only much more recently their relationship crumbled.
Earlier this year Pelosi even appointed Vela to be the Blue Dog representative to leadership at the start of the current Congress. The role involves voicing the opinions of the Blue Dogs, a group of moderate Democrats, to leadership.

But then he quit.
Vela told BuzzFeed News he decided to leave it due to a hike in dues for new members of leadership. Drew Hammill, a spokesperson for Pelosi, told BuzzFeed News there is not an additional dues requirement for the Blue Dog representative to leadership. The Democratic Congressional Campaign Committee, which handles dues, did not comment.
"I just decided I didn't want to be on leadership at the front end. I felt like I was better off working this cycle outside of leadership," Vela said.
Vela has had his disagreements with Pelosi in the past, but he said he supported her for leader as recently as last fall, when 63 other Democrats voted against her.
"I think she's provided tremendous value to the Democratic caucus. And I think her tenure has been historic," Vela told BuzzFeed News in an interview. "But I think with respect to the issue of winning the House majority back in 2018, and given her negative effect on swing voters and Republican moderates, there's no way she's worth the trouble in the context of gaining the majority in 2018."
That's just Vela, friends in Congress say. He's the type of person who is not shy about his thoughts on a matter once he has made his mind up.
"My own estimation of him — he has a backbone of steel," California Rep. Juan Vargas said of Vela. "It's best to go talk to him and try to convince him of your position, not to try to force him to do anything because if you do, it completely backfires. … But he'll always listen to you."
And Vela hasn't saved his quick turnaround ire for Pelosi alone — his closest friends are no exception.
Vela abruptly left the Congressional Hispanic Caucus in 2013, accusing some of his colleagues of supporting a Senate immigration bill he opposed "without blinking." He also charged Pelosi at the time with pressuring the CHC to back it.
Pelosi's spokesperson disputed Vela's characterization and said the approach to the bill was decided in "close consultation" with the full caucus.
The bill never got a vote in the House, but Vela took something of a gap year and distanced himself from CHC over the affair. Eventually, other members were able to talk him into returning. Arizona Rep. Raul Grijalva said he and other members convinced him it was "better to be inside the tent."
Immigration is a deeply personal issue for Vela, who represents a border district. Conversations with him often include tales of undocumented immigrants and their struggles.
"One thing that I admire about Filemon, I don't always agree with his positions, but you know, he's fierce about his positions, and he's fearless about standing up for the things that he believes in, which I think our constituents really want," New Mexico Rep. Michelle Lujan Grisham told BuzzFeed News.
Despite his penchant for strong language (for example telling Trump in an open letter last year to "take your border wall and shove it up your ass") and picking fights with his own Democratic colleagues and leaders, Vela's network of friends on Capitol Hill is large.
He's known for going out of his way to fundraise for other members. Vela is in near constant touch with many of his colleagues, often texting them or chatting with them on the floor. By his estimate, approximately 100 members of Congress have visited his district — which is bordered by Mexico and the Gulf of Mexico — for various events. "Helping other members is just something that I really enjoy," Vela said in an email.
And in person, his demeanor doesn't seem to match his rhetoric. Vela is far more reserved than his public statements would lead people to believe.
But he has an approachable quality about him that's noted even by fellow politicians. Massachusetts Rep. Richard Neal, said he was "impressed" on a trip to Vela's district by how excited his constituents were to see him at small restaurants they stopped in for take out. "He knew everybody on a first-name basis, and they knew him on a first-name basis, and I thought that was good retail politics," Neal said.
Asked if he has leadership ambitions of his own, Vela said: "With respect to my own leadership aspirations, I think that many of the members that I have helped are better postured to lead this caucus. But then again, you never know what the future holds so it is important to always be prepared."
Crossing Pelosi is dangerous territory. She's popular within the party, known for her prolific fundraising skills and a savvy brand of politics. Even Vela recognizes her strengths.

"I don't want to be quoted as saying she's like a negative across the board. I think she's a negative in the swing districts that matter most in terms of us being able to take the majority," Vela said. But he also said he is not afraid of opposing Pelosi.
Asked if they have spoken since he started advocating for a change in leadership, Vela responded with a laugh.
"We're like two ships passing in the night on the House floor."