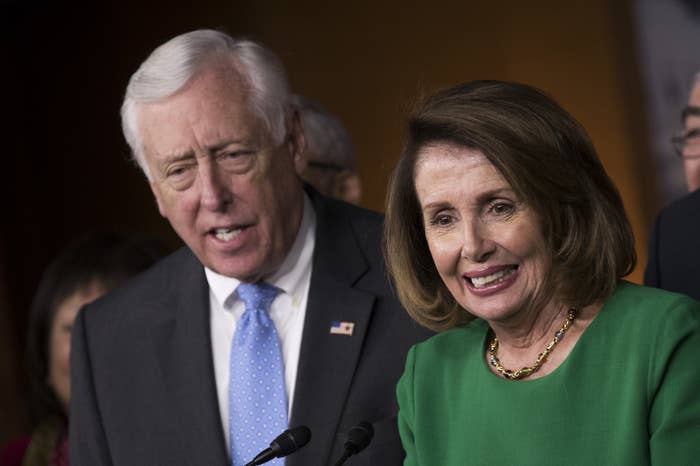 House Democratic Whip Steny Hoyer demurred on Thursday when asked whether he and House Minority Leader Nancy Pelosi should heed calls to step aside for younger leaders in the Democratic caucus.
When asked on BuzzFeed News' Twitter morning show, AM to DM, to respond to a tweeted question about what the House Democratic leaders are doing to "elevate" the next generations of party leadership, Hoyer said "a lot."
"We've expanded leadership, put a lot of young people into it, a lot of young people are my chief deputy whips. A lot of young people on my senior whip organization," Hoyer said. "We are encouraging, including and promoting a younger generation into positions of responsibility in our party and in the Congress, and we're going to continue to do that."

But when pressed on whether Hoyer, who is 78, and Pelosi, who is 77, should step aside to let that new generation take over the party, Hoyer changed the subject.
"I'm focused on the 2018 election. I think we're going to take back the House," Hoyer said.
House Democratic leaders are chosen at the beginning of each new Congress by members themselves. Though some members have called on Pelosi, in particular, to step aside after more than a decade as Democratic leader, she has consistently held on to her post. After disappointing results for Democrats in the 2016 election, 63 House Democrats voted against her for leader.

Hoyer on Thursday also addressed a BuzzFeed News story, which revealed that some House Democrats have been talking to psychologists about President Donald Trump's mental health. Pressed specifically on whether he shares those concerns, Hoyer paused.
"I'm not an expert on mental health," Hoyer told AM to DM. "I'm concerned about his behavior, i'm concerned about his conduct, i'm concerned about what he says which I think in many cases is not only irresponsible but contrary to America's values."