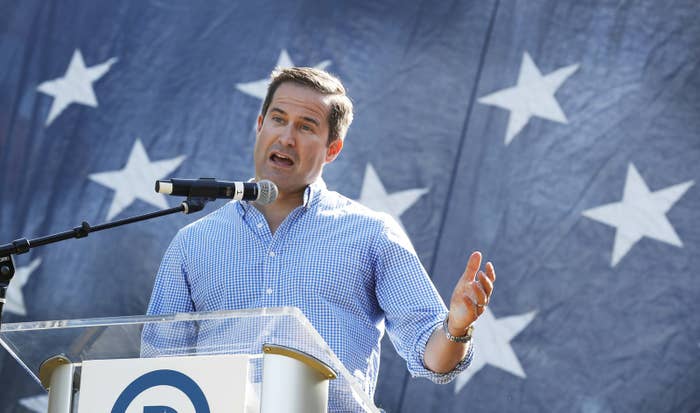 Massachusetts Rep. Seth Moulton says he doesn't want to be the next Democratic speaker of the house. He rules out that he wants to run for president. And he can't say exactly where he sees himself in five years, although he says he loves his current job.
In fact, despite numerous television appearances and a rising profile in the Democratic Party, Moulton swears he doesn't have a master plan at all.
"Some of my colleagues — I get this question all the time. 'What are you trying to do, Seth?'" Moulton told BuzzFeed News in one of many interviews during a trip to Colorado to campaign for other Democrats this week. "It's not more complicated than you can see, I'm trying to help win the House."
The House Democrat, only in his second term, has carved out a unique brand for himself that sets him apart from a lot of his House colleagues. What he's perhaps best known for is consistently breathing fire on his own Democratic leadership.
"People see me aggressively tackling challenges and always assume it must be some part of a bigger plan," Moulton said. "And therefore question, well what's his plan? What's he trying to do? How about, I'm just doing the right thing, right now? It doesn't have to be part of a larger plan."
For the short term, at least, Moulton knows exactly what he's focused on. Like any other member of his party, his goal, he says, is to do his part to help Democrats win back the House. Moulton's Serve America PAC has endorsed dozens of candidates, mostly veterans, in races across the United States, including politically influential states like Iowa and New Hampshire.
But Moulton is taking an outsider's approach to campaigning, picking his own candidates and helping them to coordinate their messaging outside of the big party campaign committees.
"I don't owe them anything. They didn't help me get here. So I don't owe anybody any favors."
Moulton didn't have the party's support in his first run for Congress — in 2014, he knocked out former Rep. John Tierney, an incumbent, in a primary. In politics, where relationships matter, it was enough to piss off a chunk of the House Democratic Caucus. Moulton says he was ostracized by a large part of the caucus while he was campaigning.

"I also recognize that's just part of the deal when you take on an incumbent. … There's no sense of resentment or revenge, like, oh, you guys were mean to me so now I'm going to go against the party or something like that," Moulton said. "It's just that I'm not beholden to the party. I don't owe them anything. They didn't help me get here. So I don't owe anybody any favors, I can just do what I think is right. And if that means supporting the party, then I'll be right out there in front."
In the meantime, Moulton is working to build a community of similarly independent-minded candidates in 2018. Moulton is constantly in touch with his candidates and even set up a Slack channel so they can get advice from him and each other.
"I believe that there's a lot that they can all learn from each other," Moulton said. "And many of the questions that they will call me or text me about are things that I'm like, OK well this is a great question, and I think the whole group should probably hear the answer, because I'm sure this is coming up in their campaigns as well. So the idea with pushing a lot of these kinds of communication from individual texts or calls to me onto a Slack channel that everybody can learn from is that everybody will benefit from the discussion."
"There's a real value in creating this team atmosphere where everybody feels like they've got some teammates in this."
And Moulton's candidates are already echoing one of his major talking points, bringing fresh blood into House leadership. "I think [Moulton] really represents that new generation of leadership that's stepping up to approach politics in a different way," said Jason Crow, a Colorado Democrat who is running against Republican Rep. Mike Coffman this year. Crow, who campaigned with Moulton throughout the district this week (and also has DCCC backing), argued that Moulton is "leading the way" in changing "the entire culture of politics in Washington."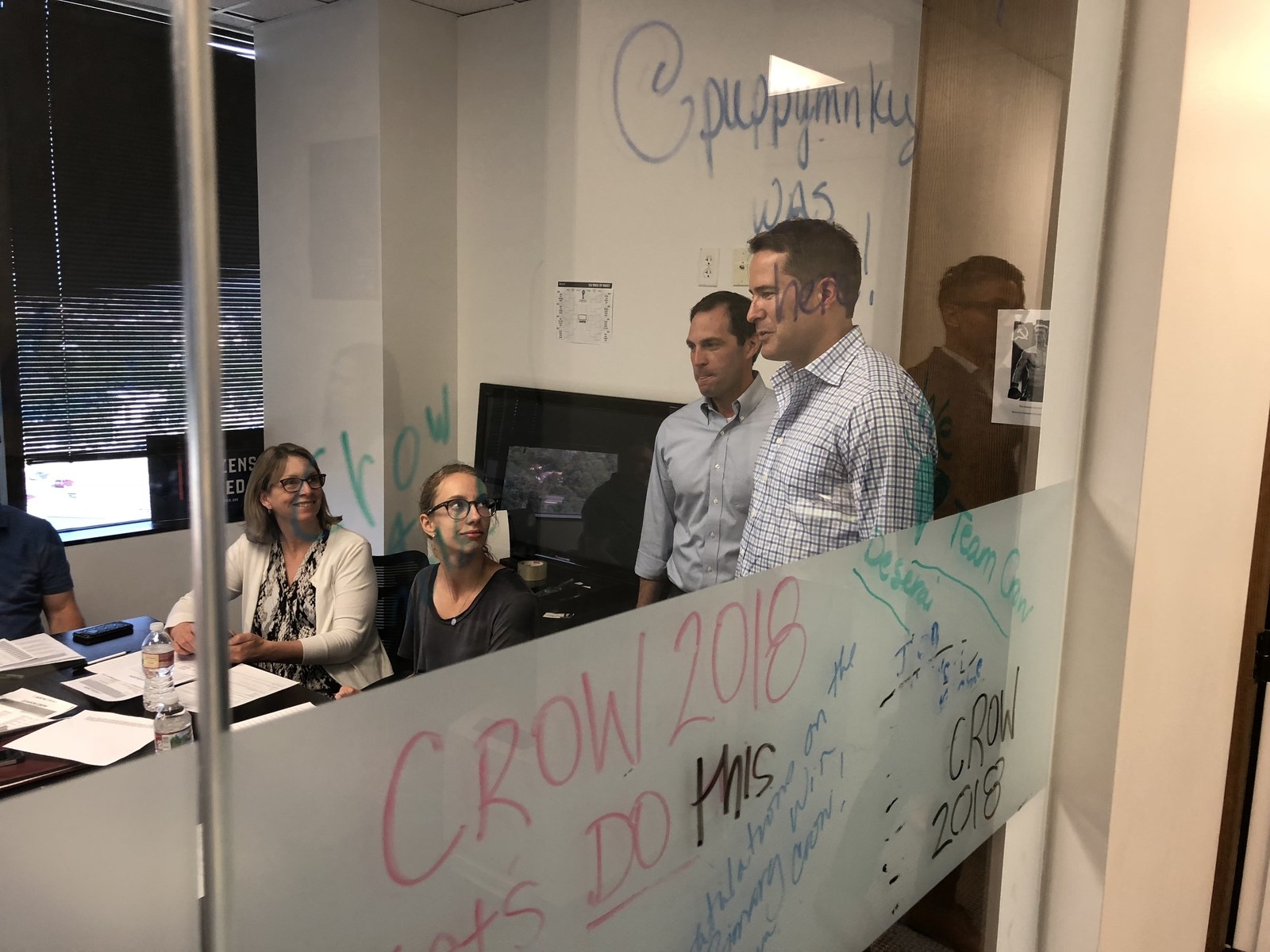 Asked whether he's building his own army in the House, however, Moulton balked. "No, because all the people I've picked are independent thinkers," Moulton said. "I'm supporting the wrong group of candidates if I want them to just do what I tell them to."
But if his candidates win, they're bound to remember Moulton as an early supporter, the way Moulton publicly credits Democrats who rallied around him after he beat Tierney.
The lawmaker insists on building relationships with and among the candidates he puts his name behind. Because, he said, he knows firsthand how lonely the process of trying to win a seat in Congress can be.
That's what took him to Colorado over August recess, where he campaigned for Crow, Rep. Jared Polis, who is running for governor, and Joe Neguse, who is running for Polis' seat.
Over the course of a couple of days, Moulton and Crow made multiple appearances at events together, but the first began far from the public eye. After getting in late to Colorado and staying up to write an op-ed, Moulton woke up on just a few hours of sleep to go for a run with Crow.

Clad in running gear, the two ran for several miles, broken up with pull-ups, through the sprawling neighborhood where Moulton was staying at a friend's house. They cooled down by doing lots and lots of lunges.
"I don't run as much as Seth does, but I'm used to the altitude, so I think it equalized," Crow said, laughing, when asked who set the run's pace.
Moulton, who is a couple of months shy of 40, is among some of the current youngest members of the House. He got married last year, and he and his wife are expecting their first child this fall. He's a Harvard-educated Marine veteran who served four tours in Iraq. He insists on building in daily workouts. He drinks only three coffees a week.
Moulton grew up in a nonpolitical family. He says the first member of Congress his parents ever met was him. In speeches, he consistently returns to certain life-experiences, many that are touchstones from his life before Congress — his time in the military, his involvement in his college church.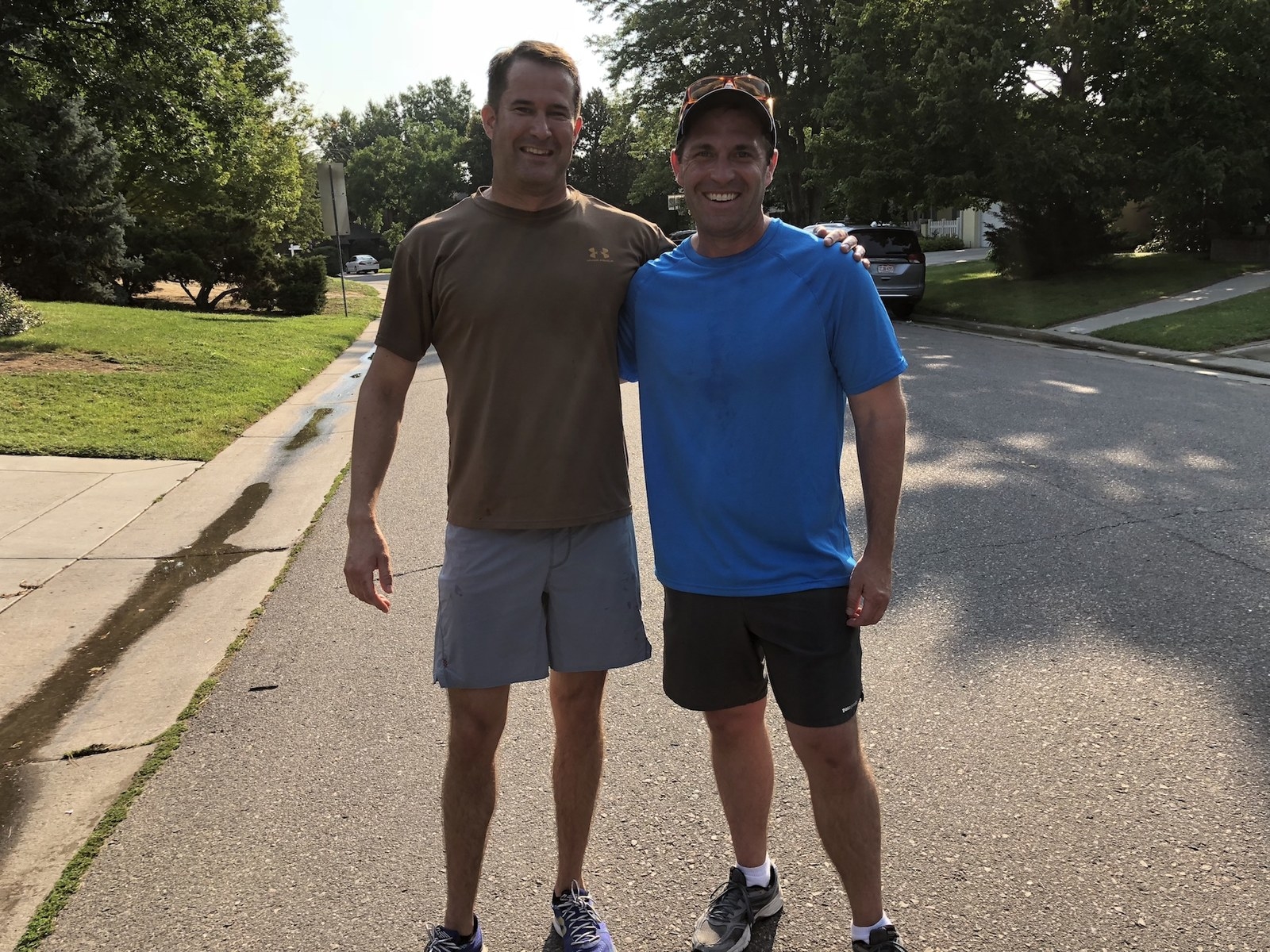 At event after event, he brings up his idea for a new generation of leadership, while insisting that he's not angling to be part of it.

That's where he differs from so many Democrats. Where most current members would stop talking after they say that they are focused on winning back the House, Moulton doesn't shy away from critiquing his own party in the process. Instead of criticizing Republicans, although he does plenty of that too, he spends an outsized amount of time focused on the Democratic Party and its faults.
"We've got to look at ourselves in the mirror," Moulton said. "Here we are saying that Trump is the worst president ever and complaining how all the Republicans just follow along with him … we've clearly got to make some changes ourselves if we're going to beat them."
But Moulton is expanding his reach beyond just potential House colleagues and into down-ballot races.
On Tuesday, he met with Tom Sullivan, a man looking to win a Colorado state House seat. Sullivan's son, Alex, was killed in the 2012 Aurora theater shooting. They sat down at a coffee shop and chatted while Moulton drank a wild berry smoothie.
At one point, as they were talking about various issues, Sullivan said that he doesn't have "all of the answers." Moulton jumped in and said that was a good thing. "Humility" is "one of the first things I look for" in people, he told Sullivan, because there isn't enough of it in politics.
Over two days in Colorado this week, between town halls, fundraisers, a meeting with the governor, campaign meetings, round tables, and windy tours of solar energy fields, Moulton read briefs, cranked out emails, made calls, chatted on Slack with his candidates, and fueled himself with snacks.
Moulton says he "saw an opportunity" to go out and help other Democrats, especially veterans, get elected to Congress this cycle, but he's not sure what's next after that election is over. "We still don't even know if we're going to win," he said.
"In today's fast-changing world, you have to be nimble. You have to be flexible. You have to entertain a lot of different ideas because no one knows exactly where the world's going to go. So I actually think that being committed to a clear, long-term plan can hobble you. Can make you less effective. Because you get bought into it, even if it turns out tomorrow to be wrong or out of touch."
So what happens after the midterms?
"Well we'll see," Moulton said. "I don't have some grand political plan that I've been dreaming of since I was young. I didn't expect to be here five or six years ago."