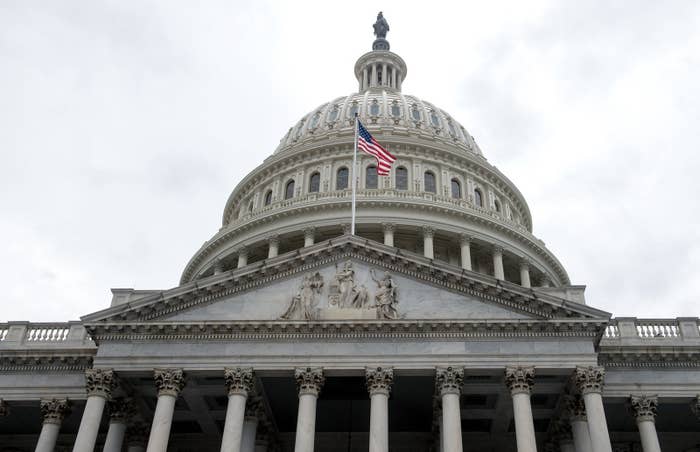 Senators voted unanimously Thursday to pass legislation that would end a decades-old practice of taxpayers footing the bill for sexual harassment settlements on Capitol Hill, even as advocacy groups have raised concerns about the bill.
The bipartisan compromise, released by Sens. Roy Blunt and Amy Klobuchar on Wednesday, comes months after the House passed similar legislation to overhaul the way Congress handles sexual harassment on Capitol Hill.
Thursday's vote comes one day after a coalition of advocacy groups, including the ACLU, Public Citizen, and the National Women's Law Center wrote a letter to Senate leaders saying that the bill "falls short of an acceptable compromise and may have unintended negative consequences." The letter also raises concerns that senators would not have time to "fully vet the bill" before it was passed unanimously Thursday.
Both the House and Senate bills would make major changes to the Office of Congressional Compliance, which has for decades facilitated secret, taxpayer-funded settlements for workplace allegations against members and their offices, including sexual harassment. Under the House and Senate bills, lawmakers would now have to reimburse taxpayers for settlements paid out for sexual harassment and other harassment complaints made against them personally.
But the Senate bill has some noticeable differences from the House legislation. Under the Senate bill, members of Congress would only have to reimburse taxpayers for settlements made for harassment, not discrimination claims. And even then, only if a hearing officer, judge, or congressional committee also finds that the member personally harassed the accuser.
Members would have to make those reimbursements within 90 days or have part of their salary withheld until the settlement is paid off under both bills. Even after members leave office, they would be responsible for full repayment and could face wage garnishment from another job. (Former Rep. Blake Farenthold, who resigned last month following news of an $84,000 taxpayer-funded settlement for sexual harassment claims against him, had promised to repay the money but never did.)
Both bills would also require the OOC to make information about settlements public for the first time. Every year, the office would have to publish a list of all members of Congress who settled cases of harassment or other complaints in which they were found personally liable. The list, which would be posted online, would include the employing office, how much was paid out, and what kind of violation they settled over.

Now that both the House and Senate have passed their separate bills, they will need to form a conference committee to iron out their differences before sending a bill to President Donald Trump's desk.

"This bipartisan agreement sends a clear message that harassment in any form will not be tolerated in the U.S. Congress," Blunt said in a statement Wednesday. "The major reforms in this agreement will, first and foremost, strengthen protections for harassment victims. The agreement will also enhance accountability and prevent taxpayers from footing the bill for a Member's misconduct."
The House easily passed its own legislation in February, but it faced a much slower walk in the Senate, where members spent months negotiating. More than 60 senators had been pushing to respark the seemingly stalled efforts in recent months.
Like the House legislation, the Senate's legislation would eliminate Congress's mandatory 30-day counseling period and a 30-day "cooling off" period for victims who bring complaints against members or their offices. It would also do away with mandatory mediation, which would remain available but optional.
Both the House and Senate bills would extend protections to unpaid staff, like interns, for the first time and rebrand the OOC as the Office of Congressional Workplace Rights. They would also ensure that remote work and paid leave options are available for employees while a complaint is pending.
The Senate legislation would also create a "confidential advisor" role, an attorney who would advise congressional employees about their rights and how to report. The House is already in the process of creating a comparable Office of Employment Advocacy that would provide similar services for House employees alone.
However, the advocacy groups argued to senators in their Wednesday letter that the House's provision is much stronger; it allows an Office of Employment Advocacy attorney to provide legal counsel for victims, while the Senate bill "expressly prohibits the advisor from providing legal advice once an individual has filed a claim."
Like the House legislation, the Senate bill would also set up anonymous workplace climate surveys to gather information from congressional employees every other year, including information on "attitudes regarding sexual harassment."
The Senate negotiations were led by Blunt and Klobuchar, the top Republican and Democrat on the Senate Rules Committee, along with Senate Majority Leader Mitch McConnell and Senate Minority Leader Chuck Schumer. Blunt and Klobuchar briefed their own parties about the compromise legislation during their weekly lunches on Tuesday.
"We want to commend Senators Blunt and Klobuchar, who have worked tirelessly and in a bipartisan way, to address this serious issue. With this agreement, both parties are coming together to update the laws governing how the Congress addresses workplace claims and protecting staff and others from harassment," McConnell and Schumer said in a joint statement Wednesday. "We're optimistic that after our members review the legislation, this bill will pass the Senate in short order."
The push to overhaul Congress's process of handling sexual harassment complaints began during the height of the #MeToo movement when several lawmakers became the subject of career-ending sexual harassment allegations: Sen. Al Franken and Reps. John Conyers, Trent Franks, Farenthold, and Patrick Meehan resigned from Congress. Rep. Ruben Kihuen will not run for reelection. (Rep. Tony Cárdenas is facing a lawsuit that claims he sexually abused a minor — a charge he has denied — but he is still in Congress.)
"Workplace harassment is a widespread problem that affects too many men and women in too many places, professions, and industries. Congress isn't immune to it — for too long victims of workplace harassment in the Senate have been forced into a process that is stacked against them," Klobuchar said in a statement. "That's why for months we have been working with a bipartisan group of senators to change the process."
UPDATE
This post was updated following the Senate's unanimous vote to pass its sexual harassment legislation on Thursday.