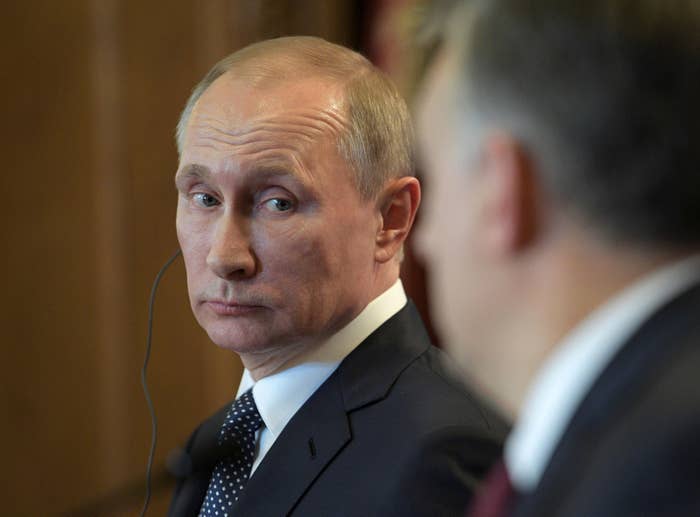 WASHINGTON — Two senators announced Thursday that another committee will investigate Russian election interference, but some lawmakers say they think the growing number of congressional groups examining the same issue is becoming problematic.

Republican Sen. Lindsey Graham and Democratic Sen. Sheldon Whitehouse announced that the Senate Judiciary Subcommittee on Crime and Terrorism will undertake the new investigation, saying they "want to shine a light on Russian activities to undermine democracy," both in the US and in other countries.
"If the [Senate] Judiciary Committee has an angle into looking at what [the Russians] did during the election, more power to them. I'm all for it," said Sen. Bob Corker, chair of the Foreign Relations committee, which is also examining Russian interference.
But Corker, along with other senior Republican lawmakers, is calling for a more organized approach. Corker's committee is focusing its efforts on how Russia might try to interfere in elections globally. Meanwhile, the Senate Intelligence and Armed Services committees, as well as the House's intelligence committee are also investigating Russian interference in the 2016 presidential election in addition to this new effort from Graham and Whitehouse. And Democrats in the House and Senate are pushing for yet another investigation, this time by an independent, nonpartisan commission — a push that has so far not attracted any Republican support.
Both Corker and Senate Majority Whip John Cornyn, who recently joined the Senate's intelligence committee, said the intel committee should be leading the charge.
"The jurisdiction's pretty fragmented, and that's kind of a problem," Cornyn said, "so I think there needs to be sort of a concerted effort, and I think most of that's going to be coming through the Intelligence committee." The Texan, who is second in Republican Senate leadership, said the other committees might not have access to the necessary classified information.

Florida Sen. Marco Rubio said it's "just an age-old issue where multiple committees want jurisdiction over a topic." Rubio, a member of the intelligence committee, said he also believes it "is probably the right forum."
Sen. John McCain, chairman of the Armed Services committee, said he wants a select committee; a body specifically formed to investigate Russian political interference. "We're looking at it also, and the Intel committee is looking at it, Lindsey Graham's subcommittee's looking at it. I wish it were more coordinated," he told BuzzFeed News.
Graham and McCain have been the leading Republican voices in calling for an investigation into Russian hacking during 2016 presidential election and beyond — so much so that House and Senate Democrats have repeatedly name-dropped both Republican senators as they continue to push for an independent commission.
McCain told BuzzFeed News on Thursday that he was open to the idea of an independent commission, citing the important role the 9/11 Commission — which he helped establish — played in revealing the full scope of the attack. But he has not yet signed on.
Some of McCain's Republican colleagues, however, are less enthusiastic. Cornyn argued that the investigation should remain in Congress' hands. "I think it's our job, so I think we should do it," he said.
Sen. Richard Burr, chairman of the Senate Select Committee on Intelligence, agreed, telling BuzzFeed News that his committee is best-positioned to do the inquiry. "I'm not sure why we would need that when the mission of the Intelligence committee is to carry out oversight on the Intelligence community 365 days a year," he said. "This fits right into our mission."
Graham's office, when asked about the Democrats' legislation calling for an independent commission, said there was no guarantee the bill would ever go anywhere. The congressional committees, however, can get started right away.
Democratic Reps. Eric Swalwell and Elijah Cummings first introduced legislation to form an independent commission in the last Congress and then reintroduced it in January, but still have not been able to get a single Republican to sign on. Last month, Democrats Sens. Ben Cardin, Dianne Feinstein, Patrick Leahy, Tom Carper and Amy Klobuchar introduced similar legislation in the Senate, and held a bicameral press conference with their House colleagues. But, so far, the legislation has gone nowhere.
Swalwell told BuzzFeed News his staff has reached out to Graham in hopes of arranging a meeting, but he has been unsuccessful — although he did say he managed to touch base with McCain during the inauguration luncheon.
"I don't think it's enough, but I think it's an important step," Swalwell said of Graham and Whitehouse's investigation. He added that while he thinks having a congressional investigation is important and that there is "a role for Congress to play," the inquiries on Capitol Hill would not accomplish what an independent investigation could because of how politicized the topic has become.
Republicans, including Rep. Devin Nunes, who is the chair of the House Permanent Select Committee on Intelligence, have long held that an independent commission would be redundant.
In a joint statement put out by the House Intelligence committee last week, Nunes and Rep. Adam Schiff, the Democratic ranking member, vowed to "follow the facts wherever they may lead."
The scope of the House committee's inquiry into the matter includes investigating any links between Russia and people involved in the presidential campaigns, as well as cyber activity and "other active measures" involving the US and allies.
Whitehouse's office told BuzzFeed News the senator still supports a "special" committee for further investigation, but did not respond to further inquiries on whether he supported the legislation that had already been introduced.