Naples Assesses The Wreckage Of Hurricane Irma's Wrath
"I've been wanting to move that tree, but God moved it for me."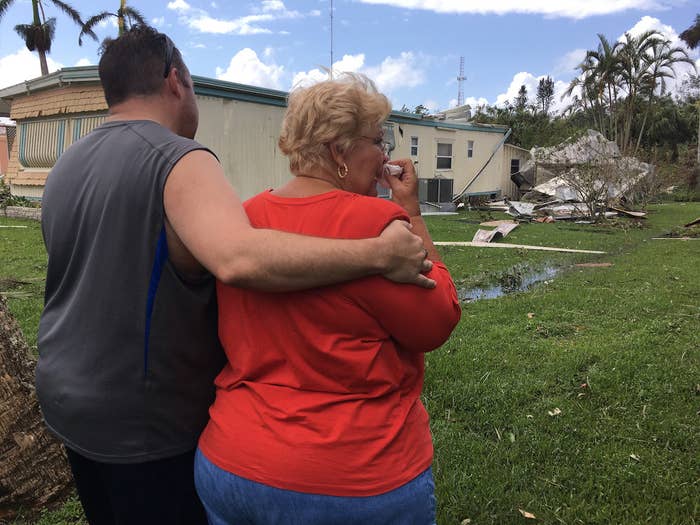 NAPLES, Florida — When Emma Addison saw her home for the first time after Hurricane Irma hit Naples, Florida, on Monday, she cried.

Her roof was in her neighbor's yard, windows were shattered, and a measuring cup from her kitchen had somehow found its way outside.
"I don't know what to do," Addison said. "I guess we just start cleaning up, I don't know. I've been through many hurricanes and stuff, and you just start cleaning up, but it never happened to a house."
Addison's son, Bruce, went to her home in Riverwood Estates first so he could brace his mother for the damage. It was only the latest in the family's string of bad luck: Addison's husband is hospitalized with cancer. She rode out the storm with him.
"I don't know what I did wrong, but I know the Lord's on my side. I don't care what anybody says," Addison said. As she picked her way across the soggy lawn to look at her backyard, she showed signs of optimism: "I've been wanting to move that tree, but God moved it for me."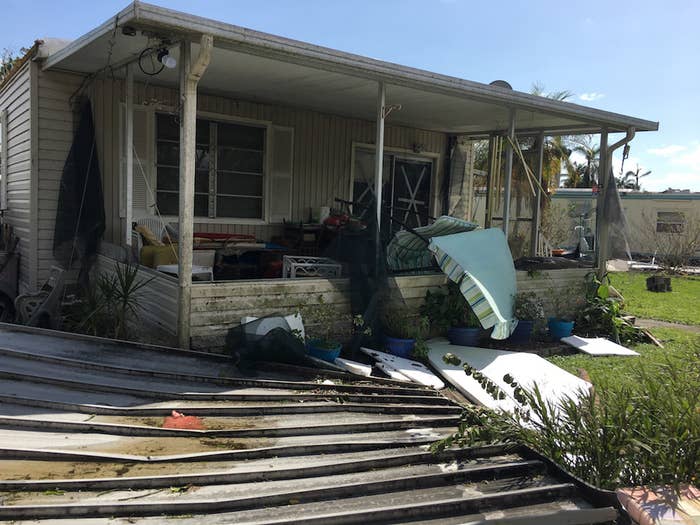 The Addisons were far from the only ones who returned to a devastated home in Naples, which was hit directly by Hurricane Irma Sunday after shifting course away from southeast Florida. The shift in direction, forecast just a day earlier, took residents of the state's Gulf Coast by surprise, giving them little time to prepare for a storm of historic proportions.
"You just have this sick feeling that you're going to come see flattened nothing," said Robert Reed, another Naples resident, whose house suffered some structural damage in the storm. If the home's condition had been worse, he added, "we were going to pack everything up and say goodbye."
Michael Curtis, who lives in the city's Golden Gate neighborhood, said that two trees fell around his home, missing his house but hitting his two vehicles. "A loss is a loss no matter how you look at it," he said.
Across Naples, other signs of the storm's fury were plentiful. A trampoline twisted around trees, giant trees uprooted and on their sides — and sometimes on houses — downed power lines, and other wreckage covered the streets. Drivers in the area had to be careful for the debris, floodwater, and nonfunctioning traffic lights. The county remains under a curfew; on Monday, long lines formed outside gas stations, and many places in the area were still without power.

The community includes many so-called snowbirds — residents of northern states who spend winters in Florida — who are gone for the season. All over town, friends checked on other people's property to report on how their homes had fared.
Still, despite all the evidence, the humid, sunny weather made it difficult to believe Irma had passed by only the day before. Though it was still windy, people were even on the beach.
"You're not going to believe it," Gina Kadah, a Naples resident who was on the beach for a swim told BuzzFeed News when asked about the extent of the damage on her home. "Nothing."
Kadah said she decided to ride out the storm in Naples instead of evacuating, so she could address any damage to her home immediately. "I prayed before, during, and after that angels would guard around my little place," she said.
For other storm-hardened Naples residents, however, Irma's wrath may have changed the way they look at hurricanes.
"Don't ride out a catastrophic hurricane in a mobile home," Reed said. "It was probably the best idea I ever had to get me and my wife to higher ground. I mean, it came to the last minute. … I wasn't really too keen on going to a shelter, you know, people screaming and their kids and dogs and all that.
"We were going to ride it out. But something just told me this one was different."