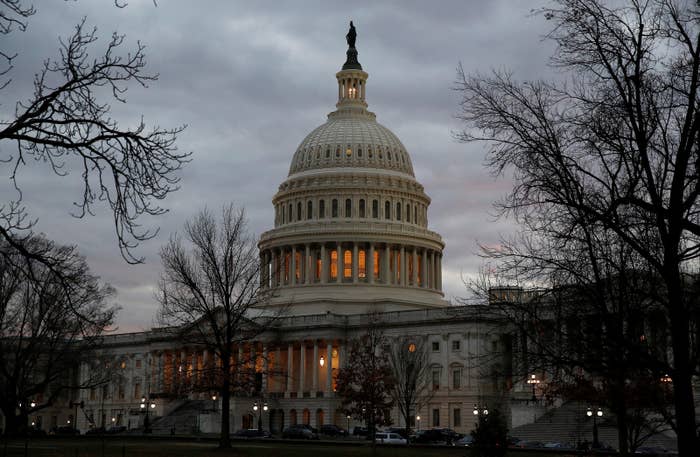 After half a dozen of their colleagues were felled by sexual harassment allegations, members of Congress in both parties say they have changed behavior they once viewed as acceptable or never gave a second thought to, hoping to avoid seeing their names in similar headlines.
"I have always been a hugger, you know I love people, and even 10 years ago I started to get much more careful about it to make sure that it was never unwanted or inappropriate," said Virginia Democratic Rep. Don Beyer. "And the #MeToo movement has just even heightened more my sense of ... I want to be consciously aware that as an older man, that I may come from a culture that is not nearly appreciative or respectful enough of the women with whom I work, and to take my cues from them."
While making their way onto the House floor or in meetings, some members have responded to this moment by joking and asking out loud whether it's OK to hug or touch their colleagues. Others are taking it more seriously.
Several House members said they've changed how they interact with constituents, particularly in light of former Sen. Al Franken's resignation. The Minnesota Democrat was accused of forcibly kissing and inappropriately touching multiple women, in many cases while they were being photographed with him. Several members told BuzzFeed News they now either ask for permission to put their arms around people while taking photographs or keep their hands placed clearly in front of them.
Asked about male lawmakers saying they are rethinking putting their hands around constituents for photographs, Virginia Republican Rep. Barbara Comstock said, "That's not what the problem is."
"The problem is misuse of power and ... demeaning, humiliating women in a sexual way … and using that position of power to exploit them," Comstock, who has been outspoken on the issue of sexual harassment, told BuzzFeed News. "I understand the discussions on that are going [on], but I think that's a false discussion of what the problems are. I think the women that we've heard from— those aren't the complaints that we've heard … It's not somebody accidentally putting a hand someplace or not, it's somebody who consistently is engaging in predatory behavior that is meant to demean."
In just the last two months, six members of Congress — from both parties — have resigned or decided not to run for reelection due to sexual harassment allegations. Along with Franken, Reps. John Conyers and Trent Franks have resigned from their seats. Reps. Blake Farenthold, Ruben Kihuen, and Patrick Meehan have decided not to run for reelection.
"The movement has, I think, really reached everyone in the country and made them think. It's the same case in the Congress. … There's everything from some serious discussions, you know, with some of my male colleagues asking me questions, what do I think … to the kind of boyish things of, 'Is it alright if I tell you you look nice today? That's not offensive, is it?' So there's a range. There's a range. But what it says is that they're thinking about it, and that's important," California Democratic Rep. Anna Eshoo told BuzzFeed News.
But these questions, often asked lightly, are just the surface of a real fear of getting it wrong. In light of those fears, several members of the House spoke with BuzzFeed News on the condition that their name not be used to speak more candidly on the subject.
"Everybody laughed when Mike Pence initially said that I'm never alone with any other woman ... but now people are like, eh, you know."
"Everybody laughed when Mike Pence initially said that I'm never alone with any other woman ... but now people are like, eh, you know," one House Democrat told BuzzFeed News, referencing a comment Pence made in 2002 that he does not dine alone with any women other than his wife, which resurfaced in a Washington Post story last year and drew wide criticism.

Even before the #MeToo movement took hold, several female staffers on Capitol Hill have said they were barred from spending one-on-one time with their male bosses, over fears of actual (or the appearance of) impropriety. Female staffers have long voiced concerns that being barred from those office responsibilities because of their gender could deeply harm their careers and ability to rise through the ranks in Congress. And legal experts have suggested that the practice is discriminatory.
New York Democratic Rep. Kathleen Rice said some male lawmakers are missing the point of the #MeToo movement. "I think some are. I think it's almost like, 'Well, wait a minute, this is the way things have always been.' And 'I don't do that to anyone,' or, you know, 'I think I'm being professional,'" she said. "I think it's time for all of us to take stock in our own personal behavior, professional behavior, the behavior of those that we employ. And we have an obligation to make sure that the workplace is one where people feel safe."
She said the movement has "left the station" and is "full steam ahead."
One male Republican House member described a "heightened concern of being misunderstood [that has] really kind of been very pervasive within our office," given the current climate, noting that even the most "benign" conversations are now approached carefully.
"I think there is some fear about being falsely accused," the Republican member added. "But the other part of that is is if you set up parameters within your office, generally you don't have to worry about that."
False allegations are very rare, but not unheard of. Fake documents accusing Senate Minority Leader Chuck Schumer were shopped to and ultimately debunked by multiple outlets, including BuzzFeed News, toward the end of last year.
But reports have shown that sexual harassment is widespread on the Hill. Since fiscal year 2008, the House has paid out more than $700,000 in settlements for claims against member-led offices, including for complaints about sexual harassment, according to figures released by the House Administration Committee in December.
The House passed two measures on Tuesday that would — among other significant changes to how Congress handles the issue — require members to reimburse taxpayers for any sexual harassment settlements they make.
"The [#MeToo movement] has led Congress to take a hard look at our own workplace harassment and discrimination standards," Rep. Robert Brady, who helped to write those bills, said in a statement to BuzzFeed News, adding that Congress is now "better equipped" to recognize harassment and prevent it moving forward. "This increased awareness is good, but we cannot stop there."
With so many credible accusations and the heightened interest in the issue by news outlets and the public, members are aware that there's less room for error in judgment.
"Times have changed. A lot of the behavior that probably would have gone unnoticed a few years ago is not tolerated now," one male House Democrat said. Asked for an example, the member said "language, touching, that kind of stuff."
Female lawmakers generally said that the heightened awareness was welcome.
"I'd rather have somebody be overly cautious than oblivious," Eschoo said.
"If people are going to be a little more formal for a while, I think that's fine," Rep. Jackie Speier, a California Democrat who has been vocal on the issue, told BuzzFeed News. Since she started work on the Me Too Congress Act last fall and began telling stories of women who experienced harassment on Capitol Hill, Speier said she's noticed women "flash[ing] smiles" at her in the hallway, something she has interpreted as a sign of "how bad" sexual harassment had been on the Hill.
But for some members, the conversation is late to get the attention they think it deserves.
"I think this conversation is probably about 3,000 years overdue," Illinois Democratic Rep. Jan Schakowsky told BuzzFeed News.