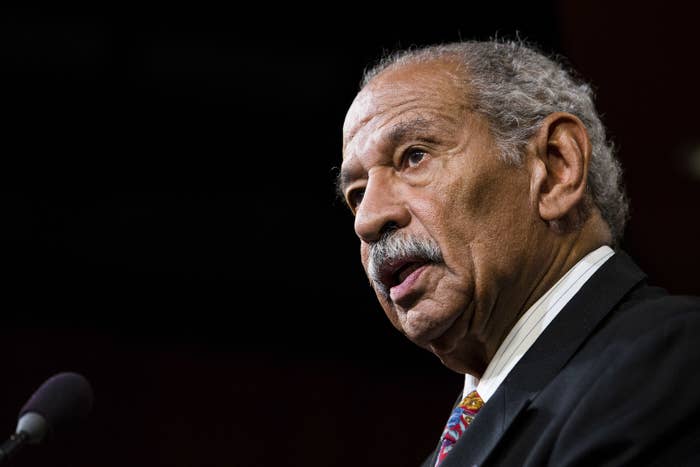 Michigan Rep. John Conyers, a Democrat and the longest-serving member of the House, said Tuesday he is resigning, following a BuzzFeed News investigation unveiling allegations of sexual harassment by multiple women and a secret settlement to keep one staffer quiet.
Conyers' lawyer clarified on Twitter that the congressman's resignation is effective Tuesday. The congressman made the announcement official in a letter to House Speaker Paul Ryan and Minority Leader Nancy Pelosi Tuesday afternoon.
Conyers, who was hospitalized last week and has not made public appearances since then, made the announcement himself on the Mildred Gaddis Show, a talk radio program in Detroit, Tuesday morning.
Conyers said his legacy would "absolutely not" be tarnished by the sexual harassment allegations against him. "My legacy can't be compromised or diminished in any way by what we're going through now," he said. "This too shall pass."
During the interview, Conyers endorsed his son John Conyers III to replace him in Congress, saying: "I want you to know that my legacy will continue through my children. I have a great family here. And especially in my oldest boy John Conyers III, who incidentally I endorse to replace me in my seat in Congress."

The endorsement came despite the congressman's nephew Michigan state Sen. Ian Conyers telling BuzzFeed News last week that he would run for his great-uncle's seat should Conyers retire or resign. The 29-year-old Democrat reiterated his plans to run for the seat in a Tuesday interview with the New York Times, before the congressman made his announcement official.
Asked whether the congressman's decision to endorse his son would change his plans to run for the seat, Ian Conyers told BuzzFeed News: "Not one bit."
Michigan Gov. Rick Snyder's office told BuzzFeed News Tuesday that he would announce a special election once he had received official notice from Conyers of his intention to leave Congress.
Conyers' decision comes amid several calls for his resignation, including from Ryan, Pelosi and Rep. Jim Clyburn, a powerful member of the Congressional Black Caucus.
Conyers settled a wrongful dismissal complaint in 2015 that alleged years of sexual harassment, including requests for sex acts from staff and inappropriate comments and touching, according to documents obtained and published by BuzzFeed News last month. The documents, which include four affidavits from former staffers, show that Conyers temporarily returned the employee at the center of the complaint to his office's taxpayer-funded payroll for her to receive more than $27,000 in a hushed settlement.
After BuzzFeed News published its investigation, Conyers confirmed the 2015 settlement, but he repeatedly denied the sexual harassment allegations.
BuzzFeed News withheld the former staffer's name at her request at the time, but on Thursday Marion Brown came forward publicly, telling the Today Show about her experience. Brown said she decided to speak out because Conyers had denied the allegations.
In addition to Brown, four other women have accused Conyers of sexual harassment. These include two former staffers, whose names BuzzFeed News is not publishing, alleging that Conyers made sexual advances towards them when they worked in his office, according to affidavits they wrote in support of Brown's case. Another former staffer, Deanna Maher, told the Detroit News that the congressman made sexual advances toward her on three occasions.
BuzzFeed News uncovered a fifth woman, another former staffer who alleged sexual harassment and a hostile environment in a lawsuit she sought to file against Conyers and two of his employees. The woman abandoned the case after her request to keep it sealed was denied, according to public court documents.

Additionally, ethics lawyer Melanie Sloan told the Washington Post that Conyers verbally abused her during her time working in his office in the 1990s.
Conyers had repeatedly brushed aside calls for his resignation. He returned home to Detroit last week, missing votes in the House, and was hospitalized on Wednesday night for what a spokesman said was "a stress-related illness."
Conyers' lawyer insisted as recently as Thursday that the congressman would not step down, rebuffing calls by Pelosi and others to do so. "It is not up to Nancy Pelosi, Nancy Pelosi did not elect the Congressman and she sure as hell won't tell the Congressman to leave," he told reporters outside Conyers' home.

Later, lawyer Arnold Reed softened his tone on the issue, saying Conyers would make the final decision about his political future, citing his health. Conyers had pushed for more time to make his decision in order to get another paycheck, a Democratic aide confirmed to BuzzFeed News.
Conyers did not mention any of the allegations against him in his resignation letter Tuesday.
The House Ethics Committee opened its own probe into Conyers' behavior and the secret settlement, following BuzzFeed News' reporting. And several members of the House called for Congress to review how it handles cases of harassment on Capitol Hill in the wake of the revelations.

In addition to being a powerful Democratic member of the House and the top Democrat on the Judiciary Committee, Conyers is a civil rights icon and one of the founding members of the Congressional Black Caucus.
House Democratic Whip Steny Hoyer told reporters after Conyers' announcement Tuesday morning that he had not heard from the Michigan congressman himself, nor was he aware of any conversations Conyers had had with his own leadership in recent days.
Before the allegations against him came to light, Conyers had been a revered figure in Congress, due to his work supporting voter registration drives during the height of the civil rights movement and his decades as a liberal force in the House. One former staffer told BuzzFeed News that Conyers' reputation had made him "untouchable."

Hoyer said it was "indisputable" that the sexual harassment allegations would affect Conyers' legacy. "Congressman Conyers has made very very substantial contributions in the Civil Rights movement, in the Congress of the United States, and those accomplishments are there for people historically to recognize," he said. "But I don't think there's any doubt that the allegations at the end of the career, no matter whose career it is or what had happened, have an impact."

The allegations put the Congressional Black Caucus in a difficult position, and members clearly grappled with how to respond to questions about their longtime colleague. While they emphasized that they took all allegations of harassment seriously, all but Rep. Clyburn held off on calling for Conyers' resignation.
"He's the dean of the delegation. I've known him all my life," said Mississippi Rep. Bennie Thompson. "He's been an inspiration because what he's done for a lot of people in this country, he did it at a time nobody else would do it."
The CBC took no formal position on whether Conyers should resign, but several members echoed Chairman Cedric Richmond, who told reporters "we think that is a decision for him and his family and his constituents to make."
Darren Sands contributed to this story.
UPDATE
This story was updated with Conyers attorney Arnold Reed's clarification that the congressman's resignation is effective Tuesday.
UPDATE
This story was updated with Conyers' official letter to House leadership confirming his resignation, effective Tuesday.