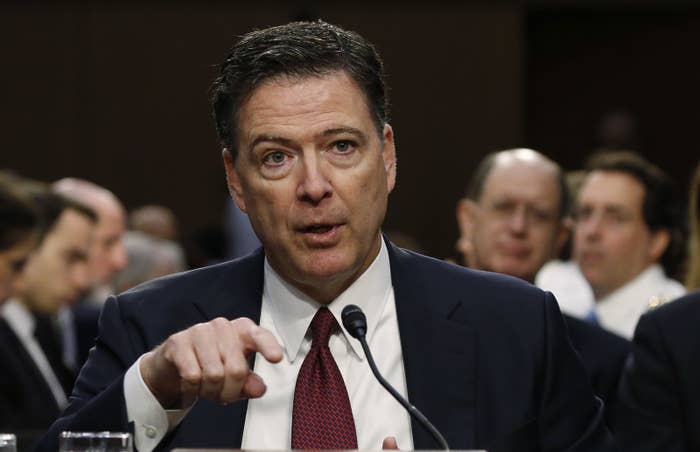 "The president's tweets speak for themselves," a line frequently used by the White House, isn't cutting it for members of the House Intelligence Committee, who are looking into whether President Donald Trump or his administration recorded meetings with former FBI director James Comey.
The committee, which is currently investigating any Russian interference in the 2016 election, asked the White House earlier this month to provide them with any "recordings or memoranda" related to Trump's conversations with Comey by Friday, June 23. The request came in response to Trump's infamous tweet on May 12, in which he said that Comey "better hope that there are no 'tapes' of our conversations before he starts leaking to the press!"
But instead, the committee received a response from the White House on Friday referring them to the president's "statement" on Twitter, an answer both the top Republican and the top Democrat on the committee found lacking.
In a series of tweets on June 22, Trump said that he had "no idea" whether there were any tapes of his conversations with Comey. "I did not make, and do not have, any such recordings," he added.
On Thursday, Republican Rep. Mike Conaway of Texas, who is leading the committee's Russia probe, and his Democratic counterpart, California Rep. Adam Schiff, sent a new letter to the White House saying that the tweeted statement was not sufficient, requesting that they "appropriately and fully comply" with the committee's request or face potential consequences.
"Today's letter from the Committee makes clear that should the White House not respond fully, the Committee will consider using compulsory process to ensure a satisfactory response," their joint statement says.
Trump's tweets stating that he had not personally recorded conversations with Comey, despite his infamous "tapes" tweet, were met with skepticism by Democrats in the House and Senate.
Schiff tweeted at the time that Trump didn't explicitly deny in his tweets that the White House had tapes of Comey in its "possession," just that the president didn't personally have them.
"If the President's statement is accurate, it of course raises as many questions as it answers, the most significant being: If the President had no tapes, why did he suggest otherwise? Did he seek to mislead the public? Was he trying to intimidate or silence James Comey? And if so, did he take other steps to discourage potential witnesses from speaking out?" Schiff said in a statement the day Trump tweeted.
Texas Rep. Joaquin Castro, another Democrat on the committee, argued in a tweet that congressional investigators "should send over a subpoena just to be sure."
For weeks after Trump's initial "tapes" tweet, the White House did not respond to questions about whether or not they existed. At a press conference in June, Trump was pressed on the issue by reporters. "You're going to be very disappointed when you hear the answer, don't worry," he told them.
For his part, Comey expressed hope that the tapes were real. "Lordy, I hope there are tapes," Comey said during his testimony at a Senate Intelligence Committee hearing.
The House Intelligence Committee has also asked Comey to produce any notes and memoranda he made on his meetings with Trump.