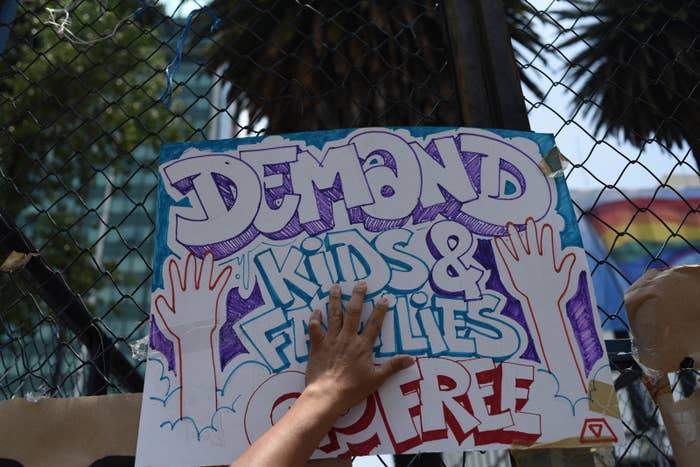 Federal contractors working to reunite families separated at the border asked about the religious affiliation of at least two immigrant women seeking to get their children back, according to court documents and an attorney involved in one of the interviews.
The women, both currently living in the Boston area, were recently separated from their children under President Donald Trump's "zero-tolerance" policy. Both of the women are asylum seekers, and one has already been reunited with her daughter.
Massachusetts Rep. Katherine Clark, who has been working with both mothers to reunite them with their children, told BuzzFeed News Friday that both women had been asked "what is your religion," calling the question "outrageous."
"Both of the families we're working with are Christians," Clark said. "But what if they weren't? Are we saying now you can't be reunified with your own child if you don't share the religious preference of this particular vendor who runs these detainment centers for children?"
It's not clear how widespread the practice of asking immigrant parents seeking to be reunited with their children about their religion is. The Administration for Children and Families, which oversees the office responsible for the separated children (the Office of Refugee Resettlement), didn't respond to questions about whether it is a policy for ORR and its contractors to ask all immigrant parents about their religious affiliation or what the information is used for. The two federal contractors who housed the women's children deferred questions to ORR. The executive director of the Refugee and Immigrant Center for Education and Legal Services (RAICES), which has worked to help reunite families, also said he was not familiar with the issue.
But according to Clark, court documents filed on behalf of one of the women and an attorney for the other, the questions about religion came up during phone interviews with caseworkers responsible for determining whether the two mothers were suitable sponsors for their own kids.
Angelica Rebeca Gonzalez-Garcia was reunited with her daughter in Boston last week after more than 50 days apart. She filed a lawsuit last month to get her daughter back but dropped the case after they were reunited. A clip of Gonzalez-Garcia in tears while hugging her daughter and asking for forgiveness for leaving her alone has been played repeatedly on CNN.
Susan Church, who was on the team of attorneys representing Gonzalez-Garcia, told BuzzFeed News she was asked about Gonzalez-Garcias' religion during an interview with a representative from Southwest Key, where Gonzalez-Garcias' daughter was being held. Southwest Key is a nonprofit with a government contract from ORR to provide emergency shelter for children who have been separated from their parents.

Church said she spoke with the Southwest Key representative to complete an ORR "verbal questionnaire" on behalf of Gonzalez-Garcia, but said that it is usually done by the client.
"One of the very first questions I was asked on that second interview was, 'what is her religion?'" Susan Church said. "I said Christian, but why does that matter?"
Church said they tried to clarify what type of Christianity Gonzalez-Garcia practices, but Church said she responded, "I don't understand why that matters." She described the official as a "bureaucrat" who was just "following the form" and didn't have "any power over the situation."
But Church noted, "I don't have evidence that had the answer been Muslim that the child would not be returned to the mom."
Clark declined to name the other woman she is working with because the mother has not yet been reunited with her son. But the mother has also filed a lawsuit in federal court asking that he be immediately released into her care. The court papers say they were separated at the end of May.
The woman, identified only as W.R. in her complaint, alleges in the case that in June she was instructed to fill out a "Family Reunification Packet" and was asked by a caseworker from BCFS, a Christian non-profit that serves as another government contractor, about her religious affiliation.
"The case worker's very first question to W.R. was whether she is religious, and if so, what religion she practices," according to the complaint. "The case worker then asked W.R. whether she was Christian and attended church and how often. W.R. replied that she is religious and attends church regularly, the case worker responded, 'Great!.'"
The complaint says W.R. was then asked a range of questions by the caseworker, from her marital status to how she would "discipline" her son.
"W.R. answered all questions without objection, because she feared that any objection would jeopardize or further delay A.R.'s release," the complaint states.
Clark pointed to BCFS's website which lists attending a Christian church as a requirement for foster and adoptive parents. A BCFS spokesperson told BuzzFeed News that the family reunification process, including questions that are asked of parents, is all done "at the direction" of the Office of Refugee Resettlement.
The spokesperson added that BCFS's list of requirements (including the requirement that they attend a Christian church) is completely unrelated to the reunification process, which BCFS said it runs according to ORR's guidelines. The spokesperson referred all other questions to ORR, which did not comment on the religion question.
BuzzFeed News reached out to ACF, which runs ORR and falls under the Department of Health and Human Services, for comment on an extensive list of questions, including what the information about the women's religion was being used for and for what reason the women were directed to specific vendors for fingerprints. "As a matter of policy, the U.S. Department of Health and Human Services does not comment on matters related to pending litigation," was the emailed response.
ORR is currently run by E. Scott Lloyd, a devout Catholic with a history of controversial statements on abortion and contraception. He has made headlines this year for preventing minors in immigration detention from getting abortions and has personally lobbied some minors not to get the procedure.
ORR had been using the process meant to place unaccompanied minors with sponsors in order to reunite parents with their children, which includes lengthy vetting. But on Tuesday a judge ruled that process couldn't be used in these situations, calling it too time consuming.

Throughout the process of applying to be reunited with her child, W.R. was identified as the "sponsor" for her son, according to her lawsuit. The BCFS caseworker also referred to her as a "sponsor" during a phone interview, according to the court filing.
"We have to start treating these parents as parents," Clark said. "We separated them from their children, and we have to do everything we can to bring them back together as quickly as possible. And asking a religious test to receive your own child back, are we saying that if you are not Christian you may not have your child returned to you? I find that shockingly — 'inappropriate' wouldn't even begin to cover it — it's just shocking that we would ask that question of parents."
On Capitol Hill, several other Democrats told BuzzFeed News they had not heard about such questions being asked during the family reunification process, but raised concerns about asking families for their religious affiliation and the lack of transparency around the process of reuniting families more broadly.
"It's not in the bounds of normal casework," New Mexico Sen. Martin Heinrich told BuzzFeed News about questions concerning religion. "But this is why we need to do oversight hearings. This is why we need to actually understand what it is they're doing and how they're organizing it."
Heinrich said he hadn't heard of these questions until BuzzFeed News brought it to his attention but said the family separation situation "is all existing relatively in a blackbox."
Sen. Kamala Harris told BuzzFeed News she wasn't familiar with the religion question either, but called it "deeply disturbing."
"We don't make decisions about whether someone is a citizen, whether they enter the country, or — it's called freedom of religion, it's one of the basic tenants of our government and who we are as a country and the priorities we've created," Harris said.
BuzzFeed News also asked Jonathan Ryan, the executive director of RAICES, about these questions, who also said he had not heard of them.
"There should be no religious test to reunification with these unaccompanied children. This is about families first and not about any kind of litmus test," Ryan told BuzzFeed News.
Clark offered an amendment Wednesday that would prohibit ORR or its contractors from asking any question related to religion as part of the assessment "for any potential sponsor or adoptive or foster parent" of an unaccompanied minor or during the process of reunifying a child with a parent.
In addition to the question about religious affiliation, Clark raised concerns that both women had been asked to travel long distances at their own expense to get fingerprinted in order to be reunited with their children.
According to her lawsuit, W.R. was told that in order to complete her reunification paperwork she would need to be fingerprinted at a specific location in Massachusetts, more than 50 miles away, before her reunification case could be evaluated. The lawsuit states W.R. offered to have fingerprints taken at a US Citizens and Immigration Services site in Boston, but was told that she could not go there.
Clark said Gonzalez-Garcia was also initially told to travel from where she now lives in the Boston area to a specific site in New Jersey for fingerprints and would have to bear the cost of the travel. Both women, the lawmaker added, had already had fingerprints taken at the border. Asked what the justification was for traveling to a specific site for the fingerprints, Clark said, "We could never get a clear answer on that."
"Nobody can tell me where the policy is from. I've asked everyone," Clark said. "Can you send me the policy that says these moms need to be re-fingerprinted even though … Border Patrol has them, and why we can't be sharing that information to get this process moving? And nobody can point me to a policy, an email, a meeting, a phone conversation."
"It is chaos," Clark said. "And who's paying the price for it are the children."