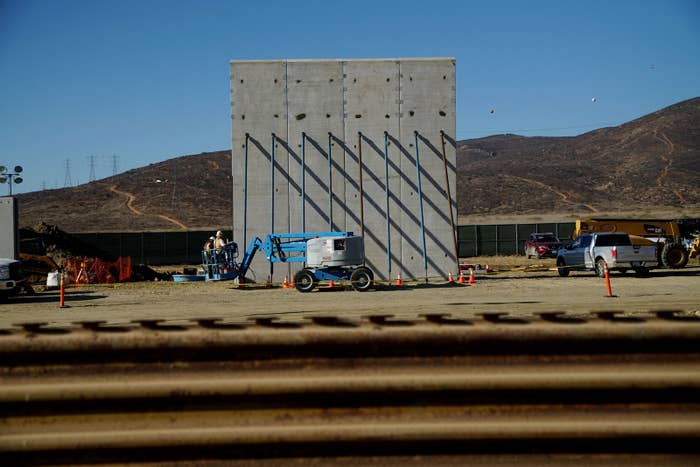 With shutdowns come hard reckonings, and Democrats are doing some soul searching on what they're willing to give up to address DACA — including, potentially, allowing President Donald Trump to "build that wall."
House Democratic Rep. Luis Gutierrez said on CNN on Saturday that he would be willing to fund President Donald Trump's wall along the southern border if it meant protecting DREAMERs. This is a dramatic change of position given how ardently Democrats — and Congressional Hispanic Caucus members like Gutierrez in particular — have opposed the wall.
"If that's what it's going to take to take 800,000 young men and women and give them a chance to live freely and openly in America, then I'll roll up my sleeves, I'll go down there with bricks and mortar and begin the wall. Because, you know, a brick for lives? OK. Let's do it," an emotional Gutierrez said.
Asked about his comments by BuzzFeed News, Gutierrez went silent and got teary-eyed and then reiterated his thoughts. "OK, we're ready to pay the ransom," Gutierrez said.

He told reporters he had told his fellow Democrats at a meeting on Friday about his position. And asked whether he thought his CHC colleagues would join him, Gutierrez said he would only speak for himself.
On Saturday, Senate Minority Leader Chuck Schumer told reporters he had reluctantly agreed to put the wall "on the table" in a Friday meeting with Trump at the White House, in hopes of coming to a deal.
"I reluctantly put his wall request for the southern border on the table; it was his request," Schumer said.
Gutierrez's comments on CNN came shortly after Schumer's press conference and in light of a government shutdown that has focused around the question of when and how Congress will act on DACA.
Asked whether he could support wall funding in exchange for a DREAMER deal, Rep. Raul Grijalva said he is "open to it, but not terribly supportive of it," adding that Gutierrez would have to convince him of the position.
"I understand we're at a point that if there was an opportunity to do something for the DREAMERs…. Then we need to do that," Grijalva said. "I thought [Democrats] had more leverage than we did."
Another of Gutierrez's Democratic colleagues said there was some resentment from members over Gutierrez going on television to make his point, adding that while they wouldn't rule out that Democrats would have gotten to the same position eventually, it felt like they were "yanked" because Gutierrez is such a prominent voice on immigration issues.
That doesn't mean all Democrats will eventually yield.
"My position is absolutely not. And I think there are quite a few other members who have a similar position," Rep. Filemon Vela, a Congressional Hispanic Caucus member, told BuzzFeed News.