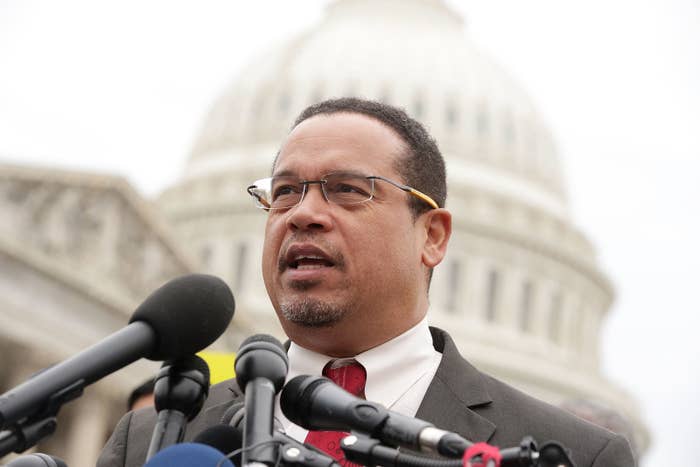 The Minnesota Democratic Party is referring a report on a domestic violence claim against Democratic Rep. Keith Ellison to "local authorities" after an attorney it hired to investigate found that it could not be substantiated.
The state party's decision comes after the Associated Press first reported on a draft report by that investigator, attorney Susan Ellingstad, on Monday. Ellingstad wrote in her report, which was published by the AP, that Karen Monahan's claim that Ellison attempted to drag her off a bed while shouting obscenities at her in 2016 is "unsubstantiated" because Monahan has previously said she had video evidence of the incident but did not provide it to investigators.
"For the purpose of objectivity and getting all of the facts regarding these allegations, we have decided to forward the information in the investigation to local authorities in order to let them review the contents and determine whether further investigation is warranted," Ken Martin, the chair of the Minnesota Democratic Party, said in a Monday statement obtained by BuzzFeed News.
The Minneapolis Star Tribune reported Monday night that Minneapolis City Attorney Susan Segal had received an email from Ellingstad's firm but would be forwarding it to a different prosecutor to investigate because Ellison's son serves on the city council.
Ellison, a progressive who is the deputy chair of the Democratic National Committee and currently running to be Minnesota attorney general, dated Monahan in 2015 and 2016. Monahan accused the Democrat of "emotional and physical" abuse late this summer. Ellison has denied all of Monahan's claims. The Minnesota Democratic–Farmer–Labor Party hired Ellingstad to investigate solely Monahan's allegation that he tried to pull her off of a bed in 2016, not other claims of emotional abuse.
"We understand the public's desire for definitive answers in this matter, but absent substantiated evidence that proves the claim or definitive exculpatory evidence, we believe it is prudent to ask law enforcement authorities to review the information as a final step in this process," Martin said the statement. "We believe ... that a final review by law enforcement authorities who routinely make decisions about allegations such as these, will offer the greatest assurance that the claims were looked into in a fair, impartial and thorough manner."
Ellingstad's report focuses in particular on the alleged video evidence. Monahan's son first brought the allegations to light in a Facebook post last summer, saying he had seen video of Ellison pulling his mother off of a bed and shouting at her. Monahan later came forward herself, but has not provided the video to reporters or investigators and has given varying reasons why. She told CNN that she had misplaced it while moving, but later told Minnesota Public Radio that she had the tape but that victims shouldn't be expected to prove their stories.
"Ms. Monahan claims to possess evidence that could conclusively corroborate her allegation as well as potentially answer all of the questions surrounding it, if it occurred, but Ms. Monahan has chosen to withhold that evidence," states the report. "That the accusing party claims to have but refuses to provide key, dispositive evidence that the accused has flatly denied, causes me to conclude that the allegation is unsubstantiated."
Asked for comment, Ellingstad pointed to Martin confirming the report's authenticity in an email to BuzzFeed News but did not comment further.
Contacted on Tuesday morning, Monahan's lawyer, Andrew Parker, confirmed to BuzzFeed News that Monahan did not release the video as part of the investigation and said that he has not seen it either. "I don't feel I need to see the video" until she's ready to show it, Parker told BuzzFeed News.
"As it relates to the video, she initially was not certain where it was specifically," Parker said. "She had removed it after her son found it. Removed it from her computer to a zip drive. And could not remember specifically at that moment of that [CNN] interview where [she had put it]."
"It needs to be established that they don't need a video," Parker said of abuse victims. "They need corroboration, which [Monahan] definitely has."
He went on to compare the situation to Christine Blasey Ford, who has accused Supreme Court nominee Brett Kavanaugh of sexually assaulting her in the early '80s, when both of them were in high school. Parker said Ford was being viewed as "credible," even though the potential witnesses she has pointed to have not corroborated her story. (Three people whom Ford said were at the party where she was allegedly assaulted have said they do not remember the party. One of them, Leland Keyser, has since said her statement should not be taken as refuting Ford's testimony.) Parker noted Monahan has pointed to individuals who have corroborated her story. "The Democrats are not applying the same standard here," Parker said.
Although Ellingstand acknowledged that the allegation was specific and corroborated by three of Monahan's friends "several months later," she added that, "questions about Ms. Monahan and her son's account of the incident, the timing of the allegations throughout the two-year period since it allegedly occurred, and Mr. Ellison's vehement denial weigh against [her case]."
Ellison thanked Ellingstad for her work in a statement Monday, following the AP's report. "I understand that Susan Ellingstad's independent investigation has found the allegation against me by my former partner unsubstantiated. … Addressing this allegation has been especially challenging given the important national moment we are in. I believe women who come forward must be heard, and to have their allegations fully investigated. This is why I have complied with this investigation fully, and will do so with any other inquiries. I thank the Minnesota DFL for taking this issue seriously and requesting this investigation," Ellison said.
Ellingstad's report comes less than a week after Ellison asked the House Ethics Committee to look into the allegations as well, as BuzzFeed News first reported on Wednesday. Ellison has faced increasing pressure as several congressional Democrats have called for investigations into Monahan's claims. For his part, Ellison said he would cooperate with any investigation "because I am innocent and eager to see this entire matter resolved." But the Ethics Committee only has jurisdiction over current members of Congress for conduct during their tenure and Ellison is slated to leave Congress at the end of this term.
The Democratic National Committee did not immediately respond to a request for comment.