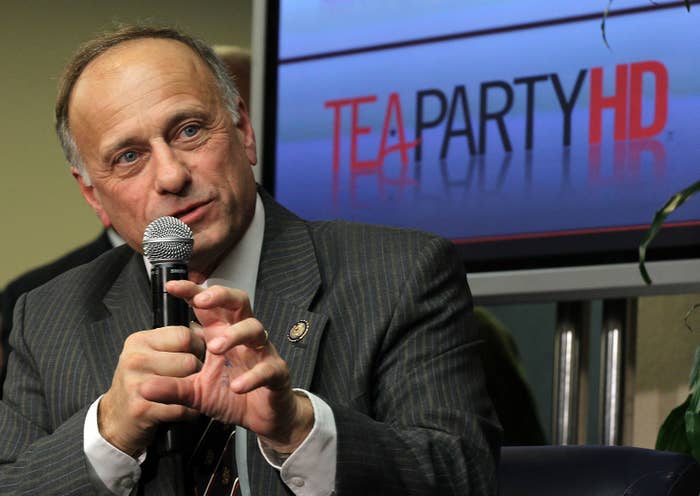 If there's one person in the House who Democrats would love to take down it's Iowa Rep. Steve King, the brash Republican whose penchant for shocking, racist comments has made him a staple of cable news, and a symbolic enemy for Democrats across the country. (King's office disputes the characterization of his past comments as racist).
But after the top Democrat opposing him in the red district dropped out of the race last week, Democrats in Iowa weren't exactly upset about it.
Democrat Kim Weaver had out-raised King in the first three months of 2017, largely thanks to out-of-state progressives eager to remove him from office. But on Saturday she dropped out of the race, citing death threats and other health and family considerations in a Facebook post announcing her decision.
But in the aftermath, King and his former opponent Weaver are on the same page for once: Democrats weren't really supportive of her candidacy.
Weaver said she faced criticism after a story in the Des Moines Register outlined her past as a professional psychic. When the story came out in April she downplayed the time she spent charging customers for psychic readings, calling it a "hobby," and denied believing that she had supernatural abilities.
That's when Democrats turned on her, she says.
"It was like all of a sudden, the Democrats were attacking me, and not even so much the Republicans," Weaver told BuzzFeed News. "I don't want to place blame on the party itself, but certain members of the party. So not the actual party organization."
"It's one thing to have Republicans attacking you, but then, you know, when the Democrats kind of eat their own, so to speak, it makes it even worse," Weaver added.
That, coupled with various acts of intimidation, she said, forced her to step aside. Weaver pointed, for example, to someone putting a "for sale" sign in her front yard, in addition to death threats.
"While some of these things ... they may seem trivial to some people, to a single woman living alone, who never knows where these threats are coming from, it's extremely intimidating," Weaver told BuzzFeed News.
"I just realized that I couldn't do this for another year and a half."
Weaver did say she received an outpouring of online support after she quit the race, as well as a call from former Democratic presidential candidate Hillary Clinton to let her know she was thinking of her.
But now, with the field clear to take on King, other Democrats are thinking beyond Weaver.
"There are some folks that I would say are breathing a sigh of relief that Democrats in the state are not going to have to deal with the opposition research on her being an amateur psychic," Christian Ucles, a Democratic operative in Iowa, told BuzzFeed News. Ucles added that Weaver still had support from many Democrats, especially activists.
"There are a lot more people out there that would like to kill me than would like to kill Kim Weaver."
King tweeted after Weaver dropped out, saying "Democrats drove her out of the race," and that the death threats "likely" didn't happen and were a "fabrication."

"When it comes to death threats, I'm kind of an expert on death threats," King told BuzzFeed News. "I know how many I get in a year, and there are a lot more people out there that would like to kill me than would like to kill Kim Weaver."
Weaver told BuzzFeed News that she had not fabricated the death threats. (She did not immediately respond to a request for additional comment on the threats she received.) She tweeted that King was being insensitive about the "safety issues" that women face.
Some Democrats said their issues with Weaver went back to her 2016 run against King, when he retained his seat with more than 60 percent of the vote. Now that Weaver's out, some Democrats are happy to avoid a repeat of that race.
"Why would we want to run a candidate who tried and failed miserably?" said Al Sturgeon, a former legislator in the Iowa state Senate. "She had an opportunity to demonstrate her abilities as a candidate and she failed … There's no reason to think that she would run a better [campaign] this time."
Sturgeon added that the criticism was "nothing personal," but that Weaver's withdrawal would now allow others to take a look at the seat and consider running.
"I think there's probably some slight relief within the Democratic Party," one elected Iowa Democrat, who declined to go on the record so as to speak more candidly, said of Weaver's decision to drop out. The official said the psychic story damaged the credibility of her campaign. "I think it gave many of us pause," the official added.
The district is a tough one for Democrats to compete in. Located in northwest Iowa, the fourth district is rural and predominantly white. The last candidate to be competitive against King was Christie Vilsack, wife of former Iowa governor and US secretary of agriculture Tom Vilsack. Vilsack had name ID and Democratic establishment support. She lost by eight points.
But despite the district's Republican tilt, some Democrats believe it will be easier to find another strong candidate to run this year thanks to all of the liberal energy that has followed in the wake of President Donald Trump's election.
Weaver raised a lot of money for this second shot against King — just over $179,000 in the first three months of this year, which was approximately $144,000 more than King raised in the same time frame — and had better name ID recognition working in her favor. Weaver promised to leave the money in the district because it was intended to oppose King, and that she hopes to be helpful to whoever runs against him.
"Democrats are grateful for the great campaign that Kim Weaver ran against Steve King," Chris Hall, who serves in the Iowa House, told BuzzFeed News.
But King, who was elected to Congress in 2002, has shown time and again that he is able to withstand the flood of criticism that follows every one of his controversial remarks, which often relate to immigration.
"For everyone who's a valedictorian, there's another 100 out there that weigh 130 pounds and they've got calves the size of cantaloupes because they're hauling 75 pounds of marijuana across the desert," King said in an infamous 2013 interview. He had been discussing immigrant children allowed to stay in the United States because of the DREAM Act, and his comments got national attention.
But that's far from the only instance of King courting controversy. Just this year, he tweeted a photo of a mug of beer with the caption: "First non-valedictorian DREAMer deported. Border Patrol, this one's for you."

"It's a hard district for any Democrat. For us to win that race, Steve King would have to do something criminal for a Democrat to have a chance in hell," Ucles said.
But others point to the momentum the liberal base has built since President Trump's election, and think it is important to have good candidates in place, even in long-shot races.
"I think there's a lot of uncertainty about what's going to happen in 2018, and I think it would be smart for Democrats to have challengers in every race possible," Jeff Link, an Iowa Democratic operative, told BuzzFeed News.
Others noted that there is plenty of time for a strong Democratic candidate to step up.
"I think this is early in the game, we still have enough time to find a candidate who will be a strong, leading candidate," said Randy Black, chair of the Iowa Democratic Wing Ding, an annual Democratic fundraiser.
"I am hoping that a viable candidate will come forward. It's certainly a difficult district for Democrats," said State Senator Herman Quirmbach. "I think the pendulum is going to swing back our way next year."
For his part, King told BuzzFeed News that he wanted Weaver in the race because he felt comfortable running against her again.
"If you're going to have an opponent, I'm going to have an opponent, so it may as well have been Kim Weaver," King said.
UPDATE
This article has been updated with additional comment from King's office.