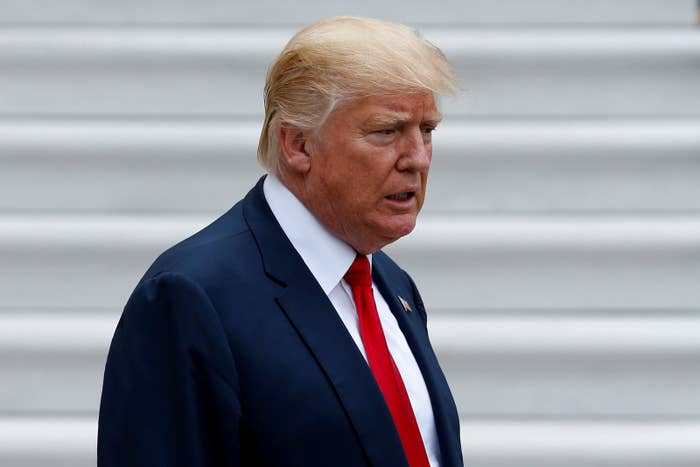 A third House Democrat said Thursday that he will file articles of impeachment against President Donald Trump, following the president's highly criticized response to the white supremacist rally in Charlottesville, Virginia, last weekend, in which he repeatedly said there was "blame on both sides."

Tennessee Rep. Steve Cohen, a member of the House Judiciary Committee, said in a statement Thursday that "as a Jew and as an American and as a representative of an African-American district," he was "revolted" by the president's reluctance to "unequivocally condemn" white supremacists in the wake of the deadly rally.
"After the President's comments on Saturday, August 12 and again on Tuesday, August 15 in response to the horrific events in Charlottesville, I believe the President should be impeached and removed from office," Cohen said in the statement. "There are no good Nazis. There are no good Klansmen."
Cohen's statement quoted Pastor Martin Niemöller's famous "First They Came" poem about World War II. "They have come for me, and for the majority of my Congressional constituency," Cohen, who represents a majority-black district, added. "Accordingly, I must speak out today after what happened on Saturday and our President's subsequent response. It is morally and legally incumbent upon me, based on my oath of office, to introduce articles of impeachment."
"President Trump has failed the presidential test of moral leadership," Cohen said, arguing that Trump "has shown time and time again that he lacks the ethical and moral rectitude to be President of the United States."
In addition to his response to the Charlottesville rally, Cohen also accused Trump of potentially obstructing justice in the Russia investigation — a matter that is being investigated by several congressional committees and special counsel Robert Mueller — as well as possible violations of the Emoluments Clause, which prohibits US officials from accepting gifts and other types of financial benefits from foreign governments.
"He has also shown that he is incapable or unwilling to protect Americans from enemies, foreign and domestic. Neo-Nazis and the KKK are domestic terrorists," Cohen said.
Cohen is the third member of the House to file articles of impeachment. California Rep. Brad Sherman and Texas Rep. Al Green filed their own in May, citing Trump's decision to fire former FBI director James Comey and charging Trump with obstruction of justice.
Cohen's statement came just after Trump tweeted Thursday morning that it was "sad to see the history and culture of our great country being ripped apart" with the removal of Confederate statues.
As the minority party in both chambers of Congress, Democrats could not impeach Trump without Republican support. While many Republicans have broken publicly with Trump over his response to the rally, no Republican member of Congress has called for impeachment or resignation over the matter.
Even Democrats have largely been hesitant to call for impeachment, usually arguing there isn't enough information to make a case for it in relation to the ongoing investigations on whether the Trump campaign colluded with Russia. But a handful of members, including California Rep. Maxine Waters, have been vocal on the matter of impeachment.
No president has ever been removed from office through impeachment proceedings. Presidents Andrew Johnson and Bill Clinton were both impeached by the House, but acquitted by the Senate, which ultimately needs a two-thirds vote to convict a president or another federal officeholder.
BuzzFeed News has reached out to Cohen's office for comment.
CORRECTION
Presidents Andrew Johnson and Bill Clinton are the only presidents to be impeached by the House in US history. An earlier version of this story misidentified Andrew Johnson as Andrew Jackson.