Lenny Dykstra Says He Hired Private Investigators To Intimidate Umpires
The former Phillies star, who spent six months in prison, said he used umpires' sexuality, affairs, and gambling problems to pressure them into making favorable calls.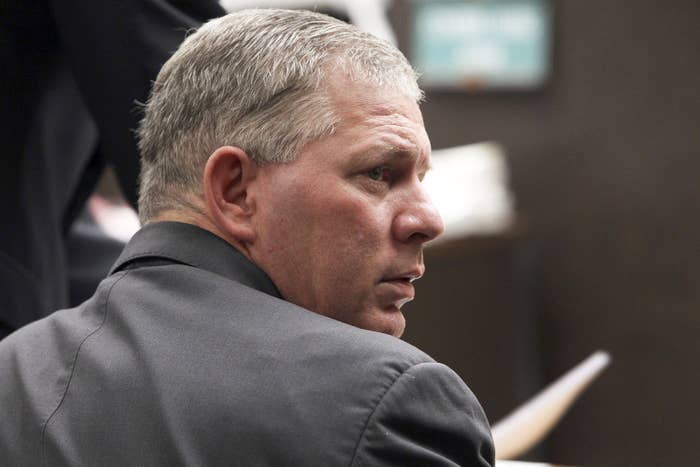 Former MLB player and convicted felon Lenny Dykstra said Tuesday that during his playing career he hired a "team of private investigators" to dig up dirt on umpires that he'd use to intimidate them into calling fewer strikes against him.
"I just pulled a half-million bucks out and hired a private investigation team," Dykstra explained Tuesday afternoon on The Herd with Colin Cowherd on Fox Sports.
"Their blood is just as red as ours. Some of them like women, some of them like men, some of them gamble. Some of them do whatever … It wasn't a coincidence do you think that I led the league in walks the next two years, was it? Fear does a lot to a man."

Dykstra claimed that after an umpire would call a strike against him, he'd turn around and ask, "Did you cover the spread last night?"
Two umpires who worked during Dykstra's playing career have come out as gay; Dale Scott, who came out quietly in 2014 in an issue of Referee Magazine, is an active umpire.
Former umpire Dave Pallone, who resigned after he was outed in 1988, said following the interview that Dykstra had never blackmailed him.
Dykstra claimed to Cowherd that his blackmailing of umpires — which he says started "after he got the money" — is the reason he led the league in walks in 1993. That season, Dykstra walked 129 times. Statistically, his '93 season is drastically different than the years that preceded and followed: Dykstra walked 40 times in 1992 and 68 times in 1994.

Cowherd asked Dykstra if this was the first time he had told his story about investigating and blackmailing umpires. Dykstra said yes, and that he has more to say in his upcoming book.
At the beginning of the interview, Dykstra said he spent $500,000 on the private investigator team, but later told Cowherd he'd decided to blackmail the umpires to support his family.
"I had to do what I had to do to win and to support my family," he said.
Dykstra made his MLB debut in 1985 with the New York Mets. He batted leadoff for the Mets during their 1986 World Series victory over the Boston Red Sox. He spent eight seasons with the Philadelphia Phillies, retiring in 1996 at the age of 33 following numerous injuries.
Post-MLB career, Dykstra attempted various business ventures, but filed for bankruptcy in 2009. In 2011, he was arrested for attempting to purchase a stolen car and charged with bankruptcy fraud. Dykstra pleaded no contest to related felonies in 2012 and spent six and a half months in prison.
Dykstra claimed he had a single cell in federal prison between Dr. Conrad Murray — who treated Michael Jackson before his death — and a leader with the Mexican mafia. He claimed he was instructed by the gang leader to read while he was in prison to pass the time.
"I never read a book growing up because I thought it would hurt my eyes for baseball," Dykstra said Tuesday, then claiming he read 300 books during his half-year stint in prison.