Current FIFA President And The Man Who Wants To Replace Him Face Investigations
FIFA president Sepp Blatter is suspected of criminal mismanagement and misappropriation and is being questioned by Swiss authorities. Separately, the world soccer governing body is looking into Michel Platini, who has been eyeing Blatter's seat.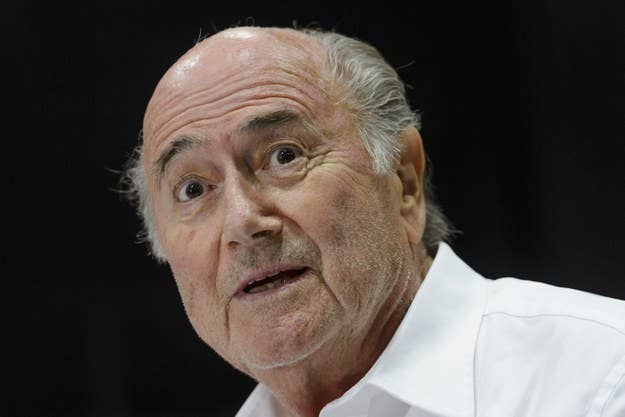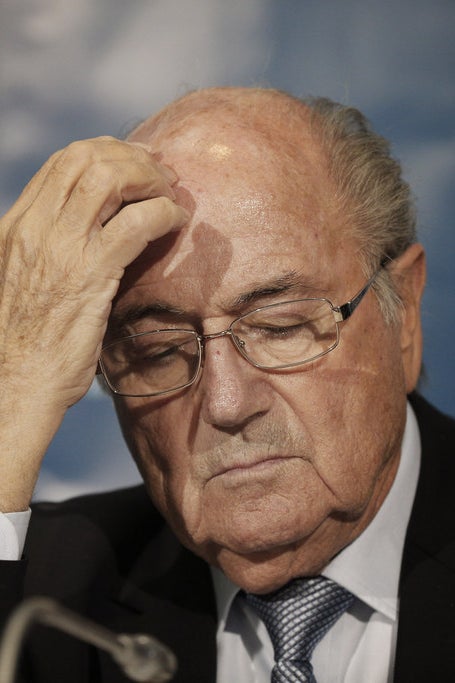 FIFA president Sepp Blatter is under investigation by the attorney general of Switzerland for criminal mismanagement and misappropriation, the government agency announced Friday. UEFA president Michel Platini is also being questioned by the world governing soccer body.
The statement released by the Swiss attorney general said Blatter is being investigated "on suspicion of criminal mismanagement as well as — alternatively — on suspicion of misappropriation." The probe stems from a contract Blatter signed with Jack Warner, former president of the Caribbean Football Union, who has been charged by U.S. authorities with corruption.
"There is suspicion that, in the implementation of this agreement, [Sepp] Blatter also violated his fiduciary duties and acted against the interest of FIFA and/or FIFA Marketing & TV AG," according to the statement.
Blatter is also accused of making "a disloyal payment" of 2 million Swiss francs to Michel Platini, president of the Union of European Football Associations (UEFA), who was the current favorite to replace Blatter as FIFA president. Platini was also questioned on Friday morning.
"I have always been open to supporting the relevant bodies and authorities in their investigative work and therefore cooperated fully," Platini said in a statement. "Regarding the payment that was made to me, I wish to state that this amount relates to work which I carried out under a contract with FIFA and I was pleased to have been able to clarify all matters relating to this with the authorities."
The Guardian reported Saturday that FIFA's ethics committee has launched a formal investigation into Platini and Blatter -- both could be suspended in a matter of days.
If Platini is suspended, even temporarily, he will be ineligible to run for FIFA president, according to the Guardian.
On Friday morning Blatter was "interrogated" by the Swiss government, and his office "has been searched and data seized." FIFA headquarters were also raided by federal police.
A press conference scheduled at FIFA's headquarters in Zurich was canceled Friday.
FIFA released a statement saying it is cooperating with the Swiss attorney general.
"We will continue this level of cooperation throughout the investigation," the statement reads. "Today, at the Home of FIFA, representatives from the Office of the Swiss Attorney General conducted interviews and gathered documents pursuant to its investigation. FIFA facilitated these interviews as part of our ongoing cooperation."
The organization refused to comment further.
Blatter told his staff Monday that he will remain FIFA President as the investigation unfolds, assuring them that he's "done 'nothing illegal or improper,'" according to Rob Harris of the AP.
Blatter's lawyer released a statement to Reuters denying any mismanagement.
In June 2015, amid investigations into top-ranking FIFA officials for corruption, Blatter announced his intent to resign as FIFA president. He had recently been re-elected, but said in June that he would allow an executive committee to determine his future at the helm of soccer's governing body.
In May, nine FIFA officials and five corporate executives were indicted for corruption by the U.S. Department of Justice, seven of whom were arrested at a hotel in Zurich following a three-year investigation by the FBI.
Meanwhile, a second probe by Swiss authorities is investigating corruption relating to the 2018 and 2022 World Cup bids. In June, the Swiss attorney general seized electronic data from Blatter's office at the FIFA headquarters in Zurich.
In the latest issue of FIFA Weekly, Blatter said he supported the U.S. and Swiss probes "no matter how close to home those investigations get."