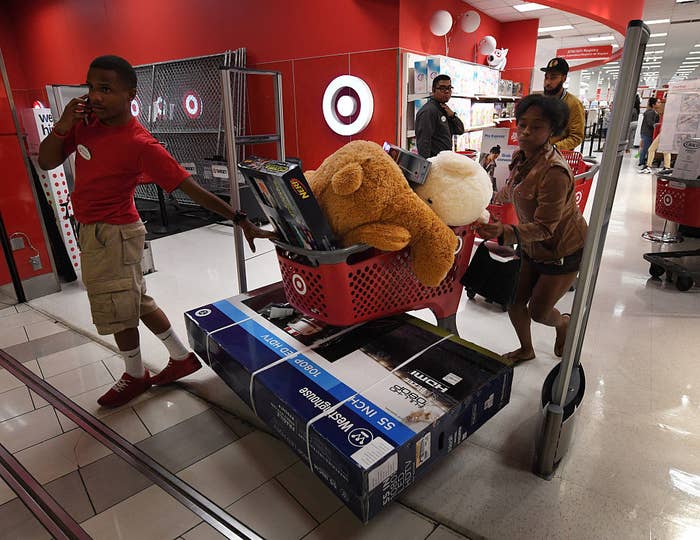 Retailers are sharpening their brick-and-mortar strategies this year to lure shoppers back into stores, even as more consumers prefer to shop online, which means a better chance at upselling and saving costs on home delivery.
Target, Walmart, Best Buy, and other retailers are promoting multiple options for shoppers to find their way into a store to either pick up online orders, make a return, check out a toy demonstration, or cash in on an exclusive in-store discount.
These in-store options aren't necessarily new, but retailers have accelerated these services over the last year as more shoppers go online, Neil Saunders, an analyst with GlobalData, told BuzzFeed News.
"A lot of consumers want the convenience of ordering online but don't want the hassle of waiting around for deliveries," he said. "They like to have the online channel and store channel working together to give them maximum convenience across the board from electronics to groceries."
More consumers are skipping the one-time Black Friday trip to the mall and doing their shopping online over more days, according to analysis from NPD Group's Checkout, a receipt mining service. Yet the retail research firm's analysis of Thanksgiving Day and Black Friday spending last year found buyers spent on average 20% more online than in stores.
This has led retailers to adjust shipping options to keep up with consumers who expect low-cost shipping quickly on their online orders. Amazon is offering free shipping to all its online shoppers during the holiday season. Target is also offering free two-day shipping on all orders until Dec. 22. Best Buy began providing free shipping with no minimum purchase at the end of October on all orders through the holiday season.
But free shipping comes with a cost. Amazon's shipping costs in 2017 totaled almost $22 billion, with around $7.4 billion just in the fourth quarter, which includes the holiday shopping season, according to Moody's retail analyst Charlie O'Shea. But while Amazon continues to bleed money on the free-shipping standard it helped create, its "seemingly profit-agnostic shareholder base provides the company with the flexibility to offer this type of costly promotion, which is a unique competitive advantage," said O'Shea.
For other retailers without a cloud computing business like Amazon's to offset logistics costs, free shipping and supply chain logistics can put a crimp in their profit margins. Target told investors on Tuesday that its supply chain costs caused a dip in its gross margin rate this quarter compared to the same time last year because of a 49% growth in online sales. Best Buy reported on Tuesday that its gross profit rate in the third quarter also took a dive because of higher supply chain and transportation costs.

To curb that delivery cost, retailers are ramping up efforts to bring people into the store to pick up items. Since January, shoppers have grown their use of the buy-online/pick-up-in-store services by 119%, according to Adobe Analytics. The country's largest retailers saw over 250% growth in the same time period, it said.
Target and Walmart both have curbside pick-up options for shoppers who make online orders. Shoppers can buy online, drive to the store, and have their items dropped off to them while they sit in the car parking lot. Target offers the service on most of its nonperishable items. Walmart customers can use Grocery Pickup to order online and pick up their groceries curbside for free in more than 2,000 stores nationwide.
"Given the cost of last-mile shipping, we like the economics of Drive Up much better, and our guests are clearly happy as well," Target told investors on Tuesday.
A physical footprint gives retailers 28% higher conversion online, according to Adobe Analytics. Easy in-store pickup is one contributing factor, but also the ability to see and touch products. The company found that 47% of people visit a store to see a product they want to purchase online later. That statistic jumps to 58% among millennials, it said.

A shopper's trip to the store can also earn extra dollars in revenue for retailers. About 40% of people who go to a store to pick up an online order end up buying another product, Saunders with GlobalData told BuzzFeed News.
To that end, retailers are ramping up their stores to get shoppers through their doors. Target is in the early stages of overhauling 1,000 stores by the end of 2020, which is aimed at making the shopping experience more convenient and inspiring people to pick up items they didn't plan to buy, Eddie Baeb, a Target spokesperson, told BuzzFeed News. Walmart will have Check Out With Me associates placed in key areas throughout their stores to help check customers out directly from aisles instead of waiting in line.
Walmart has expanded aisles and increased its toy assortment by 30% in the store and by 40% online. It is also hosting toy demos in stores during the holiday season. Staples is offering 15% off shipping supplies and UPS shipping services in-store throughout the holiday season, compared to a 10% discount last year. It will also offer exclusive in-store deals that will begin when stores open at 7 a.m. on Black Friday.
Macy's rolled out mobile checkout earlier this year and told investors this month that by using its stores to fulfill online orders it has helped its overall profitability.
"Strong brick-and-mortar, I think everybody knows really amplifies our online sales," Macy's CEO Jeff Gennette told investors this month. "We really look at the full customer journey because she's shopping in all channels, in all categories, and in many cases, many stores, so we got to look at how one particular experience will have an effect on another experience or another transaction."