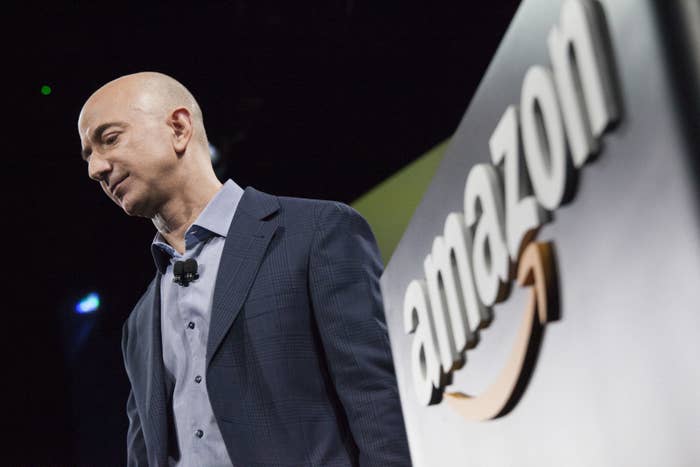 After scrutiny from a Congress member in July, Amazon has removed a number of products promoting racist propaganda from its site, the company said in a letter to Rep. Keith Ellison of Minnesota on Wednesday. Some of the products third-party sellers offered or self-published on Amazon included a cross-burning onesie for boys, a Nazi swastika pendant, a Nazi eagle sticker, and white nationalist literature.
Ellison told Amazon CEO Jeff Bezos in a letter last month that he was "alarmed" that hate groups identified by the Southern Poverty Law Center and the Action Center on Race and the Economy in a July report were profiting by selling products and books that spread racist ideology on Amazon and that the company was taking a cut of their sales.
However, some products promoting racist ideologies remain for sale on Amazon as of Thursday: A cursory search by BuzzFeed News found a patch featuring Nazi symbolism that was included in the July report, as well as a messenger bag featuring a burning cross that wasn't mentioned in the report. BuzzFeed News notified Amazon these items are currently listed on its site.

In a statement, an Amazon spokesperson told BuzzFeed News, "Sellers are expected to comply with our policies, and we immediately investigate any reported violations. The items referenced by Rep. Ellison were previously reviewed, and we removed those that violated our policies well before we received his letter." The company declined multiple requests from BuzzFeed News to provide documentation confirming deletion dates.

In a letter dated July 31, but received by Ellison's office Wednesday, Amazon's vice president of public policy Brian Huseman said the company prohibits product listings that promote or glorify hatred, violence, racial, sexual, or religious intolerance, or that promote organizations with such views.
"Amazon has reviewed the products and content referenced in your letter, and we have removed those listings, and permanently blocked the seller accounts found to be in violation of our policies," said Huseman. "We have restricted the inventory to prevent it from being sold and are in the process of removing it from our fulfillment centers."

It declined to disclose financial information related to individual product listings in response to Ellison's question about the company's profits from the sale of materials available on Kindle Direct Publishing and CreateSpace, Amazon's self-publishing platforms that allow users to upload and sell their own literature online within minutes.

Ellison's office declined to comment on Amazon's letter.
Here are some of the products on Amazon that attracted Ellison's scrutiny: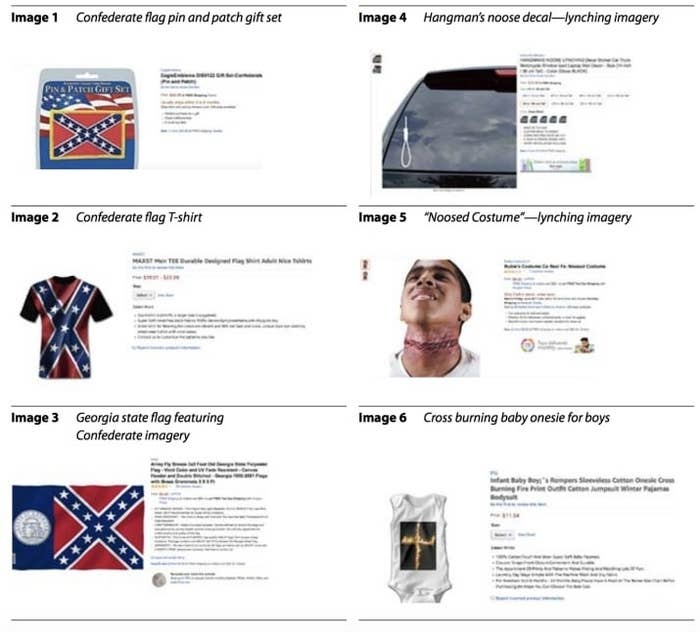 Ellison's letter to Amazon came in response to a July report by the nonprofits Partnership for Working Families and the Action Center on Race and the Economy that detailed several examples of racist propaganda third-party sellers listed on Amazon's marketplace.

The organizations also discovered several books sold on Amazon's Kindle platform, including American Nazi Party founder George Lincoln Rockwell's The Fable of the Ducks and the Hens: A Dramatic Saga of Intrigue, Propaganda and Subversion (as of Thursday, this book was still available for sale); 50 titles published by the white nationalist publishing house Counter-Currents; and five volumes of the Occidental Quarterly, which argues feminism and "racial amalgamation" threatens the survival of whites.
A spokesperson for Ellison told BuzzFeed News in July that "Amazon selling Nazi propaganda just shows that the company has grown too big to effectively regulate itself."
"It needs to be broken up," they added. "[Ellison] will continue to shine a spotlight on this issue, including calling for stronger anti-trust enforcement."
UPDATE
This story has been updated to note that a cursory search on Thursday found items promoting racist ideologies were still for sale on Amazon's marketplace.
UPDATE
This story has been updated to include a statement from Amazon.