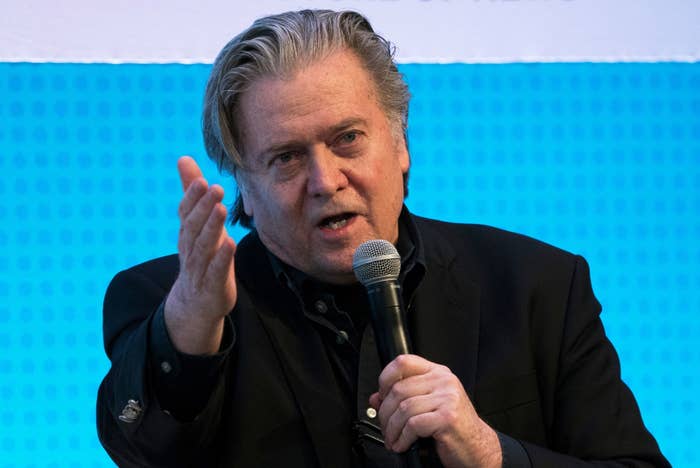 LONDON — Senior members of Europe's fastest-growing nationalist parties have expressed skepticism about plans by Steve Bannon to launch a new organization to support far-right parties ahead of elections for the European Union's Parliament next spring.

One senior figure in the far-right Alternative for Germany (AfD), which entered the legislature for the first time in elections last year and immediately became the largest opposition party, told BuzzFeed News that "everybody can see that they are not too optimistic that Bannon can be of any help."
The AfD politician, who asked not to be named because he was not authorized to discuss the matter with press, said nationalist parties "don't need someone to connect us. … You have to ask yourself what Breitbart has to do with Europe."
The Daily Beast reported Friday that Bannon, the former executive chair of Breitbart News and ex–White House chief strategist to Donald Trump, planned to launch a new project based in Brussels called "the Movement" to bolster nationalist parties with the goal of helping them forge a united front against the EU's leadership.
But some parties integral to this effort have been lukewarm to the announcement, or internally divided over it.
AfD coleader Alice Weidel told German newspaper Die Welt the plan sounded "exciting and ambitious." But the party's national spokesperson, Jörg Meuthen, initially responded to the announcement by saying on a German television appearance, "Basically, we do not need a coaching from outside the EU." (The Russian propaganda outlet Sputnik later quoted him reversing his position, but he was not alone within the party in his initial reaction.)
The Sweden Democrats, an anti-immigration party that polls suggest could become Sweden's second-largest party after September elections, rejected Bannon's initiative flat out in a statement to the country's Dagens Nyheter newspaper on Tuesday. It also distanced itself from a party member, an outgoing member of Parliament named Kent Ekeroth, who reportedly visited Bannon in London this month.
"The meeting with Bannon was on his own initiative and was not something that went through the party," the statement said, noting Ekeroth was leaving parliament this year. "The party has not had any contact with any representative from their campaign and it is not of interest to us. We do not follow Steve Bannon's political work. He is not an interesting person for us."
Bannon downplayed this kind of skepticism in an interview with BuzzFeed News.
"I've had talks with virtually every political party and rising politician thinking about fielding teams," Bannon said. "I think I know how to create a platform to get the word out," he continued, citing the Trump campaign and Breitbart's role in promoting Brexit as examples. "If people want to use the messaging and what they can provide, great. I'm not going to force anybody."
Some of the most powerful nationalist parties in Europe did not comment at all. Multiple spokespeople for Italy's Lega party, which Bannon cited as a model for the European right in his interview with the Daily Beast, declined to answer questions about the initiative, and messages to Hungary's ruling Fidesz party were not returned.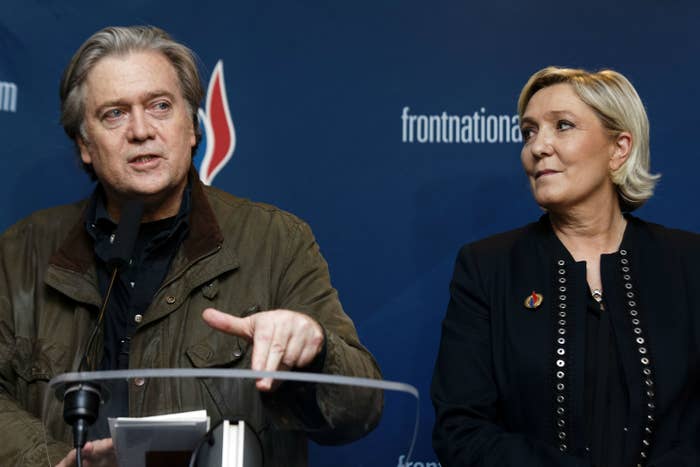 The strongest endorsement came from the leadership of France's National Rally (formerly the National Front), though party leader Marine Le Pen declined to comment on it personally when contacted by BuzzFeed News, and two other members of the party's executive committee said they would not discuss the project on the record.

The party's international spokesperson Jérôme Rivière told BuzzFeed News that Le Pen had personally endorsed the project, and he said it was an asset that Bannon came from outside Europe, because he could speak to all the European parties that at times had old disagreements that kept them from working together more closely.
"What Bannon's bringing, because he's from overseas … he's able to talk to several people who for some reason are not together," Rivière said. This makes him able to help "make things smoother because next time in the European Parliament we need to have one large group … that can prevent the system from working as usual."
Bannon told the Daily Beast he wanted the initiative to rival the scale of the support for progressive causes funded by American philanthropist George Soros.
But Bannon doesn't have a personal fortune like Soros. His major financial backers, the Mercer family, broke ties with Bannon after he enraged Trump by telling a reporter he thought it was "treasonous" that the president's eldest son met with a Kremlin-backed lawyer to seek damaging information on Hillary Clinton during the 2016 election. He was also ousted as chair of Breitbart.
The fallout blunted his efforts to go to war with the Republican "establishment" by backing outsider candidates in Republican primaries. He won an early victory backing Roy Moore for a Senate nomination in Alabama over the pick of Trump and Majority Leader Mitch McConnell, but Moore then lost the seat to a Democrat. Since then, his effort largely fizzled out.
When asked about the new project's budget, Bannon said he "assumes it's going to be in the tens of millions," and that it would be raised from a mix of funders including a "massive small donor program" that would raise contributions from Americans as well as Europeans.
(Another source familiar with the project told BuzzFeed News the budget would likely be more than $10 million over the first few years.)
No Mercer money would fund this project, Bannon said, and he also said he "never would even consider taking a penny from Russia," even though Russian interests have provided financial assistance to Le Pen's party in the past, and several nationalist parties have ties with Russian President Vladimir Putin and his party.
Bannon, who has called Putin's government a "kleptocracy" and his government an "an imperialist power that want[s] to expand," praised President Trump's meeting with Putin last week during which he questioned US intelligence that Russia had attacked the US's election system during 2016.
"I've said from day one you have to bifurcate meddling and collusion, and sometime the president conflates the two," Bannon said. But, he added, Trump "understands the kleptocracy that Russia is. … Trump's on guard and the United States is on guard."
Marcus Engert, Pierre Buet, and Davide Maria de Luc contributed to this report.
CORRECTION
Kent Ekeroth's name was misspelled in an earlier version of this post.