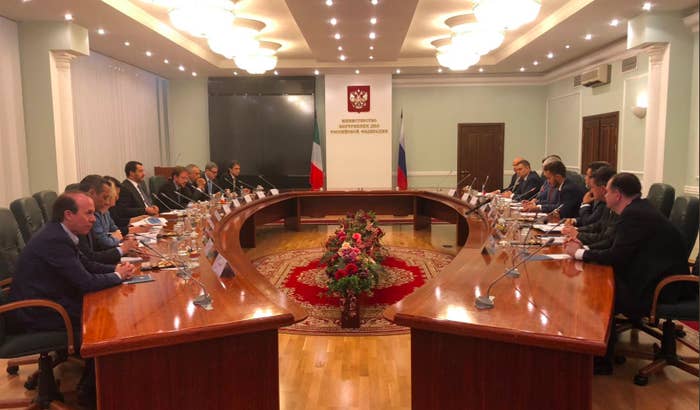 The head of an Italian pro-Kremlin organization with links to religious far-right movements in Russia participated in official meetings between senior Italian and Russian government ministers in Moscow this week.

A photo tweeted by Italian Interior Minister Matteo Salvini on Monday shows Gianluca Savoini, who is the president of the Lombardy-Russia Cultural Association, sitting in on a meeting between Salvini and his Russian counterpart, Vladimir Kolokoltsev. It's unclear in what capacity Savoini attended the meeting.
The issues discussed in Moscow — as US President Donald Trump and Russian President Vladimir Putin met in Helsinki — by the Italian and Russian officials included the sharing of information and best practice among security agencies, Salvini said in a series of tweets.

In one of several Facebook posts published by Savoini on Monday about the Moscow trip, he boasted about being name-checked by a journalist from Russia's press agency TASS, who thanked Savoini for organizing a separate event with Salvini that took place during the trip.
In another post Savoini wrote that Salvini also met with members of Russia's national security council while in Moscow to talk about cybersecurity. He told Italian newspaper La Repubblica that he was present at that meeting, too.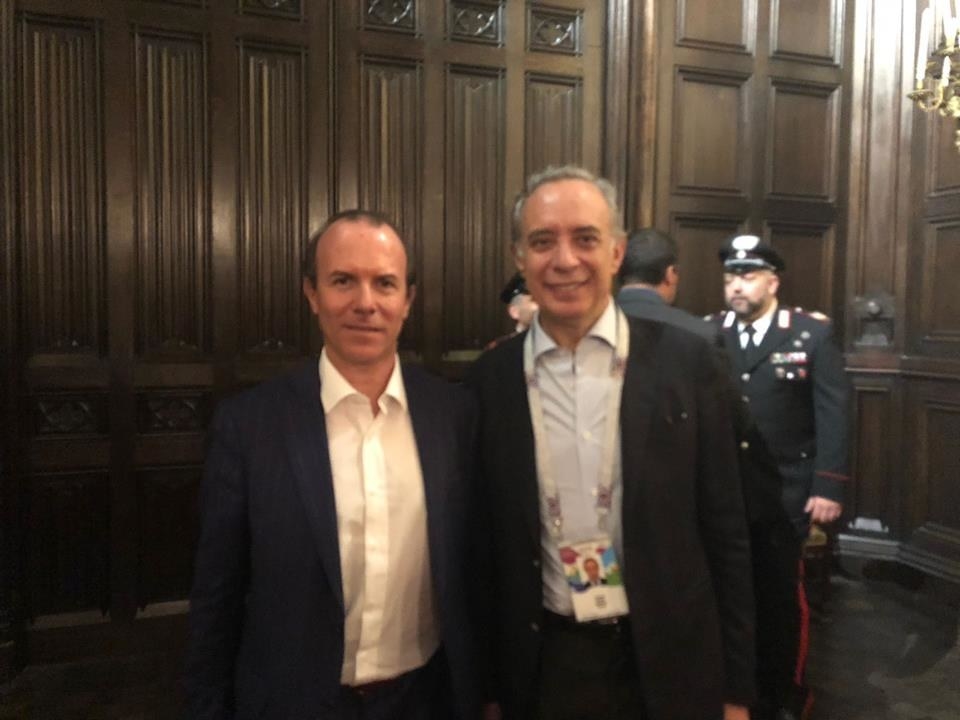 In a third post, Savoini is pictured with Italy's ambassador to Moscow.
"It was for me an enormous pleasure to accompany Minister Matteo Salvini during the course of his official visit to Moscow," Savoini tweeted.
Asked in what capacity he attended the meetings, Savoini told BuzzFeed News in an email that he was part of Salvini's delegation as a "member of the minister's staff."

Savoini said that he'd been a member of Salvini's Lega party since 1991, and had always been a part of Salvini's staff even before the now–interior minister entered government. He also explained that he'd helped organise all of Salvini's trips to Moscow, and had taken part in past meetings with President Vladimir Putin in 2014, as well as with Russian Foreign Minister Sergey Lavrov and other senior Russian officials.
Savoini declined to expand on the precise nature of his role and duties in the minister's staff, and whether these went beyond facilitating connections between Salvini and Moscow.
"I don't have an office at the ministry, but collaborate directly with Matteo Salvini on the basis of his requests. As we've known each other since forever," he said.
Two spokespeople for Italy's interior minister told BuzzFeed News on Tuesday that Savoini wasn't on the internal list of the ministry's delegation for the Moscow trip, but was possibly an "external collaborator" with the minister.
However, the ministry did not respond to repeated questions asking to clarify the exact relationship between the interior minister and Savoini, in what capacity Savoini attended the meetings in Moscow, and whether he had the necessary security clearance to participate in the discussions that took place.
After Savoini's presence in Moscow was highlighted on Twitter, a number of opposition Italian MPs submitted written questions to Salvini asking him to explain why the head of a cultural association was on the trip to Moscow.
On its About page, Lombardy-Russia says that its aim is to reflect President Putin's worldview based on identity, sovereignty, and tradition. It claims to have a partnership with Russian state media outlet Sputnik.

Lombardy-Russia, which was founded in 2014, has consistently pushed pro-Kremlin propaganda, recently claiming that the poisoning of Russian double agent Sergei Skripal was a "false flag" operation. Its activities have included contacts with officials and missions to Russia and annexed Crimea, some of which also saw Salvini's participation, as well as public events and lobbying to promote Kremlin-friendly policy and to protest sanctions.
According to reports in Italian media, Lombardy-Russia members have ties with far-right groups in Italy, elsewhere in Europe, and in Russia.
Central to the association's mission is the promotion of "traditional family values." The organisation's honorary chair is Alexey Komov, the Russian representative of the World Congress of Families, a global "pro-family" movement that fights against LGBT and abortion rights.
Komov has in the past been sympathetic to conspiracy theories about JFK and 9/11. And he has been orbiting around Salvini's Lega party for at least five years. He spoke at the party's congress in 2013, the year Salvini was elected party leader.
"We are your brothers in Russia. We support your values," Komov told the Lega faithful. "This [is] our common Christian European values."
Earlier this month, European diplomatic sources told BuzzFeed News they are concerned about the new Italian government's relationship with Moscow. The sources noted, in particular, an overlap between Italy's two governing parties, Lega and the anti-establishment Five Star Movement, and what a diplomat called Russia's "information warfare"; a partnership agreement between Lega and Vladimir Putin's United Russia, which includes a clause about information sharing on issues relevant to bilateral and international relations; and ongoing "personal relationships" and contacts between party members and Russian officials.

During their stay in Moscow, Savoini and Salvini also attended the World Cup final between France and Croatia. Salvini said he was there to cheer against French President Emmanuel Macron. (France won the World Cup.)