PARIS — The courtship of LGBT voters by one of the leading candidates for the presidency of France began as she tried to distance her party from the Nazis.
While campaigning to lead the National Front in 2010, Marine Le Pen set out to bury the legacy of the party's founder, her own father, Jean-Marie Le Pen, who had twice been prosecuted for Holocaust denial. She wanted to rebrand the party, to rid it of its obsession with the Nazi occupation of France in the middle of the last century. Instead, Le Pen believed voters should be much more worried by a new "occupation" that she thought would bring even the party's old enemies to her side: the "illegal occupation" of France by Muslim immigrants.
Muslim headscarves and public prayer had become so common in "a number of territories" that some areas have become "subject to religious laws that replace the laws of the Republic," Le Pen said during a campaign speech in Lyon on Dec. 11, 2010. As a result, she said, "I hear more and more testimonies about the fact that in certain districts, it is not good to be a woman, homosexual, Jewish, even French or white."
This was part of a strategy that the French press calls the "de-demonizing" of the National Front, which had never won more than 18% of the national vote during the nearly 40 years it was led by her father.
Le Pen's strategy is working. Since winning the leadership of the National Front in 2011, she has succeeded in bringing the party into the mainstream. Current opinion polls have Le Pen as one of the frontrunners for president ahead of elections to be held this spring, and her position has grown stronger as her chief rival has been embroiled in a corruption scandal. And one sign of her ability to broaden her base is that some opinion polls hint at rising support among LGBT voters.
The National Front has more high-ranking gay figures than any major party in France.
The race is the next key test of the nationalist wave that led the UK to leave the EU and to the election of Donald Trump in the US. Some on the right have predicted — and some progressive LGBT activists are worried — that LGBT voters could help put politicians like Le Pen into office because they increasingly fear Muslim immigrants. Left-wing parties have been responsible for nearly every LGBT rights advance on the continent, and if their supporters were to defect to nationalist parties it would suggest the political crisis in the continent is even deeper than many on the left have feared.
This strategy hasn't been easy for Le Pen to pull off, however. If she pushes too hard, she risks a revolt from a strong social conservative faction within her party's traditional base. So she mentions LGBT people rarely and formally supports repeal of the 2013 marriage equality law. But she has welcomed a number of gay men — and all of them are men — into her inner circle, including her chief lieutenant, National Front Vice President Florian Philippot. The National Front now has more high-ranking gay figures than any major party in France, including the Socialists, the center-left party that passed a marriage equality law in 2013.
Opinion polls show LGBT voters still disproportionately support the Socialists and other left-wing parties. But many feel the Socialists badly mishandled the marriage equality debate, even though they got the legislation passed. They believe the party's failure to make a strong moral case for the law gave an opening to social conservatives, who have become an organized force in French politics for the first time. Disappointment with the Socialists has made LGBT votes up for grabs, some LGBT activists say. They have also detected growing xenophobia — especially in their conversations with gay men — over the past few years, which could make them ripe for the picking.
"I believe that French people feel threatened; I believe that about gay people as well."
"What's happening in bars, especially when people have a couple drinks, when they are among friends, you can hear that they're not afraid to voice opinions that for a long time were repressed within the gay community," said Didier Lestrade, founder of Act Up France and author of the book Why Gays Turned Right. (Activists who spoke to BuzzFeed News say they have not detected this shift among lesbians, which some attribute to a deeper commitment to the left based on support for reproductive rights.)
The National Front's platform calls for repeal of marriage equality, but the party's leaders claim marriage is no longer a concern for gay people. Instead, National Front leaders say, LGBT people are far more worried about being attacked by Muslims on the street.
"I believe that French people feel threatened; I believe that about gay people as well," said Sébastian Chenu. The founder of a gay rights group inside France's major center-right party — now known as the Republican Party — Chenu made headlines when he joined the National Front in 2014 and now heads the party's committee for the entire north of France. Marriage equality "is not a central issue anymore," he said, but there is a real threat that France could become "less free." And "when society becomes less free, when one is gay, one has very much to lose."
There's still a lot standing in the way of LGBT voters actually voting for Marine Le Pen in large numbers. But her anti-immigrant, anti-EU position — coupled with a more center-left economic policy that supports France's robust social safety net — is pulling voters from left-wing constituencies to her side. Courting LGBT voters remains a high-wire act, because beneath Le Pen's march to victory is a simmering internal battle that could build into a true revolt from within.
If she does pull it off and win the presidency, Marine Le Pen would upend not just French politics, but potentially the politics of all of Western Europe. A victory could offer a radical new template for nationalist parties and demonstrate that even the most reliable of left-wing voters may be up for grabs.

At the end of last year, a 20-year-old college student named Guillaume Laroze found himself making national news as a casualty of the National Front's civil war over homosexuality.
Laroze is a student at the prestigious Panthéon-Assas University in Paris and represents exactly the kind of new voter the National Front needs to attract if it wants to expand beyond its traditional base among less educated, working-class voters concentrated in the country's southern and eastern regions. In 2012, Laroze had supported François Hollande of the center-left Socialist Party, but, like many leftists, became bitterly disappointed with Hollande's presidency; Hollande's approval rating fell to 4% during his last year in office.
Laroze's personal and political story says a lot about the complex nature of modern French politics, in which the old divisions of right and left no longer suffice. Laroze is gay and says he was attacked by a group of people he believed were immigrants. It happened in a train station in Paris in September 2016, Laroze said, although he believes it was a mugging, not a hate crime. But his experience resonated with Le Pen's anti-immigrant message.
"I was assaulted by three 'opportunities for France,'" he remembered posting on social media after the incident. The phrase had become a sarcastic term used in nationalist circles ever since a Socialist leader described Muslims as "opportunities for France" in a 2014 speech. National Front supporters regard "opportunity" as a kind of do-gooder euphemism for people they believe are in fact a problem for France.
(Laroze has since deleted the post because he came to believe it was racist.)
Even before the attack, Laroze had immersed himself in the Marianne Collective, a National Front discussion group that started out on a couple of college campuses in Paris and was in the process of building itself into a national student union. He was initially drawn to Le Pen's opposition to the EU, which he believed served the interests of large corporations. Laroze quickly rose to become the group's number two, charged with forging relationships with new college campuses, and was being encouraged to run for parliament. Although there is a powerful social conservative wing of the party, he wasn't worried, because he was assured they were in the minority.
The people Laroze knew who were close to Florian Philippot, the party's highest-ranking gay leader, told him: "Don't worry, there are two factions and that [social conservative] one is minor," Laroze said. But as he got to know the party firsthand, Laroze said, he realized "that this [conservative] faction is dominant within the activist base."
Philippot himself didn't come out voluntarily, but rather was outed when a gossip magazine published photos of him with his partner. To the surprise of some, Philippot didn't use that as an opportunity to make a direct appeal for gay support, quipping, "No, the National Front is not gay-friendly ... It's just French-friendly." But the fact that he remained one of the party's most powerful members sent a signal that there was a certain tolerance for gay people within the party.
The National Front has always been something of a family business, and the social conservative faction's brightest star is Marine Le Pen's 27-year-old niece, Marion Maréchal-Le Pen. Many see her as someone who could potentially become a major rival to Marine's leadership of the party if the push to modernize the party doesn't win the presidency. Marion holds one of the two seats in parliament that are controlled by the National Front, and she was elected from Provence-Alpes-Côte d'Azur, the same region in southern France once held by Jean-Marie Le Pen. She has built her national brand by courting social conservatives. While Marine Le Pen was conspicuously absent from the massive street protests against the marriage equality law passed in 2013, Marion Maréchal-Le Pen became one of their most vocal supporters.
Laroze stepped into the crosshairs of Marion's supporters with a cartoon he posted on social media criticizing a rally last fall calling for repealing the same-sex marriage law. Marion was a speaker at the rally, and it was organized by the first-ever socially conservative organization in France to become a major force in national politics. The group is called La Manif Pour Tous, or "Protest for All," a play on the French term for marriage equality, "le mariage pour tous" — marriage for all.
Laroze immediately became an online scapegoat for those angry about gay leaders in the party. "The ominous [Florian] Philippot has turned the [National Front] into a pederastic brothel," one user tweeted. "Another minion," tweeted someone else, using a term with a connotation like "fairy" that Philippot's opponents have used as an epithet against a supposed "gay lobby" they contend he has built around him.
These anonymous attacks might have been easy to shrug off, Laroze said, but he was getting more serious heat inside the party behind the scenes.
Laroze said the president of the Marianne Collective student organization showed him a text message from Marion Maréchal-Le Pen informing him that Laroze was now unwelcome in her part of France. Another message denouncing him came from an even more extreme quarter — the former leader of a nativist group called Sovereignty, Identity, Liberty — a far-right group that had been pushed out of Marine Le Pen's campaign effort.
The Marianne Collective's president, Daniel Auguste, said he does "not deny" receiving these messages in an interview with BuzzFeed News, but stressed he got no "pressure" to muzzle Laroze.
By the end of November, Laroze said, he'd decided he'd had enough. He announced his resignation from the Marianne Collective in a Facebook post.
"I was called a 'leftist Islamized infiltrator,' an LGBT 'parasite,' 'pederastic waste' (or its lovely variant, 'sodomite,')" he wrote, saying he was told he should suck it up in the name of party unity when he complained. "If it is easy to be conservative and a supporter of La Manif Pour Tous inside the National Front, it is much less so to be in favour of marriage equality and to adopt a measured voice on certain issues."
Though Laroze was a junior party activist, his resignation touched off a firestorm, with outlets across France covering the story. In a text message Laroze shared with BuzzFeed News, Philippot summoned Laroze to party headquarters to try to talk him out of quitting, making the case that "societal issues are secondary" in a party working to rein in immigration and the European Union. But Laroze thought Philippot was blind to the power of the party's conservative wing.
"Marion Maréchal-Le Pen brings so many people together because she does talk about social issues," Laroze said. Marine Le Pen, he said, is balancing on a "a tightrope."
(Philippot did not respond to interview requests from BuzzFeed News; Marion Maréchal-Le Pen declined an interview through a spokesperson who said she believes BuzzFeed is "too militant.")
But Marion Maréchal-Le Pen and her allies have not shied away from confrontation with Marine and Philippot over hot-button issues. In December, for example, Marion called for curtailing abortion coverage through the state health care system in a country where abortion rights are accepted as mainstream, pushing Marine to directly take a position in support of abortion coverage. Marine shut her down flat on this issue — curtailing abortion is "not part of my program," she pronounced — but she could face an internal backlash if she wins the presidency and does not follow through on her pledge to repeal marriage equality.
Marianne Collective President Daniel Auguste told BuzzFeed News that Guillaume Laroze was overreacting to the harassment and that he was not representative of gay National Front supporters.
"Guillaume is not the only homosexual in the Front National … and so it follows that Guillaume's departure is not the departure of the whole LGBT community," Auguste said. "I receive insults every day ... and I don't make a fuss about it. He wanted to have his 15 minutes of fame — that is his choice. He had absolutely no weight in this party."
The director of the National Front's youth wing, Gaëtan Dussausaye, said Laroze's mistake was that he "did not read the entirety of Marine Le Pen's program" before joining the party.
"It is true that within the National Front, we do have positions on societal issues: We are opposed to same-sex marriage, we are opposed to adoption for gay couples, we are opposed to medically assisted procreation, we are opposed to surrogate mothers. But we consider nonetheless that these issues are not a priority," Dussausaye said. "I believe, unfortunately, that [Laroze] chose to place these issues on the foreground whereas the National Front places them in the background."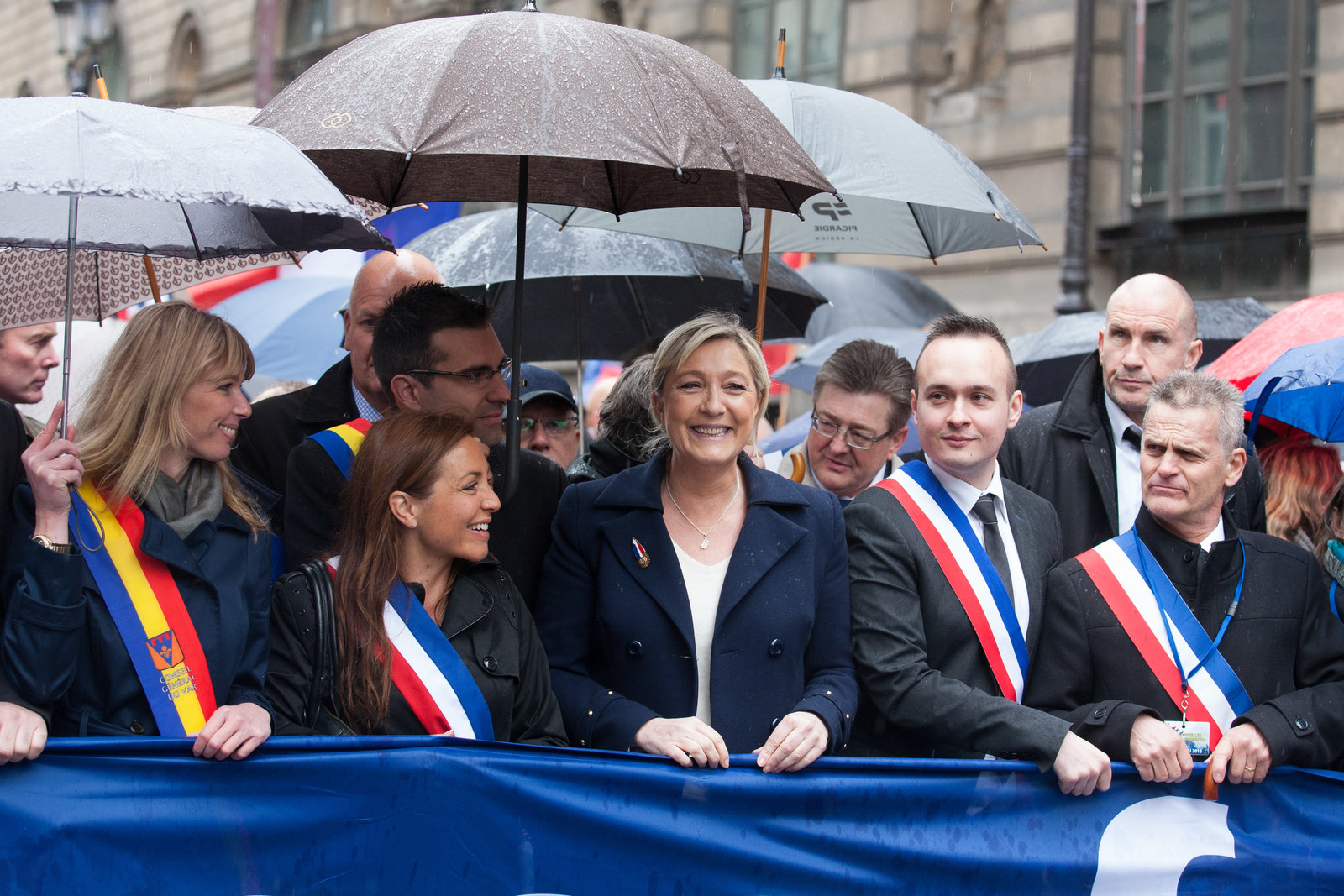 In December last year, Le Monde published a story with the headline, "The [National Front] captures the attention of a part of the gay electorate."
The article was based on a poll, conducted by the research institute Cevipof, which caused a round of stories suggesting there was an earthquake in gay politics. Some reported the study found nearly 40% of gays voted for the National Front in regional elections, a rate higher than straight voters, a statistic repeated by National Front politicians.
But that was not actually what the researchers found. It is true that a small subset of gay voters — married gay men — said they voted for the National Front at a rate of 38.6%, but that bloc generally skews older and more conservative than the LGBT population as a whole, according to French public opinion researchers.
It is remarkable that a party long known for its bigotry and that officially favors repeal of marriage equality could pick up this demographic, but a broader look at polling data suggests gay, lesbian, and bisexual voters still tend to support left-leaning parties at a rate higher than straight voters. (French pollsters do not routinely ask about gender identity, so data on transgender voters was not available.) As a whole, these voters appear to be moving to the National Front at the same rate as straight voters, casting doubt on the idea that queer people feel especially threatened by Muslim immigration.
And the total amount of support remains relatively small, according to data provided to BuzzFeed News by the polling firm IFOP: Between March 2011 and November 2016, IFOP found that support for the National Front in its surveys had grown from 9% among both LGB and straight respondents to 16.5% among LGB and 14.5% among straight ones. (The poll had a sample of 1,620 LGB respondents out of a total sample of 15,379, so the difference between the two groups appears to be smaller than the margin of error.)
In contrast, pollsters with the firm Ipsos told BuzzFeed News they found 52% of the gays and lesbians included in an exit poll during regional elections in December 2015 said they voted for left-wing parties, as opposed to 36% of straight people; around one-quarter of both gay and straight respondents reported voting for the National Front in that survey.
There's not much good data on what queer voters think about immigration, but a small sample of LGB people — 302 people — in a survey Ipsos conducted in 2016 gives a hint. They expressed concern about immigration, crime, and terrorism at rates that were essentially the same as straight respondents.
Available hate crime data doesn't suggest the growth of immigration has made LGBT people a greater target for attack. Hate crimes reported to a hotline run by the group SOS Homophobia reached an all-time high of 3,517 in 2013, the year the marriage equality proposal was debated, and fell to 1,318 in 2015, even as hundreds of thousands of immigrants have been granted new residence permits in that period. This data has its limitations — hotline reports can increase because its contact information is well-publicized, for example, rather than because incidents have increased — but calls into question the assertion that Muslim immigrants pose a special threat to LGBT people.
The prominence of the party has made it more socially acceptable — especially among gay men — to express anti-immigrant views.
Didier Lestrade, the Act Up founder, published Why Gays Turned Right in 2011, well before Le Pen's new direction solidified or the first polls appeared showing gay support for the National Front growing. He said that regardless of the numbers, the prominence of the party has made it more socially acceptable — especially among gay men — to express anti-immigrant views.
"People are not conflicted anymore to voice right-wing opinion," Lestrade said. "It is the end of a taboo."
But LGBT people and others who have historically voted Socialist might be moving into Le Pen's column not because they support her views on immigration, but because the other options seem even worse.
Some LGBT activists angry about the handling of the marriage equality debate — and other issues that have made traditionally left-leaning voters lose faith in the Socialists — say they may not vote at all this year. The Socialist Party only chose its presidential nominee, Benoît Hamon, in a vote last Sunday so there is still time for the race to shift, but the party has a lot of work to do to win back support. Current polls show it coming as low as fourth place in the first round of voting.
France votes for president in two rounds: There's a first vote on April 23 in which 11 parties or more will have a candidate on the ballot. If no candidate gets more than 50% of the vote, the top two then face off in a second election scheduled for May 7.

The candidate who entered the race with the best shot of beating Marine Le Pen is the Republicans' François Fillon. But his campaign has been shaken by allegations that he paid hundreds of thousands of euros of government funds to his wife for work she never did. Fillon is also seen as a die-hard ally of Catholic conservatives — overtly courting participants in La Manif Pour Tous protests against marriage equality — and has taken public positions to the right of Le Pen on economic questions like slashing unemployment benefits and raising the retirement age. The race is now in deep turmoil, with polls suggesting that neither of the two parties that have dominated modern French politics might make it into the second round of voting.
The disarray in the Republican and Socialist parties has meant an independent candidate who supports marriage equality, former economy minister Emmanuel Macron, is emerging as a serious contender. But Le Pen still leads the polls for the first round of voting, and has a chance to consolidate LGBT support later in the election cycle simply by emerging as the lesser of two evils were it to end with a runoff against the Republican candidate.
The National Front hasn't tried especially hard to directly recruit LGBT voters. Even Sébastien Chenu, who started an organization called GayLib to promote LGBT issues inside the party of former President Nicolas Sarkozy before joining the National Front in 2014, told BuzzFeed News that he is not a "gay activist" and does not "recognize a gay community."
"Here in France … we do not recognize different communities," Chenu said.
Less than 5% of French people usually identify as lesbian, gay, or bisexual in public opinion surveys, according to François Kraus of the polling firm IFOP. So even if the National Front manages to win a chunk of it, it's not a huge pool of votes. But it could still be enough to make the difference if the vote is close.
A victory for Le Pen would not only mean a president who wants to weaken the EU at the helm of one of the continent's most powerful countries as the union sets a new course without the UK. It could also provide a template for nationalist parties in other Western European countries. Such parties generally have much deeper ties to the religious right than France's National Front, but this could nudge a realignment as they seek to expand their base.
The Netherlands, the first country in the world to establish marriage equality, holds elections in March, and its nationalist Party for Freedom has long tried to court LGBT support for its anti-immigrant, anti-Muslim platform. Germany is due for elections in late summer, and although the nationalist Alternatives for Germany party is also anti-LGBT — a regional lawmaker made headlines in June by suggesting gay people should be jailed — it is experimenting with appeals to LGBT voters, such as posting signs in Berlin with the slogan "My partner and I don't have any use for getting to know Muslim immigrants; to them our love is a mortal sin."
This strategy doesn't seem to have gained many LGBT votes for Donald Trump in the United States. He made a play for LGBT support by declaring after the mass shooting in June at a gay nightclub in Orlando, "I will fight for you while Hillary [Clinton] brings in more people that will threaten your freedoms and beliefs," but he performed worse than any Republican candidate in the last 24 years among LGBT voters in the US presidential election, winning just 14% of their votes, according to exit polls.
But the immigration backlash has made European politics so volatile that this strategy could work better for nationalist leaders, especially those who seem less beholden to their countries' religious right than Trump.
"I know that people are worried," said Boris Dittrich, who authored the world's first marriage equality law while a member of the Dutch parliament. He is now based in Berlin and serves as advocacy director of Human Rights Watch's LGBT rights program.
"In many European countries, left-wing parties ... in terms of immigration didn't really address the worries and the fears of their voters, and their voters left them," Dittrich said. "I would argue those voters are lost to the left unless those parties change their way of looking at immigration."
Le Pen is betting that this formula will make her president of France. Some activists are skeptical that LGBT people will give her their votes, but they believe there is a real possibility.
"There's a real risk, but I think it's small," said Gwen Fauchois, a longtime activist on HIV issues and LGBT rights in Paris. "Gays don't vote only on gay questions, but if they're in a stage of hesitation [about how to vote], it may sway them one way or another. In the present case, it can definitely sway them to Marine Le Pen's side."