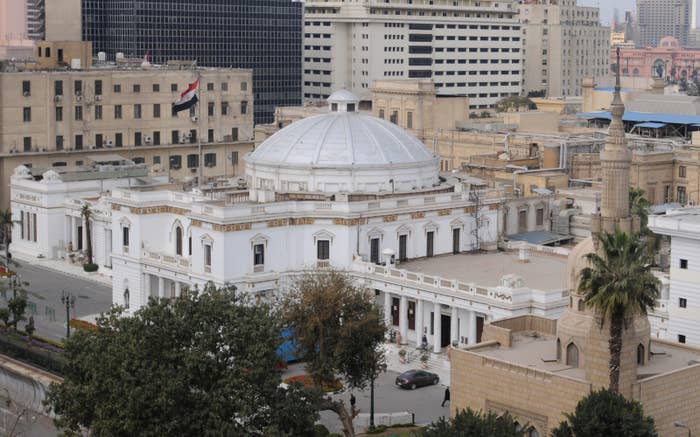 A group of lawmakers in Egypt presented legislation this week that would further criminalize homosexuality in Egypt, reported the news site Masrawy, including making it a crime to "advertise gay gatherings" on social media.
The proposed legislation, which was announced with the backing of 15 members of the Egyptian parliament, would now explicitly make "perverted sexual relations" between people of the same sex punishable by up to five years in prison. "Inciting" or "hosting" same-sex encounters would also carry a sentence of up to three years under the proposal, as would attending a "gay party" or carrying "any sign or code for homosexuals."
The legislation was reportedly presented to the Speaker of the Egyptian House by MP Riad Abdel Sattar on Wednesday ahead of his formally introducing it for consideration in Parliament.
The proposal follows a fresh wave of arrests that began in late September. The crackdown started as a response to an image posted on Facebook of a group holding a rainbow flag during a concert by Mashrou' Leila, a Lebanese band whose lead singer is gay.
More than 30 people were reportedly arrested within the following week, and human rights activists estimate several dozen more have also been detained.
Egyptian police have aggressively pursued LGBT people since President Abdel Fattah el-Sisi took power in 2013. Hundreds have been arrested, many entrapped on social media by police posing as another LGBT person interested in a date.
These arrests happen despite the fact that current law doesn't specifically criminalize same-sex intercourse in Egypt. Instead, LGBT people have been prosecuted for serial "debauchery," often on the basis of anal exams that Egyptian authorities falsely believe can prove whether someone has had repeated anal sex.