Stan Lee, the comic book writer and co-creator of nearly every legendary Marvel character, has died, BuzzFeed confirmed on Monday. He was 95.
Lee was rushed to the hospital from his home in Los Angeles early in the morning, Variety reported. His cause of death was not released. But Lee's publicist, Dawn Miller, said in a statement to BuzzFeed News that he was "a tremendous character that will never be forgotten."
"He brought joy to so many, the world has lost a true legend," Miller said. "I feel honored to have worked with him for so many years, may he rest in peace."
During his eight-decade career, Lee was a pioneer of geek fandom, co-creating a long list of beloved comic book characters in the Marvel Universe, including Spider-Man, the Fantastic Four, Iron Man, the X-Men, the Hulk, Thor, Black Panther, Daredevil, Doctor Strange, and Ant-Man.
In 2008, Lee was honored as "one of America's most prolific storytellers" by then-president George W. Bush, who awarded him the National Medal of Arts. "His complex plots and humane superheroes celebrate courage, honesty, and the importance of helping the less fortunate, reflecting America's inherent goodness," the White House said in awarding him the honor.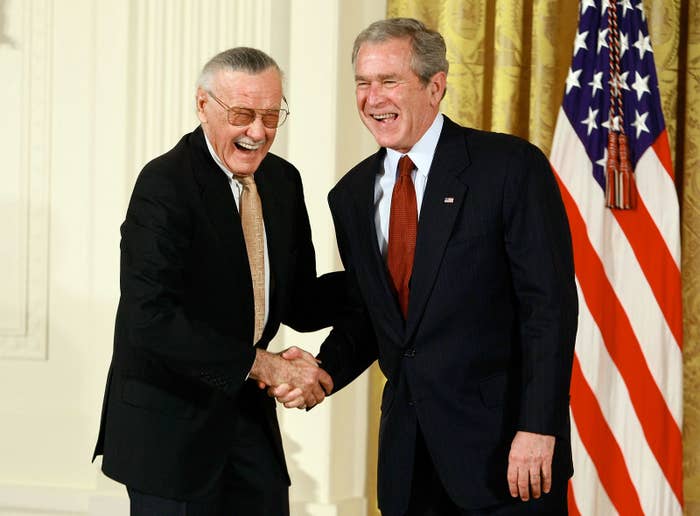 Born Stanley Martin Lieber on Dec. 28, 1922, Lee was the son of two Romanian-Jewish immigrants, Celia and Jack Lieber, in New York City. He had one brother, Larry Lieber, who is also a comic book artist and co-created Iron Man, Thor, and Ant-Man along with Lee.
Lee showed an interest in comics at a young age. When he was just 17, he began working at Timely Publications, which would eventually be called Marvel. (Then-owner Martin Goodman was Lee's cousin through marriage.) The first superhero story that Lee wrote was Captain America No. 3. By the age of 19, he was acting as the editor-in-chief of Timely Publications.
Speaking to NPR about his creative process in 2010, Lee said he wanted to emphasize the humanity in his superheroes instead of just focusing on the physical battles they faced.
"I tried to make them the kind of comics that I would want to read if I read comics. And I was just tired of the same old idea that all you needed was a lot of panels of people fighting each other and that would get the readers," he said. "I felt it would be fun to learn a little about their private lives, about their personalities and show that they are human as well as super."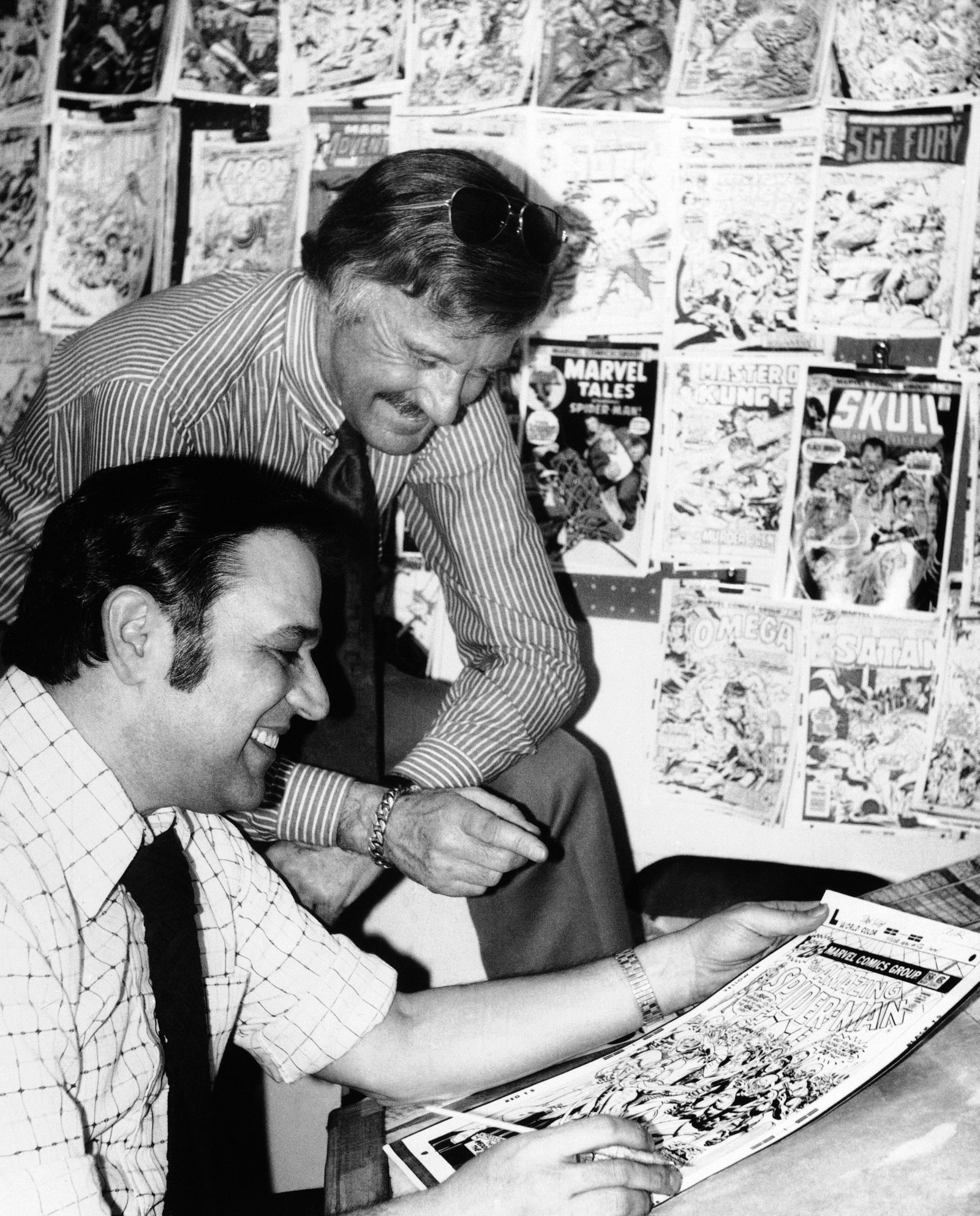 Lee was recognized for his work with an induction into the Will Eisner Award Hall of Fame in 1994 and the Jack Kirby Hall of Fame in 1995, two notable awards in the comic book industry.
His award-winning comics were eventually brought to life on the big screen as superhero movies began to dominate at the box office, endearing Lee and Marvel to a new generation of fans. Lee served as an executive producer on many of the films based on his original comics. He even appeared in a handful of the movies, making cameos in films like X-Men (2000), Spider-Man (2002), Iron Man (2008), The Avengers (2012), Guardians of the Galaxy (2014), Deadpool (2016), and Black Panther (2018).
Disney bought Marvel Entertainment in 2009 for $4 billion. In the years since, the company has grossed $21.3 billion in Marvel films alone, but Lee made only a fraction of that because, although he created the characters and their stories, the rights belonged to Marvel. It wasn't until later in life that Lee publicly said he regretted not negotiating a better deal for himself.
"I was stupid in a business way," Lee said. "I should have been greedier."
Despite his age, Lee never professionally slowed down and continued to work on creating entertainment content. In 2001, he founded the media production company POW! (Purveyors of Wonder) Entertainment, and in 2011 he founded the Comikaze Expo, which is now called Stan Lee's Los Angeles Comic Con, the city's first multimedia pop culture convention. Lee called retirement "a dirty word."
"I love what I do. If I had to do anything else, I'd be miserable," he told Variety. "If I weren't coming into the office and working with the people here, I would be sitting at home, watching television."
Shane Duffy, CEO of POW! Entertainment said in a statement that the company was saddened by the loss of "our friend and mentor Stan Lee, the father of pop culture."
His passing today marks a devastating and painful moment in time, but the legacy of Stan Lee, through his creative genius and his universes of characters, will continue to reach the world of true believers for generations to come," Duffy added. "Our thoughts and prayers are with his family and the fans of not only his work, but of him, as a friend who made the world a better place. He was a true iconic pioneer with no comparable second. It has been an honor to work beside him."
But his later years were embroiled in legal issues, including a lawsuit he filed against POW! executives in 2017 for alleged fraud that was dropped days later. An associate of Lee's was also accused of trying to commit financial elder abuse against the comics legend and take advantage of his vast estate, prompting a restraining order.
In addition to his own convention, Lee had a special affinity for his fans and consistently showed up to Comic-Con conferences in cities like San Diego, New York, and Boston, where fans gather to celebrate their favorite superheroes. "You know when they say, 'Can you take a picture with me,' or shake my hand or something? It's a great feeling that people really care that much. It is," he told CBS News in 2016.
These same fans around the world will remember Lee for creating their favorite superheroes and, in turn, impacting their lives.
"For years, kids have been asking me what's the greatest superpower," Lee once said when looking back at his legacy. "I always say luck. If you're lucky, everything works. I've been lucky."
Despite advances in technology, Lee was also a firm believer in the medium of the comic book.

"I'm no prophet, but I'm guessing that comic books will always be strong," he told Adweek in 2000. "I don't think anything can really beat the pure fun and pleasure of holding a magazine in your hand, reading the story on paper, being able to roll it up and put it in your pocket, reread again later, show it to a friend, carry it with you, toss it on a shelf, collect them, have a lot of magazines lined up and read them again as a series.
"I think young people have always loved that," he said. "I think they always will."
Lee's attorney Tom Lallas who worked with him closely over the years released this statement upon hearing the news:
"Stan Lee, is forever will be, an American icon. All superhero fans around the world mourn his passing. There will never be another like him. Since the death of his beloved wife Joan on July 6, 2017, his most fervent desire was to join her. May they old each other in the blissful, warm embrace of their love for eternity."
Lee is survived by a daughter and brother. Lee's wife, Joan B. Lee, died at the age of 95 in 2017.

Claudia Rosenbaum contributed reporting.
CORRECTION
Stan Lee is survived by one daughter. An earlier version of this post misstated the number.