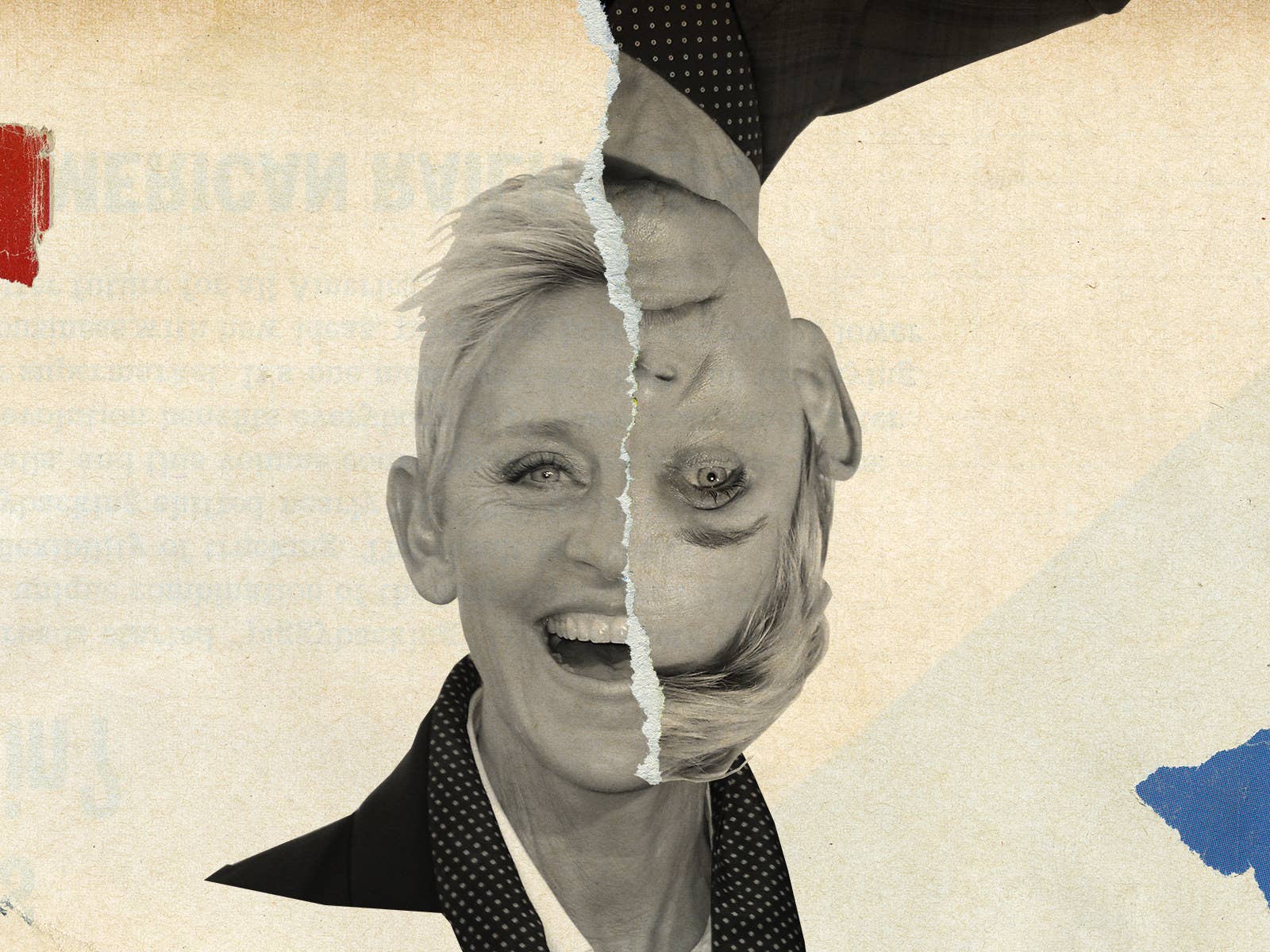 After 19 years, Ellen DeGeneres is leaving her perch atop daytime TV this week with a parade of A-list celebrity guests to remind viewers of how her "be kind" approach came to dominate the genre. But her legacy has been cracked by an increased willingness to reckon her reputation as the Queen of Nice with cringey, out-of-touch moments and allegations of a toxic workplace culture.
When The Ellen Show debuted in 2003, it broke ground as one of the first daytime talk shows to feature an openly gay host, reaching millions of viewers in their homes every day and normalizing LGBTQ representation as well as messages about equality and acceptance. Famously opening each show by dancing with the audience, DeGeneres quickly set about packing her show with pranks, heart-tugging interviews, and viral moments to become a ratings juggernaut and essential promotional stop for top celebrities.
But DeGeneres's star started to dim in 2019 with her defense of her friendship with George W. Bush — a president who supported a constitutional amendment defining marriage as a union between one man and one woman, among other anti-LGBTQ stances — and a softball interview with Kevin Hart after he lost his Oscars hosting gig because of resurfaced anti-gay tweets. There was also the infamously awkward, and famously memed, interview with Dakota Johnson, when DeGeneres insisted she didn't know that she was invited to the actor's birthday party, to which Johnson replied, "That's not the truth, Ellen."
Then, in March 2020, comedian Kevin Porter posted a viral tweet asking people for "the most insane stories you've heard about Ellen being mean" in exchange for him donating money to the LA Regional Food Bank. The tweet generated thousands of replies that sparked a widespread conversation on the internet questioning the behind-the-scenes authenticity of DeGeneres's brand of "kindness."
"I can't emphasize the lack of forethought and insight I had into writing that tweet. It was literally just me rolling out of bed and thinking about it for three minutes before sending it off," Porter told BuzzFeed News, adding that he had heard whispers for years about employees being unhappy at the show. "It was such a ripe subject for gossip because of the cognitive dissonance between the public persona and the private truth and behavior, especially in a professional context."
In July 2020, BuzzFeed News published a series of investigations into the toxic work environment at The Ellen DeGeneres Show. Dozens of former employees said in interviews that they endured racist comments from managers, were fired for taking time off for family emergencies, and worked in a culture of fear and intimidation. In total, BuzzFeed News spoke with more than 85 current and former employees who corroborated these allegations.
Three executive producers — Ed Glavin, Jonathan Norman, and Kevin Leman — also faced allegations of sexual harassment or other misconduct. Norman and Leman strongly denied the allegations. Glavin did not respond to a request for comment. All three were fired from the show in August following an internal investigation by Warner Bros.
DeGeneres originally sent an apology to her staff, saying the show was supposed to be a place of "happiness" where "everyone would be treated with respect." The talk show host also addressed the allegations on the air after returning from summer hiatus for Season 18, telling viewers, "As you may have heard, this summer there were allegations of a toxic work environment at our show and then there was an investigation. I learned that things happened here that never should have happened."
"I take that very seriously and I want to say I am so sorry to the people who were affected," she continued. "I know that I'm in a position of privilege and power and I realized that with that comes responsibility, and I take responsibility for what happens at my show."
But for many employees, current and former, it wasn't enough. And the public airing of what had been largely an open secret in Hollywood changed people's perceptions of the show. Ratings started to decline, and finding advertisers and sponsors got harder.
In October 2020, the tracking firm Nielsen reported that ratings for The Ellen DeGeneres Show declined by about 37% from its previous season. About 1.7 million average viewers watched Season 18's premiere week compared to Season 17 in September 2019, when about 2.7 million people tuned in. As of December 2021, the show's ratings in its final season increased by 10% to a 1.1 live plus same day national household rating, according to Nielsen.
Despite the ratings seesaw, DeGeneres interviewed a range of A-list stars in her final season, including Meghan Markle, Jennifer Aniston, Zac Efron, Diane Keaton, Kim and Khloé Kardashian, Kris Jenner, and even Michelle Obama.

But according to a prominent Hollywood publicist who didn't want their name used, those celebrities are already established and have relationships with DeGeneres and her team. Newer, up-and-coming talent, though, hasn't been as excited to appear on the show.
"Once upon a time, in the heyday of Ellen, that show was a career-defining booking for certain talent on the up and up, talent that were really trying to be a part of Hollywood in a big way," the publicist told BuzzFeed News. "It was the daytime booking to get, and oftentimes led to late-night show opportunities and magazine covers. You would prioritize that because it was so meaningful and was so widely syndicated; it was a different level than booking the Today show or Good Morning America. There was something about it that felt really premium that felt like you'd broken through and made it."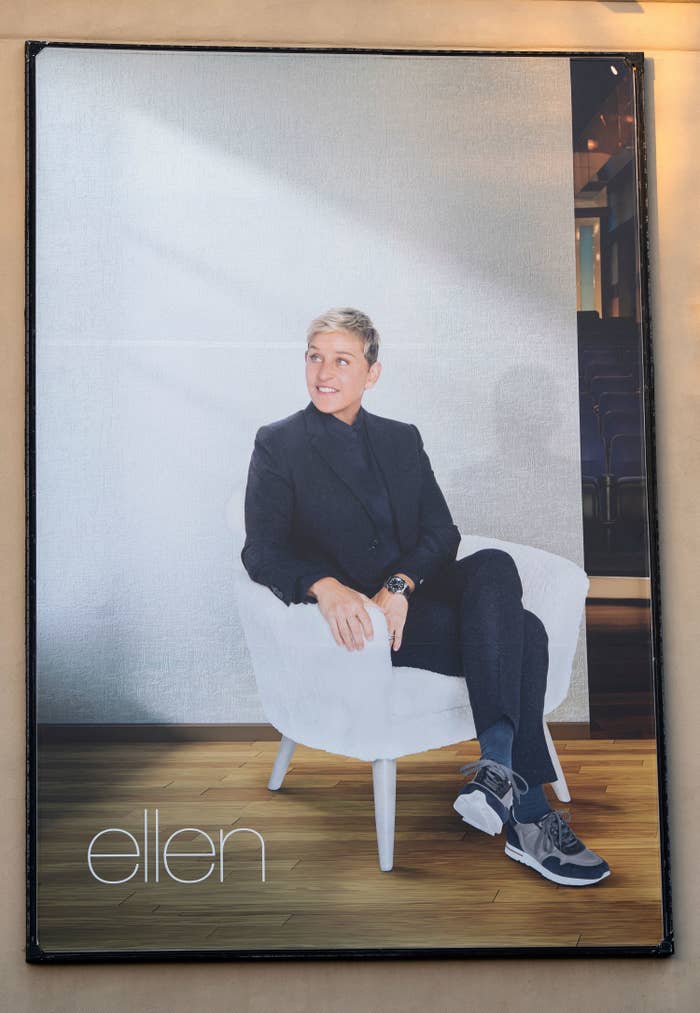 But in the last couple of years, the publicist said DeGeneres's "prestige wore off very quickly" and their clients preferred to be pitched to The Kelly Clarkson Show and The Drew Barrymore Show.
"People don't want to be associated with everything that emerged. People are being hyperaware of the alliances they build in this business, and it's hard to sort of trade off and sell out, for lack of better words, a booking with a terrible person or someone perceived to be a terrible person," they said, adding that celebrities had also become hesitant due to the potential for awkward interviews, citing the 2019 Johnson exchange.
"Hollywood knows what The Ellen Show was. People knew her and knew what the show was. It had a bad reputation — there's no pulling the wool over anyone's eyes in Hollywood," one former employee told BuzzFeed News. "For the rest of middle America and the general viewing public, they probably bought into whatever's being fed, but I don't think anyone in Hollywood is like, 'Ellen is really awesome and those stories were just a fluke.' I see it for what it is, which is a money-making machine. That's all. She's an entertainer and it's complicated."
Another former employee said they know DeGeneres's impact is important despite them having had a bad experience at the show, but it's hard for them to make sense of it.
"My parents have never been prouder than when I worked at The Ellen Show despite the fact that it was a miserable experience for me and most of the people who were there," the former employee said. "I understand her cultural impact and I understand her impact on society and how people treat LGBTQ folk, but I also know that the personal and the political aren't always the same, and despite her being an important figure in Hollywood and cultural history, I will never have fond feelings towards her or that show."
Another former employee echoed that sentiment, especially in light of DeGeneres's attempt to rewrite the narrative of what happened on set. In May 2021, after BuzzFeed News published its investigations — and she'd apologized to staff and viewers — DeGeneres denied any knowledge of a toxic workplace environment and suggested the allegations were "orchestrated."
"I really didn't understand it. I still don't understand it. It was too orchestrated. It was too coordinated," she told Today host Savannah Guthrie.
"The part that is the most difficult is pretending that this show was anything but a very complicated, unhappy story for a lot of people," the former employee said. "We covered it up for years and years and years, until all of a sudden we weren't covering it up anymore, and then it all came out and it was all public, and then the wheels started turning, asking, 'How do we cover it right up again?' and that's what ended up happening in the end. To me, the legacy is just that: It was years of covering up bad behavior, to then have it be outed, and then start covering it right back up again and pretending like it never happened."
While people behind the scenes in Hollywood have more complicated feelings about the show ending, for many fans, it's a big loss. When 25-year-old Audrie Gomez was in high school, she started watching The Ellen DeGeneres Show every single day as a source of joy and comfort when she was otherwise feeling depressed. She was in the audience for 10 tapings of the show and even attended an intimate rally with other fans to support and celebrate the show this year outside of the Warner Bros. lot where they film.
Gomez told BuzzFeed News she was so inspired by DeGeneres and her positive outlook that she even got a tattoo of something the host said in one episode: "Things will get easier, people's minds will change, and you should be alive to see it."
"Ellen made me realize that I was gay — I think she's just the very first person that I saw who was gay and a lesbian and had her own talk show," Gomez said. "She would always advocate for kids getting bullied, and I was very depressed when I was in high school. I was suicidal, and she helped me better myself and become happy when I would watch her show for an hour every day after school."
Gawker writer Olivia Craighead, who has been chronicling DeGeneres's final season each week for "The Last Days of 'Ellen,'" told BuzzFeed News she pitched the idea to her editor because she thought it would be "kind of funny to see how she lands this plane because it just seems like she kind of ruined her own legacy a bit." Like many young people growing up in the 2000s and 2010s, Craighead said she has watched the show on and off for basically her entire life.
"I remember her from my childhood as being really fun. When my brain was not yet fully formed, I was like, 'Ellen rocks.' Everyone looked like they were having a really good time, and she looks kind of tired now," Craighead said. "It makes perfect sense she's ending the show; she looks tired in a way she didn't in 2005."
She also thinks DeGeneres's legacy will probably depend on who the viewer is.
"I think for people like our moms, they will remember Ellen as a fun show that was on in the middle of the day. I don't think they care that much that there were bad business practices or the workers were treated poorly," Craighead said. "And then I think there are other people who are more attuned to what's going on and will remember it as a show that had a massive rise and fall, and then perhaps a slow fizzle."
DeGeneres's final episode airs May 26. But in an Instagram post filmed during the taping, she made it clear that at least part of her legacy is the trajectory of her journey.
"I never, ever thought that it would last 19 years, never thought we would get to do all the things that we've done and help so many people. It really just started out as a springboard from doing stand-up because I love making people happy, I love making people laugh," she said through tears. "I don't know what I'm going to do next, but this has been the best chapter of my life so far. It's been amazing. Thank you." ●