Meek Mill is set to drop his latest album, Championships, at midnight on Thursday.
And on Thursday, when the rapper released his tracklist full of features from artists like Jay-Z, Cardi B, and Future, one name particularly stood out.
Yep, after their infamous beef, the two rappers are releasing a new song together titled "Going Bad."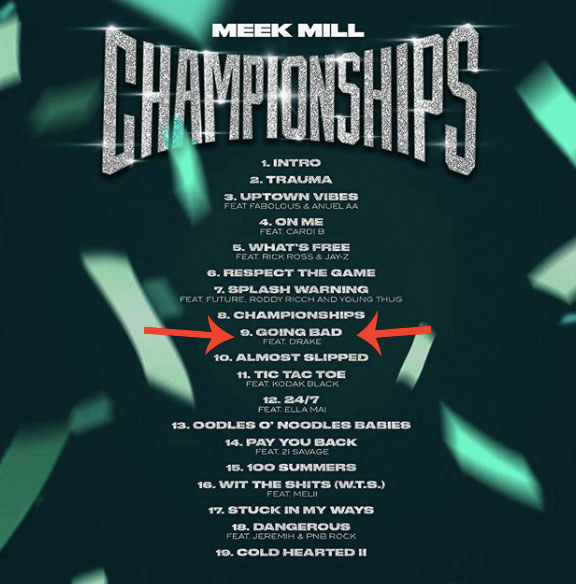 Let's take a minute to remember how the feud began.
"Stop comparing Drake to me too.... He don't write his own raps!" Meek Mill wrote in a now-deleted tweet from July 2015. "That's why he ain't tweet my album because we found out."
Meek Mill was referring to the song "R.I.C.O." on his album Dreams Worth More Than Money, which featured Drake.
After Meek Mill sent out a series of tweets about Drake, Drake responded with a diss track about his former friend, called "Charged Up." After a couple of days with no musical response from Meek Mill (but continued social media comments), Drake dropped a follow-up diss track, "Back to Back," which became instantly popular and even Grammy-nominated.
Meek Mill eventually released a diss track of his own, "Wanna Know," but in the court of public opinion, Drake had won their rap beef.
But it appears bygones can be bygones. Back in September, Meek Mill joined Drake onstage in Boston during the Aubrey & the Three Migos tour.
They even played a game of ping-pong together after the show.
"Healing and moving forward created one of the most electric and gratifying moments of my career," Drake wrote in an Instagram caption.