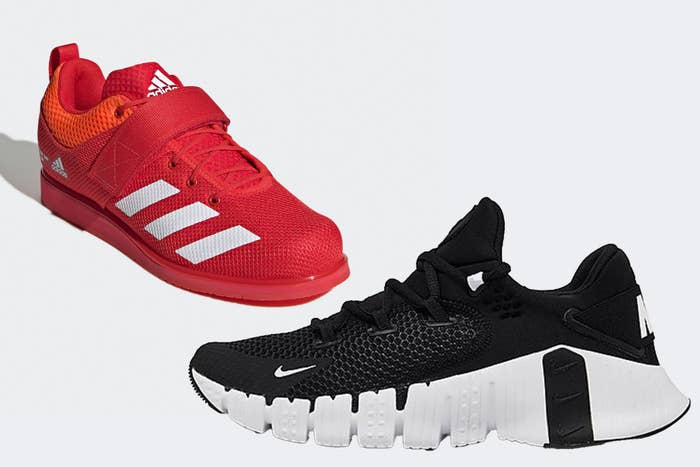 BuzzFeed may collect a share of sales or other compensation from the links on this page if you decide to shop from them. All products were independently selected by our editors, and the prices were accurate and items in stock at the time of publication.
Whether you're a frequent gym-goer or are looking to incorporate more exercise in your weekly routine, one workout essential you need is a pair of quality shoes to get you through each session — and not all sneakers are supportive enough to do the job.
Who better to get recommendations from than people who are in the gym every day? To help you get your feet on the right track the next time you hit the gym, we asked fitness experts, including trainers and instructors who really know their stuff, to give us their top picks for the best gym shoes.
The best gym shoe is durable enough to hold up for your most intense fitness days, has the correct kind of support for your foot shape and has construction designed to enhance the type of workout you're engaging in. Activities such as HIIT, cross-training, weightlifting, squats and running will yield better results — and reduce the possibility of you getting hurt — with the right shoe.
"I use different shoes for different training. I see shoes not only as a way to keep my feet protected and healthy, but also as a way to amplify my power and stability," said Justice Williams, a Boston, Massachusetts-based lead trainer at Fitness4AllBodies.
The footwear options below are suitable for all types of fitness tasks, and a few experts say they wear them for running, too.
Adidas Powerlift 5 weightlifting shoe for weightlifting
"When I train my heavy squat, I use a shoe with a raised heel of an inch. This shoe helps with my squat depth, as I have limited mobility in my ankles. My go-to is the Adidas Powerlift 5 because it's affordable and feels good on my foot," Willams said.

Designed specifically for weightlifting, this lightweight shoe provides the security and stability you need for strengthening. It's constructed with straps, laces and a rubber outsole to keep your feet in place. This unisex shoe is available in four colors — red, white, blue and black — and comes in women's 5-15 and men's 4-14.
You can buy the Powerlift 5 weightlifting shoe from Adidas for around $120.
Nike Free Metcon 4 training shoe for speed and stability
"These shoes have the flexibility of the Nike Free on the ball of the foot and a wide heel to keep you fast, but are stable for everything from lifting weights to agility and speed drills. The Nike Free Metcon4 is a very versatile shoe for the gym as it combines flexibility and stability to get the most out of your gym session," said Tatiana Lampa, a New York City-based certified personal trainer and corrective exercise specialist.

Available in multiple colors, including burgundy, cream, teal, navy blue, pink/black, orange and black, this training shoe's wide heel design gives you a stable base for weight lifting. It's available in women's 5-15 and sizes 3.5-20.
You can buy the Nike Free Metcon 4 training shoe from Finish Line for $120.
Nike Free Run 5.0 running shoe for a 'barely there' feel while strength training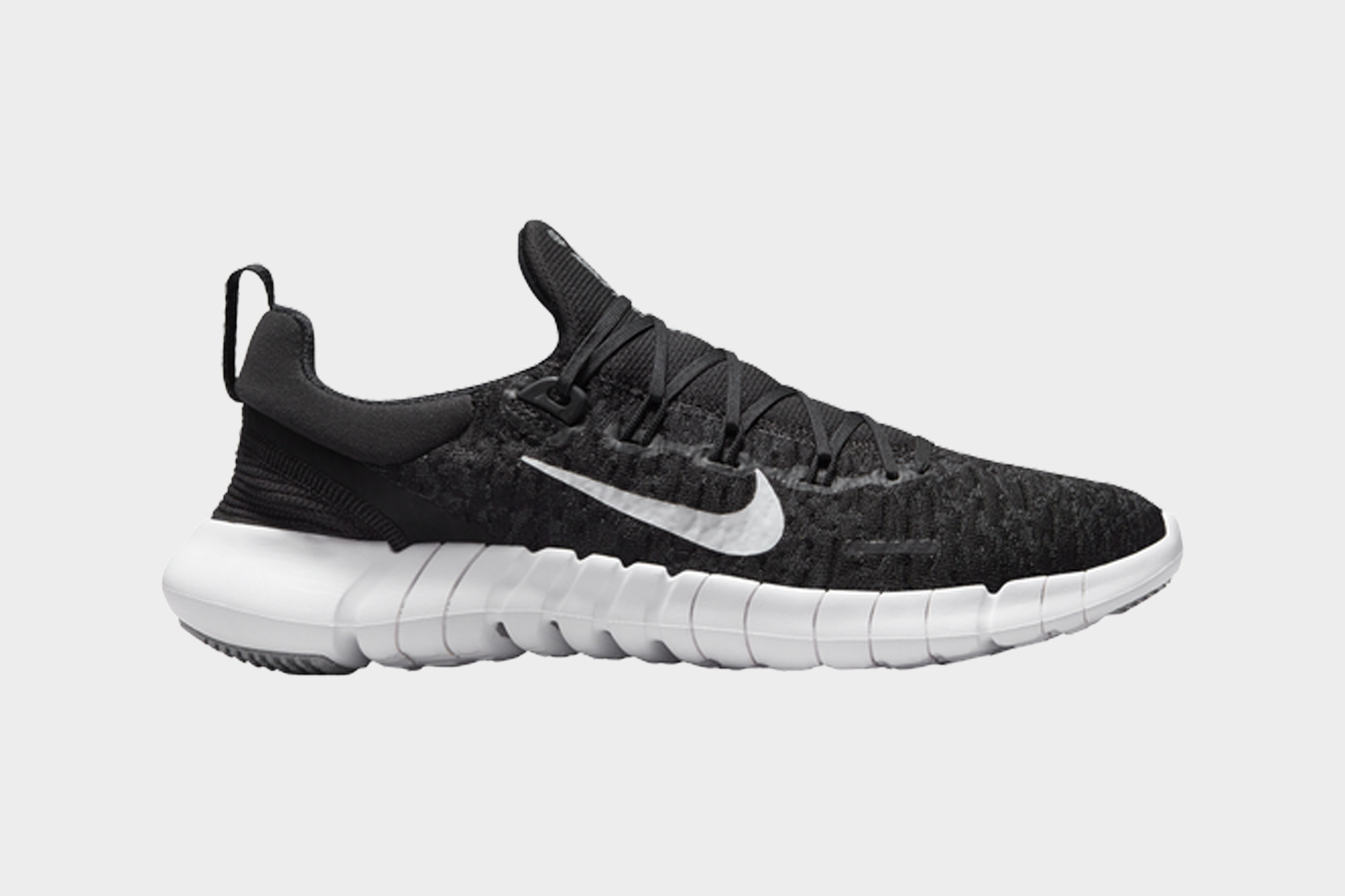 Though Hughes recommends strength training barefoot, if that's not an option, she said it's a good idea to select a shoe that's flatter and has a barefoot-like feel like this one.

"I like a Nike Free for the 'barefoot' feel that gives a flat surface (similar to a Converse or Vans) but with a bit more flexibility and support should your programming incorporate things like squat jumps or faster lateral movements. If you're doing HIIT training you might, however, opt for a shoe with a bit more foot and ankle support," said Thea Hughes, a New York City-based functional strength coach and founder of Max Effort.

This breathable running shoe has reinforced material on the sides where the shoe laces loop through to keep your foot secure and stable. It comes in multiple colors including black, white/red, dark blue, khaki and black/cream. The shoe is available in women's 5-12 and sizes 6-15.
You can buy Nike Free Run 5.0 running shoe for women from Foot Locker and for men from Finish Line for around $100.
Athletic Propulsion Labs Techloom Phantom running shoe for casual gym activities (women's only)
"These shoes feel so good on my feet in both a plantar flexion and dorsiflexion. That's important because I can dance in them, train in them and of course run in them. They're perfect," said Selena Watkins, a Los Angeles-based fitness instructor, dancer and founder of Socanomics.

These shoes are available in women's sizes 5-13 and in an array of colors like black, peach, blue, gray, all-white and pastel pink. With four-way stretch for maximum flexibility in the upper part and cushioning in the mid and outsole, your feet will be comfortable and supported while you move.
You can buy Athletic Propulsion Labs Techloom Phantom running shoe from Amazon for around $160.
UA Flow Synchronicity running shoe for arch support during gym activities (women's only)
"I love that the UA flow shoe is lightweight, breathable and very comfy. It was specifically designed to support the arch and heel of a woman's foot!" said Ariel Belgrave , a New York City-based health and fitness coach and founder of Gym Hooky.

The structure of this lightweight shoe was intentionally designed for women's feet because it's been proven that on average, men's feet are structurally different than women's. 3D foot scans were used to create a custom fit that hugs feet and gives arch support. The upper is made of soft knit and the interior even has a plush sock liner for added comfort. It comes in women's 5-12 and in white, pink, black/silver, black/teal and black/orange.
You can buy UA Flow Synchronicity running shoe from Under Armour for around $140.
New Balance Fuelcore Nergize training shoe for everyday gym sessions (women's only)
"These shoes are super comfortable training shoes that can take you from lifting weights to knocking out short distances on the treadmill and everything in between. I love that even though they are training shoes, they are stylish enough for you to leave the gym and run errands around town. They're also super affordable," said Sashea Lawson, a New Jersey-based runner, fitness blogger and founder of Diverse Runners World.

Made for cross-training, this lace-up shoe has a memory insole to last through even extra-long sessions. There are also elastic bands on each side of the shoe for added security. It comes in women's sizes 5-12 with wide options available and in multiple colors like black, gray, black/white, and white/pink.
You can buy New Balance Fuelcore Nergize training shoe from Amazon starting at around $50.
This article originally appeared on HuffPost. ●