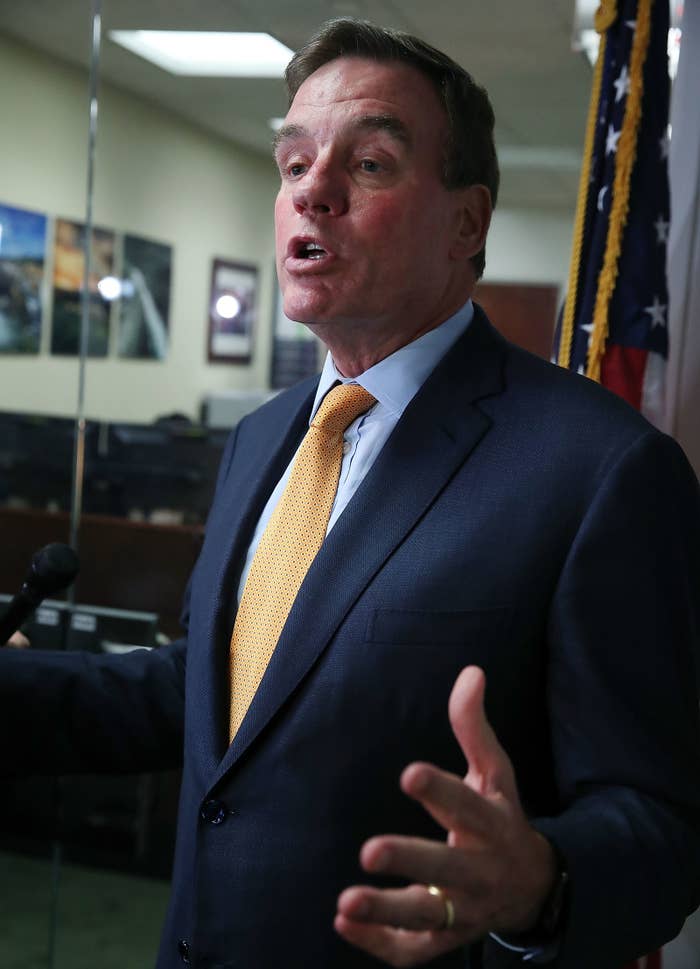 The vice chair of the Senate committee investigating Russian meddling in the US election said he was concerned about new revelations that a St. Petersburg troll farm had sent operatives to the US and linked up with activists here.
Sen. Mark Warner of the Senate Intelligence Committee was previously unaware of the report by Russian news outlet TV Rain, which said the Internet Research Agency, a so-called troll farm based in St. Petersburg, had a "secret department" that deployed operatives to the US.
"I'd really like to look at it," Warner said of the report, adding that he'd been concerned "for some time" that the St. Petersburg troll farm was not the only one buying ads and running social media campaigns to try to influence the outcome of elections in foreign countries.
"I believe there are more in Russia and in countries that there may have been Russian-influenced activities in, some of the Eastern European countries," Warner told reporters on Capitol Hill. "I'm not saying they were all directed necessarily to the United States, but this is why we need this kind of thorough review from the platform companies to really dig in this the same way that we dig in on ... a profit-making venture."
The Internet Research Agency has for years operated as a troll farm, where employees create multiple online characters both to shape public opinion online and to exacerbate political tensions around the world. At the prodding of the Senate Intelligence Committee's investigation into Russian attempts to influence the US election, social media companies like Facebook and Twitter have admitted that the agency purchased political ads.
Many of the ads purchased by the St. Petersburg troll farm weren't explicitly political, but encouraged American users to "like" a page — which meant they would be more likely to see divisive, Russian-made political content in their Facebook feed, according to a source familiar with the ads.
The TV Rain report, citing a former employee using the pseudonym Maxim, is the first time allegations have emerged that the troll farm dispatched operatives to the US. What those employees were assigned to do was not detailed in the report.
The FBI declined to comment on whether it was investigating the report.
A second report, published Tuesday, by Russian outlet RBC details further efforts by the St. Petersburg troll farm's "American department" to influence opinion in the US, including linking up with activists in order to encourage protests.
The Internet Research Agency is technically a private company, though it's been linked to the Kremlin and its employees consistently spread pro-Kremlin messages. The Russian government historically maintains a cloak of plausible deniability by outsourcing sensitive operations to private entities. President Vladimir Putin, for instance, referred to "patriotic hackers" when asked about Russian hackers who targeted Democrats in the 2016 election — an operation that major US intelligence agencies agree was ordered by Putin himself.
Warner described the ads and the fake social media accounts as parts of the same influence campaign. "The story in many ways is if the ads are pushing you to a page or to a group, and then you have lots of fake accounts who are then pushing others to try to have that page or that group trend higher, that then attracts a lot of other viewers," he told BuzzFeed News.
"The ads and the fake accounts work in tandem to generate higher placement," he said.
Facebook has acknowledged that it's uncovered evidence that the IRA purchased about $150,000 on political ads targeting Americans. When asked if other affiliates of the Russian government had purchased political ads for the US election, a Facebook spokesperson pointed to an official blog post on the investigation, which admits "It's possible" others bought ads, and "our internal investigation continues."
Warner said he believes the St. Petersburg troll farm and others may have had far more influence than social media companies in the US have acknowledged to date. He made a reference to Facebook's response to meddling in recent elections there to make his point.
"In the French elections, if there were 50,000 accounts that Facebook took down, it just still seems scale-wise [compared to the US], I think there's more to do," he said. Facebook has acknowledged taking down 470 accounts and pages it said were linked to the troll farm.
Collier reported from New York.
UPDATE
This story has been updated to more accurately reflect Sen. Mark Warner's comments.