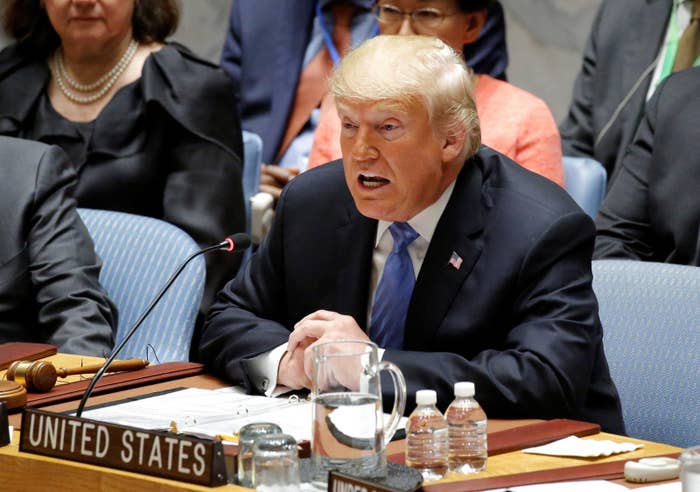 Addressing the United Nations Tuesday in a speech that was nominally about nuclear nonproliferation, President Trump pivoted briefly to a shocking accusation: that China was trying to swing the midterms against Republicans.

"Regrettably, we found that China is attempting to interfere in our upcoming 2018 election, coming up in November, against my administration," Trump said. "They do not want me, or us, to win, because I am the first president ever to challenge China on trade. And we are winning on trade. We are winning at every level."
He didn't elaborate. But later, he tweeted precisely once on the subject, noting that the Des Moines Register recently published a four-page ad from the Chinese government composed of previously published articles from the People's Daily, a government-run newspaper.
Stories in the ad covered topics that drew a connection between Iowans and China, like how President Xi Jinping has twice visited the state, but also less relevant ones, like news that a Chinese university would offer a course on video games.
"It's not surprising that China Daily sought to place advertising with the Des Moines Register, because the Register is Iowa's largest news organization and Iowa farmers are disproportionately affected by China's tariffs," the Register's executive editor, Carol Hunter said in a statement. She declined to say how much China paid for the ad.

Experts largely agree that the country is deliberately targeting American farmers with tariffs in response to Trump raising tariffs on China. A recent Iowa State University study found that they could cost the state's farming industry $2.2 billion.
But it's less clear that the tariffs are meant to help affect the midterm elections. Adam Segal, a China expert at the Council of Foreign Relations, said he viewed China's attempts to target corn farmers as more of a broad "swing against the trade war" than a push to help elect Democrats to Congress.
Later, at the UN, he told reporters China was "attacking our industrial — with ads, and with statements that don't look like ads. It looks like they're editorials and they're not."
Then at a press conference Wednesday, he brought it up a third time, saying China "would like to see me lose an election because they've never been challenged like this."
China, like the US and most other countries, spreads its influence in open ways, like with state-run media operations — the New York Times and Washington Post have run China Daily supplements, for example.
But that falls short of "attempting to interfere" in US elections, a type of language the US intelligence community has reserved for Russia's 2016 campaign, where military intelligence officers hacked US state voter registration databases and hacked and leaked Democrats' emails and internal files.
In recent months, several arms of the US government have geared up to fight foreign influence operations, including task forces at the departments of Justice and Homeland Security, as well as the FBI's Foreign Influence Task Force, which is tasked with taking the lead among the agencies. The FBI declined to comment. Several threat intelligence companies told BuzzFeed News they hadn't seen significant Chinese hacking campaigns aimed at US election services.
"They've actually admitted they're going after farmers," Trump said one final time after a question from a reporter on what evidence existed of Chinese meddling. "We have evidence. It'll come out. I can't tell you now."