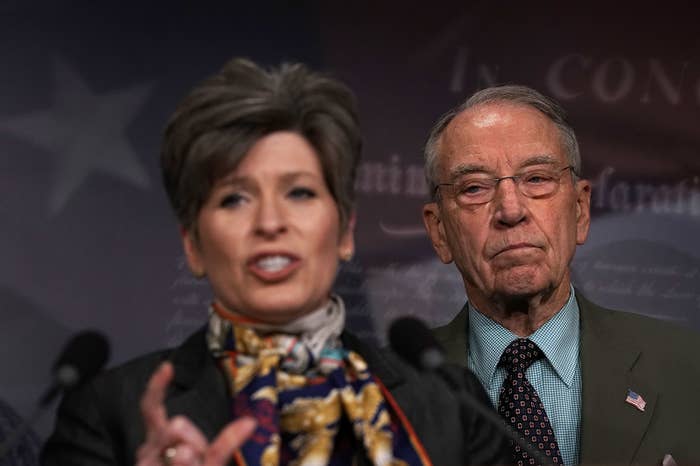 Republican senators from agricultural states say farmers and manufacturers will bear the brunt of a looming trade war, and are pleading with the White House to alter its tariff plans.
Trump's aggressive leveling of import tariffs pits the protectionist approach he promised on the campaign trail against politicians in his own party who argue he will hurt red state voters the most. After months of urging him not to act failed to deter him, Republicans in rural states are now denouncing Trump's trade policies as harmful to their residents and local economies.
Iowa Sen. Chuck Grassley said he warned Trump that farmers would be hit hardest by Chinese retaliation to Trump's tariffs and that's exactly what happened.
"Farmers and ranchers shouldn't be expected to bear the brunt of retaliation for the entire country. It's not fair, and it doesn't make economic sense," Grassley said in an emailed statement to BuzzFeed News.
Trump announced this week he would hit China with $50 billion worth of new tariffs, citing the country's "unfair trade practices related to the forced transfer of U.S. technology and intellectual property."
China threatened to retaliate with $50 billion worth of tariffs on American imports. China would raise 25% tariffs on over 100 products, ranging from soybeans to cars.
Kansas Sen. Jerry Moran said farmers and manufacturers are being caught in the middle of the back-and-forth fight between Trump and China, and warned of an all-out trade war on the horizon.
"Tough enforcement of fair trade rules is a good idea, especially when it comes to dealing with China," said Moran in a statement. "But an ongoing tit-for-tat where both countries race to implement more and more tariffs — harming Kansas producers — is not."
China is the largest buyer of American soybeans, and purchased $14 billion worth last year. Iowa Sen. Joni Ernst said the tariffs will disrupt supply chains cause a spike in prices for American consumers, on top of hitting the farming sector.
"Soybean farmers are perhaps the most vulnerable to Chinese retaliation as nearly one in every three rows of soybeans grown in the U.S. is exported to China," she said in a statement. "There is a real danger that increased tariffs on U.S. exports will harm Iowa producers and undermine the rural economy."
South Dakota Sen. John Thune, a member of Senate leadership, said the dueling tariffs "would no doubt have a damaging impact" on farmers in his state.
However, Trump's past indecision on trade and other issues seems to be fueling confidence that the president will change his mind. The Dow plunged 500 points after China's retaliatory tariffs were announced, only to fully rebound and end the day up by 230 points.
Those hoping Trump will change his mind have recent precedent to back them up. In March, Trump unveiled new steel and aluminum tariffs over the objections of critics warning it could spark trade disputes with American allies such as Canada, Mexico, and the European Union. But over the following days Trump agreed to a series of exemptions that effectively walked back the tariff announcement.
But Trump showed no signs of backing down Wednesday. He tweeted that the US was not in a trade war with China because it had already lost: "That war was lost many years ago by the foolish, or incompetent, people who represented the U.S. Now we have a Trade Deficit of $500 billion a year, with Intellectual Property Theft of another $300 billion. We cannot let this continue!"
China has been the key target of Trump's trade rhetoric dating back to the campaign during which he repeatedly blamed China for the decline of the American manufacturing sector. Notably, while Trump ended up exempting other trading partners from the steel and aluminum tariffs, he kept them on China. China only exports a small amount of those metals to the US, but it was enough for China to announce about $3 billion in retaliatory tariffs on imports of American pork and fruit.
Trump has not been shy in saying that he believes trade wars can be winnable. He stuck to that approach Wednesday, tweeting in reference to the US's trade deficit to China, "When you're already $500 billion DOWN, you can't lose!"