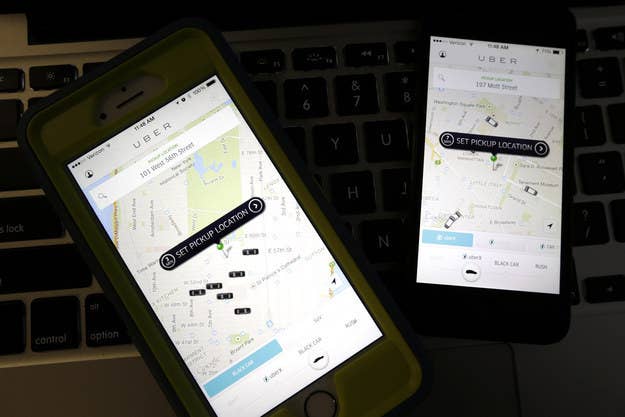 Uber has suspended a number of its drivers because they took steps to comply with California vehicle registration laws, escalating a showdown over ride-hailing regulations in the nation's most populous state.
Late last month, according to records and interviews, the company cut off at least a dozen drivers who had registered their new cars as commercial vehicles and told them in order to be able to work for Uber again, they must change to a personal use auto registration.
But the California Department of Motor Vehicles takes the opposite position, and earlier this month issued a public memo emphasizing that any drivers who carry passengers for money must register their vehicles as commercial.
"Even occasional use of a vehicle in this manner requires the vehicle to be registered commercially," the DMV wrote.

DMV officials said they issued the memo to clarify "inconsistent information" that some drivers were receiving. Both the DMV and the California Highway Patrol said violators could be ticketed or even prosecuted, but so far enforcement does not appear to be widespread.
The DMV's new memo came after Buzzfeed News reported last month that Uber had been steering some drivers participating in its car purchase and lease finance programs to register their new cars as personal vehicles rather than commercial ones.
Around the same time, Uber began temporarily suspending the accounts of some drivers with Uber financing whose cars were registered as commercial vehicles.
"We are showing your vehicle registration is actually a commercial vehicle registration," a late-December email from an Uber representative to one suspended driver read. "We will need you to contact the DMV to have them update your vehicle registration to personal/automobile registration. We are unable to accept commercial registration on an uberX account."
One Southern California auto dealer who has sold numerous cars through Uber's finance program but insisted on registering the cars as commercial vehicles said that roughly a dozen UberX drivers called the dealership in a panic because they'd been suspended for the same reason.
Fearful they'd have to give up their cars because finance payments are deducted automatically from their Uber earnings, several of those drivers decided to switch to personal registration, the dealer, who requested anonymity, said.
Uber would not discuss the email sent to the driver, nor would it address the question of how many drivers had been prevented from driving because they had commercial registrations. "It is not our policy to deactivate driver partners who wish to register their vehicles as commercial," the company said in a statement.
Ride-hailing companies have faced a number of regulatory hurdles in California. Last month the district attorneys in San Francisco and Los Angeles filed suits against Uber for a number of alleged violations, including misleading customers about driver background checks, and illegally operating at airports.
If it were rigorously enforced, the commercial registration requirement could present an existential threat to the business model for market-leader Uber and competitors such as Lyft and Sidecar. Unlike taxi or limousine services, these ride-hailing companies depend on part-time drivers using their own personal cars instead of dedicated commercial vehicles.
"Requiring Lyft drivers, including those who drive just a few hours a week, to get commercial plates would essentially treat peer-to-peer transportation the same as a taxi," said Lyft spokesperson Chelsea Wilson, noting that it would undermine efforts to allow ride-hailing by other state agencies.
For drivers to switch their registrations to comply with California law, they would have to pay to make the conversion to commercial status, and shell out for higher annual registration fees. In addition, commercial vehicles generally require commercial insurance, which costs as much as 10 times more than standard personal coverage.
Faced with such obstacles, many drivers might opt out of the industry altogether.
Still, it's not clear whether California regulators intend to launch widespread enforcement of the registration law.
"People have just basically been kicking this issue back and forth because they want to find the appropriate way to conduct enforcement," said CHP spokesperson Sgt. Jose Nuñez.
The CHP said that officers can cite drivers for transporting passengers for hire in a personal-use vehicle but said its statistics don't break out how many registration citations have been given to ride-hail drivers.
DMV officials said dealers, lenders, or individuals who intentionally make false statements on vehicle registration forms could be criminally prosecuted, but did not respond to questions about whether that had actually happened.
Uber, for its part, refused to respond to specific questions about the DMV memorandum or the California Vehicle Code. Instead, it repeatedly cited a different statute, which governs many aspects of the ride-hailing industry as it pertains to the state's Public Utilities Commission. The California Utilities Code regulates transit companies, but does not address vehicle registration.
In a statement last month, the company said it believes that "drivers who use the [ride-hail] model may register their vehicles as personal vehicles."
One member of the California legislature wants the state to clarify the issue. Assemblyman Adrin Nazarian plans to meet with the DMV and the CHP later this week to discuss ride-hailing companies' compliance with registration laws, according to his chief of staff, Daniel Savage.
Even if law enforcement decides to mount a widespread crackdown on improperly registered cars, it may not dissuade Uber or other companies in the industry from sending them out on the street. In parts of Florida, for example, Uber has defied regulations prohibiting its drivers from going to the airport, and instead instructed its drivers to conceal their activities while making those trips.
"Remember, if you receive a ticket while picking up or dropping off Uber riders at the airport," the company wrote in an email it recently circulated to drivers in the Miami area, "Uber will reimburse your costs for the ticket and provide any necessary legal support."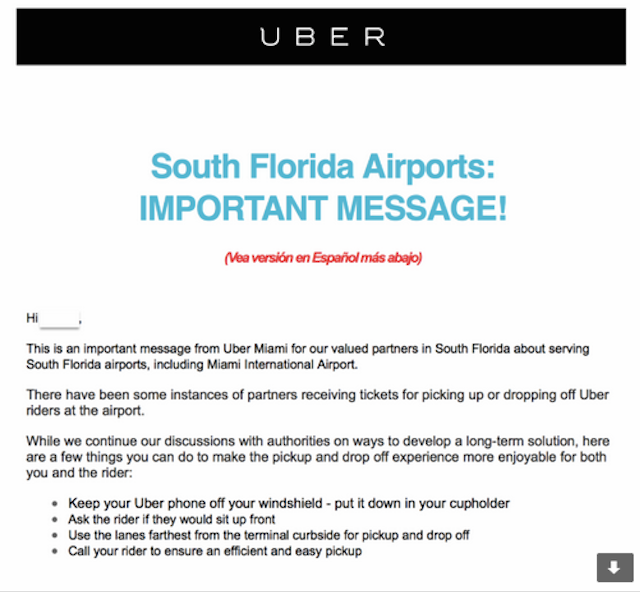 Uber said it stands by the email. "Uber vigorously defends the rights of our partner drivers and firmly stands by them when they are wrongly cited or impounded," the company said in a statement.
Uber and Lyft don't release information on how many drivers they have, so it's impossible to know how many vehicles might be affected by California's registration requirements.
But the companies have records of license plate numbers for every car being driven for their service, and thus could identify which do not have commercial registrations. (In California, license plates for cars with a personal registration have different combinations of numbers and letters than those with commercial plates.)
Drivers reached by BuzzFeed News said they were loath to switch their registration to commercial because of the extra costs involved and fearful of reprisal from Uber.
An UberX driver with commercial registration in California's Inland Empire, meanwhile, worried that he might be deactivated at any moment. "Should I proactively go to the DMV and switch to personal auto?", wondered the driver, who requested anonymity. "I don't want to get in trouble."