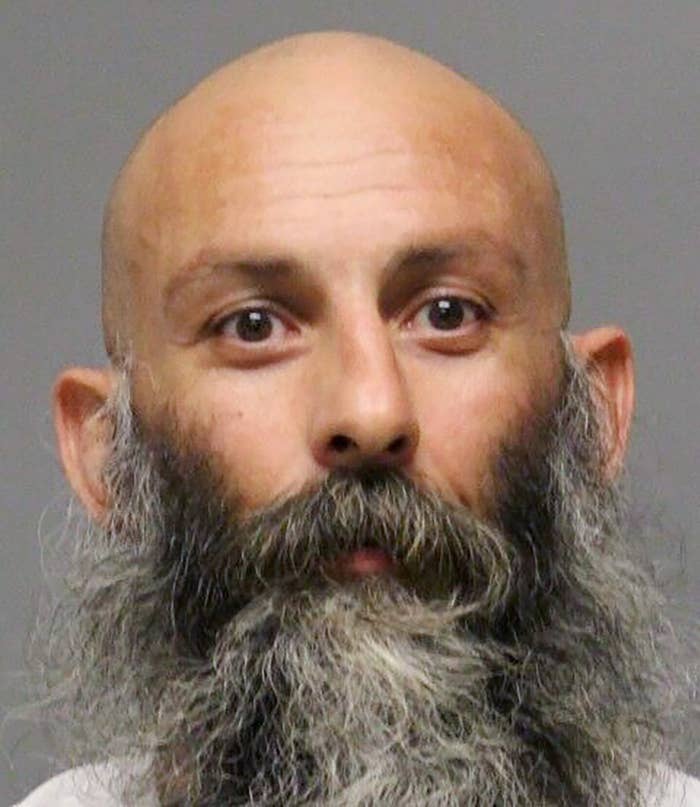 A leader of the group charged with conspiring to kidnap Michigan Gov. Gretchen Whitmer had also discussed plans to kidnap or harm politicians in North and South Carolina and had been under FBI surveillance for at least six months before the Michigan plot was foiled, newly unsealed affidavits reveal.
Barry Croft, 44, a Delaware resident and the only federal defendant in the Michigan plot to live outside of the state, used social media to attempt to organize acts of violence against politicians at least as early as fall 2019, the affidavits show. At that time, he was in contact with Kevin "KC" Massey, the leader of a notorious anti-immigrant group in Texas, who was a fugitive at the time and appears to have killed himself in December.
The affidavits, which were filed Oct. 22 and unsealed this week, also reveal that although the FBI had monitored a succession of Facebook pages Croft used to communicate with other militant extremists around the country, the bureau apparently failed to screenshot or otherwise preserve evidence from the account he used most recently before his Oct. 7 arrest.
The older accounts, however, were full of messages about violent plans. "I'm going to North Carolina on Saturday to discuss going to war against the government of North Carolina," Croft wrote Massey in private Facebook messages in October 2019. "Please come out bro. We need you."
Facebook, which has been broadly criticized for its inability to effectively clamp down on extremists who are using its platform to recruit and organize, shut down that account on April 30, according to the FBI document.
But Croft simply opened at least four other accounts on the platform and used them to communicate with others who shared his political views and to send messages calling for the death of a variety of political figures, including Hillary Clinton, Barack Obama, and Donald Trump. "I'm for hanging Democrats, Republicans, and Libertarians," he posted on June 24.
A final Facebook page, opened by Croft on Sept. 2, was shut down on Sept. 26, according to the affidavit. But unlike his previous accounts, the FBI does not appear to have taken screenshots, which in part necessitated the search warrant application.
"The public information was not memorialized formally in any way," the document says, noting that observations about the Croft account are "based on the recollections of law enforcement officers."
Facebook did not immediately respond to a request for comment on the matter, nor did representatives for North Carolina Gov. Roy Cooper. A press secretary for South Carolina Gov. Henry McMaster said that "as a matter of practice, our office doesn't have comment on security issues like this one."
A federal public defender in Delaware who represented Croft after his arrest did not respond to an email. Criss Cross LLC, a Delaware trucking firm identified in the affidavit as Croft's employer, could not be reached.
Croft, a long-haul trucker, was arrested outside of a convenience store in southern New Jersey on Oct. 7 after FBI agents followed his truck for hours. He is currently charged with kidnapping conspiracy. At the time, his truck was searched and agents seized two cellphones he had with him. In a separate search warrant application, the FBI is seeking to review material on those devices on grounds that they "will contain messages, plans, photographs, videos and other evidence of his participation in the conspiracy to kidnap Governor Whitmer."
According to the Bureau of Prisons, Croft is currently being held in a federal detention center in Philadelphia and has not yet made an appearance in federal court in the Western District of Michigan, where he is charged.
He is one of six defendants in the federal case. Meanwhile, the Michigan attorney general has charged eight other men for aiding the kidnapping scheme, which grew out of a meeting in Dublin, Ohio, near Columbus, on June 6, attended by militants from at least four states — Croft among them.
According to a brief filed Wednesday by the Michigan attorney general's office, the purpose of the event was to have a "meeting of the minds with what could almost resemble a continental congress" of extremists calling for the overthrow of the government by violent means if necessary.
At that meeting, Croft met Adam Fox of Grand Rapids, Michigan, and they discussed plans for political violence in Lansing, the state's capital, as well as possibly kidnapping Whitmer and Virginia Gov. Ralph Northam.
Just over a week after the Ohio meeting, Fox spoke on the phone with members of a Michigan-based extremist group called the Wolverine Watchmen, saying he needed "200 men" to storm the capitol building while it was in session, take hostages, hold public trials, execute "tyrants," and broadcast the entire siege on television. "It would take about one week and that no one is coming out alive," the Michigan attorney general wrote in a separate brief.
That plan was eventually abandoned after members of the Wolverine Watchmen argued it would be too difficult to pull off since the capitol building is "a fishbowl"' and tactically difficult to hold. Instead, Croft, Fox, and other defendants developed a plan to kidnap Whitmer at her vacation house in rural Michigan and then either kill her on the spot, set her adrift on a boat in Lake Michigan, or transport her to Wisconsin for a trial they would conduct. The goal was to execute the plan before the Nov. 3 elections.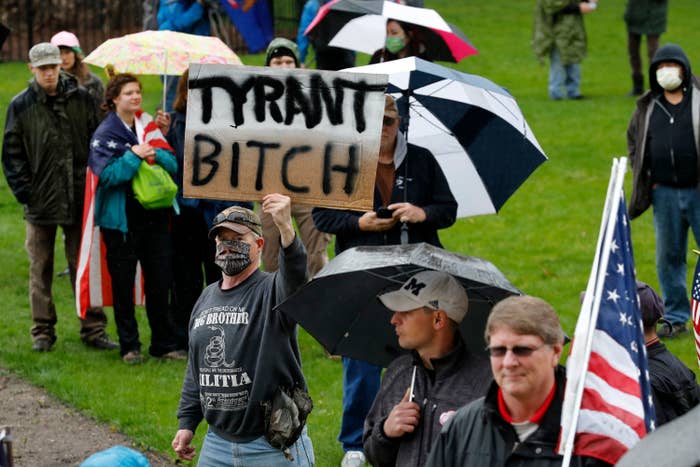 But both Croft and the Wolverine Watchmen had been under FBI surveillance for months before the critical June meeting — which also was attended by a confidential informant for the government.
According to court filings by the FBI and the Michigan attorney general, the Watchmen were brought to the attention of law enforcement in March after its members made plans to create lists of local police to target for killing, employing a hunting smartphone app called OnX Hunt to determine the addresses of cops. FBI agents in Michigan interviewed a member of the Watchmen "who was concerned about the group's plans to target and kill police officers" and convinced that person to work as a confidential informant, attending meetings and making clandestine recordings, according to the affidavit.
On April 19, meanwhile, FBI agents in Delaware obtained a search warrant to monitor Croft's Facebook page. After reading a private message in which he claimed that a "total offensive" would be taking place on April 25, FBI agents surveilled him on that day but "did not observe anything unusual."
Less than two weeks later, however, Croft used a different Facebook account to send private messages contemplating violent acts in South Carolina, where protests over coronavirus lockdowns were planned on May 8. "I'll be in Columbia, SC on Friday," he wrote on May 3. "They say they want their Governor in custody." He said he would bring a "sword" to the event and continued: "I want to grab them all, and hold trial."
That same day, he posted on his public Facebook page an image that read "The lock up your Governor challenge. Which of the beautiful colonies is going to be the first to snatch a criminal bastard?!?!"
The affidavit does not note whether Croft attended the rally. But by early July, he was meeting regularly with the Michigan conspirators and participating in highly organized training sessions held in multiple states.
On July 11, for example, he traveled to Wisconsin for a training exercise where he attempted to build an improvised explosive device using "black powder, balloons, a fuse, and BBs for shrapnel," according to the federal criminal complaint. The device did not detonate. According to the affidavit, FBI agents used cellphone data and the fact that he stayed nearby in Portage, Wisconsin, to confirm his attendance at the event.
Croft was arrested multiple times in the 1990s on a variety of charges, and pleaded guilty to burglary, conspiracy, and assault violations. He served nearly three years in prison, from 1997 to 2000, on a firearms charge. Last year, he was pardoned by Delaware's governor, following a recommendation from the state board of pardons.
He is not the only defendant in the case to have run-ins with law enforcement. According to the filing from the Michigan attorney general, the Wolverine Watchmen was created in response to a weapons charge against its cofounder, Joseph Morrison of Munith, Michigan. During a routine traffic stop, Morrison was arrested for carrying a concealed weapon on his hip, a charge that carries a sentence of up to five years in prison but was reduced to a misdemeanor.
"Merely a few days after receiving a charge reduction and serving no additional jail time, Morrison started the Wolverine Watchmen on FaceBook," reads the filing, which seeks to prevent his release from detention before trial. A hearing on his detention is set for Monday; last week, his father-in-law, Pete Musico, won a reduction in bond from $10 million to $100,000 in the same case.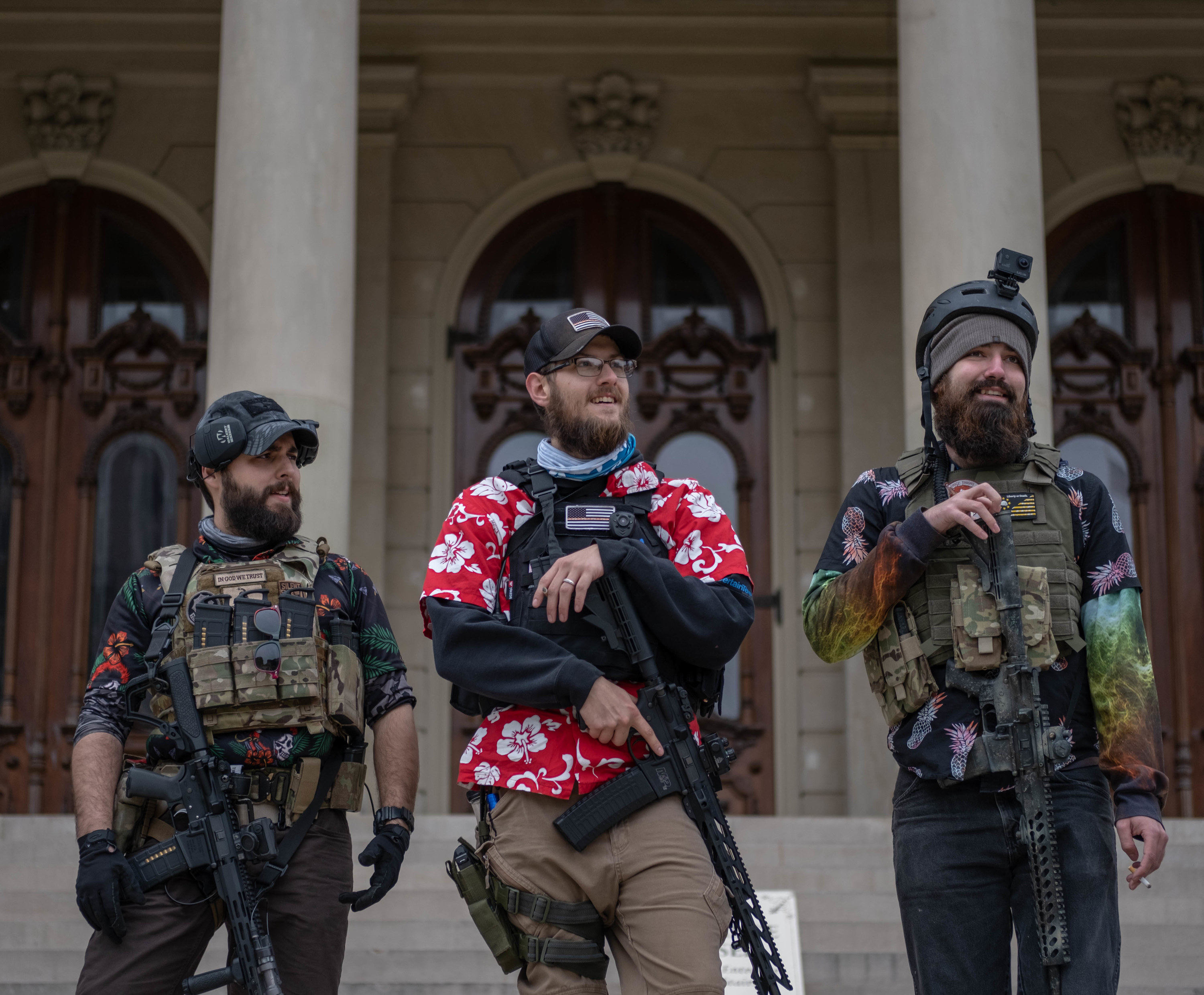 The Wolverine Watchmen, as described in court papers, was a highly structured group and held mandatory training exercises where members practiced a variety of tactical skills, including "taking a (possible) hostile vehicle over," "planned ambushes," and "responding to an ambush/flank." Members of the private Facebook group who did not attend such events in person were purged from the group, which described itself as "a group of Patriots to network and assemble and recruit like minded individuals."
The Watchmen showed an affinity for the "boogaloo" extremist movement, which calls for a civil war. Describing themselves as "Boojahideen," they attended Second Amendment rallies at the Michigan State Capitol dressed in the Hawaiian shirts favored by boogaloos; Morrison, elected "commander" of the group, was referred to as "Boogaloo Bunyan." On Facebook, they explicitly excluded "feds, statist, cops, bootlickers or commies or ethnonationalist."
Fox, whom the FBI has identified along with Croft as the other leader of the kidnapping conspiracy, was not a member of the Watchmen, but according to an affidavit in the state case, he was the leader of a group called "Michigan III%ers." The far-right Three Percenter movement advocates heavily for gun rights and is categorized by the Southern Poverty Law Center as an "anti-government group."
According to the latest court filings, Morrison, Musico, and Fox in late June also considered the possibility of recruiting another extremist group, the Michigan Militia of Love, to assist with their original plot to assault the state's capitol building. It is not clear whether any members of that group ever actively participated in the plot.