LOS ANGELES — In the backyard of a West Hollywood mansion that Zillow says is worth $4.5 million, there's a septuagenarian with a side part and a thick mustache standing on a plastic table. On his small frame is the kind of vibrant windbreaker that would be highly coveted in a thrift store by any of his legion of online admirers.

"Do you wanna go viral or not?" a suit-wearing 8-year-old yells from below — he's an actor, and the line is scripted. The 2-foot leap the older man completes immediately after, though, is real. Chuck Lacey, who told me he is "70 and three quarters," strips out of his windbreaker, burps, and walks shirtless out of the backyard. That part was improvised, but helpful since production staff did need to put his costume on a plastic dummy for another scene.
Lacey, who plays the mischievous and flirty Eugene, is one of the stars of the "Retirement House," a TikTok account that features six actors, ages 70 to 85, parodying content houses full of young and beautiful creators filming for social media day and night. Though TikTok users often reject content that seems scripted, they don't seem to mind that the Retirement House "residents" don't actually live there or even fully understand 90% of the trends they participate in — with 3.8 million followers tuning in to their antics.
"I was cast to play a former porn star, but I did some improv and my role became more of a Woody Allen type," Lacey says, now fully clothed in an orange cardigan and a red bowtie, referring to the awkward physical comedy of the director, not the sexual abuse allegations. "I just play myself, but I take it one step deeper and stupider."
As a shy kid in Marblehead, Massachusetts, Lacey loved making people laugh. He has done improv, stand-up, and acted in a web series, but Retirement House is his big break. That's the case for most of his costars, as well — their TikTok fame has been their biggest gig ever, after a lifetime of acting aspirations.
Except for Patti Yulish, that is, who had already filmed most of her scenes for the day and was relaxing in the kitchen after Lacey lept from the table. The 82-year-old self-professed "California girl" hadn't acted much before Retirement House. She did become interested in being a star "like Hedy Lamarr" during her one-week run as Rumpelstiltskin in an elementary school play, but quit because "being in drama wasn't cool" and she "wanted to have a cool life." And she did — as an interior designer for decades.
One day, her grandson came over and told her that his friend was "starting a new thing," and that she should learn a couple of lines and let him record her. That's how she landed her role as Bubbe, a playful free spirit often seen wearing a headband and doing a split.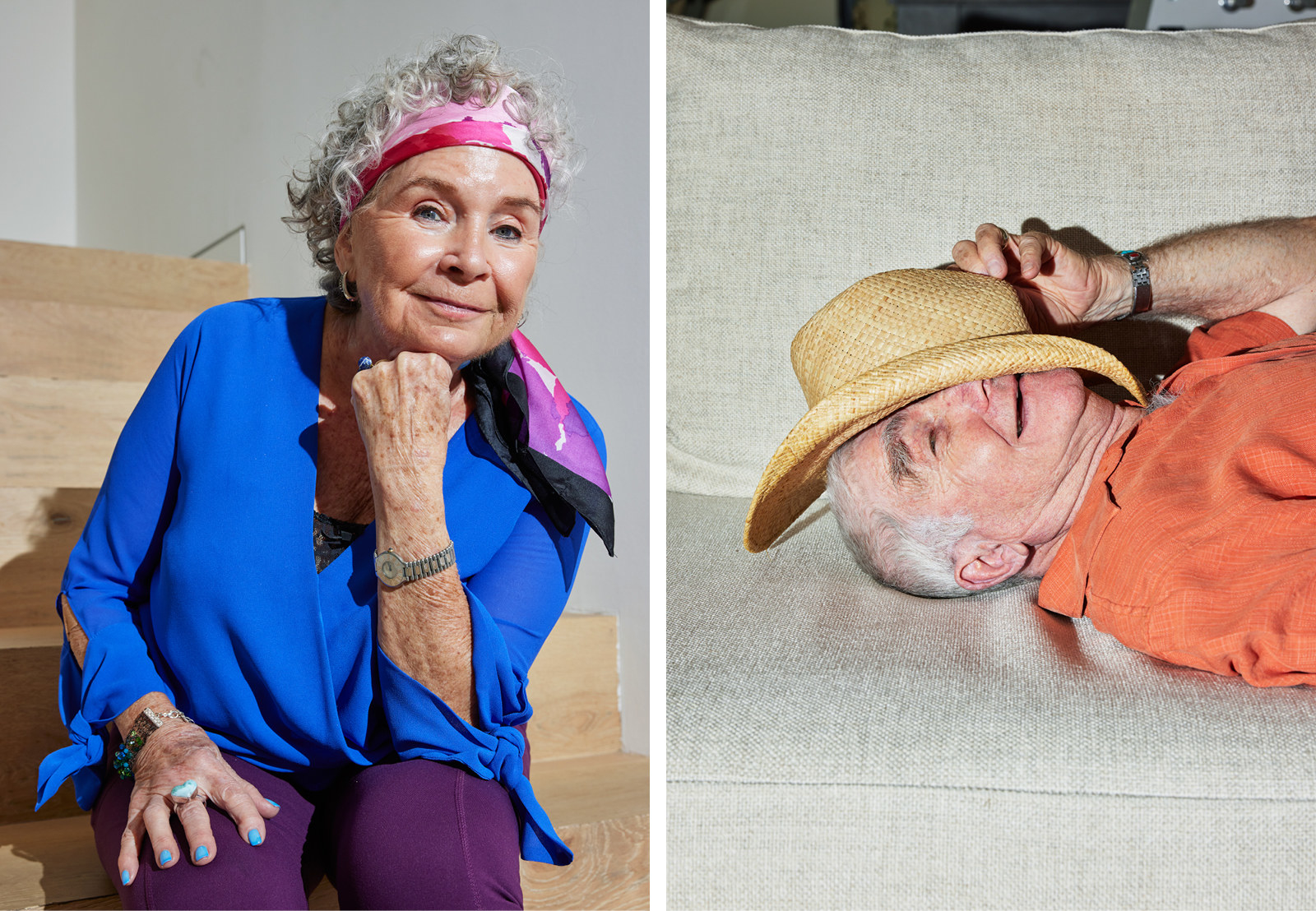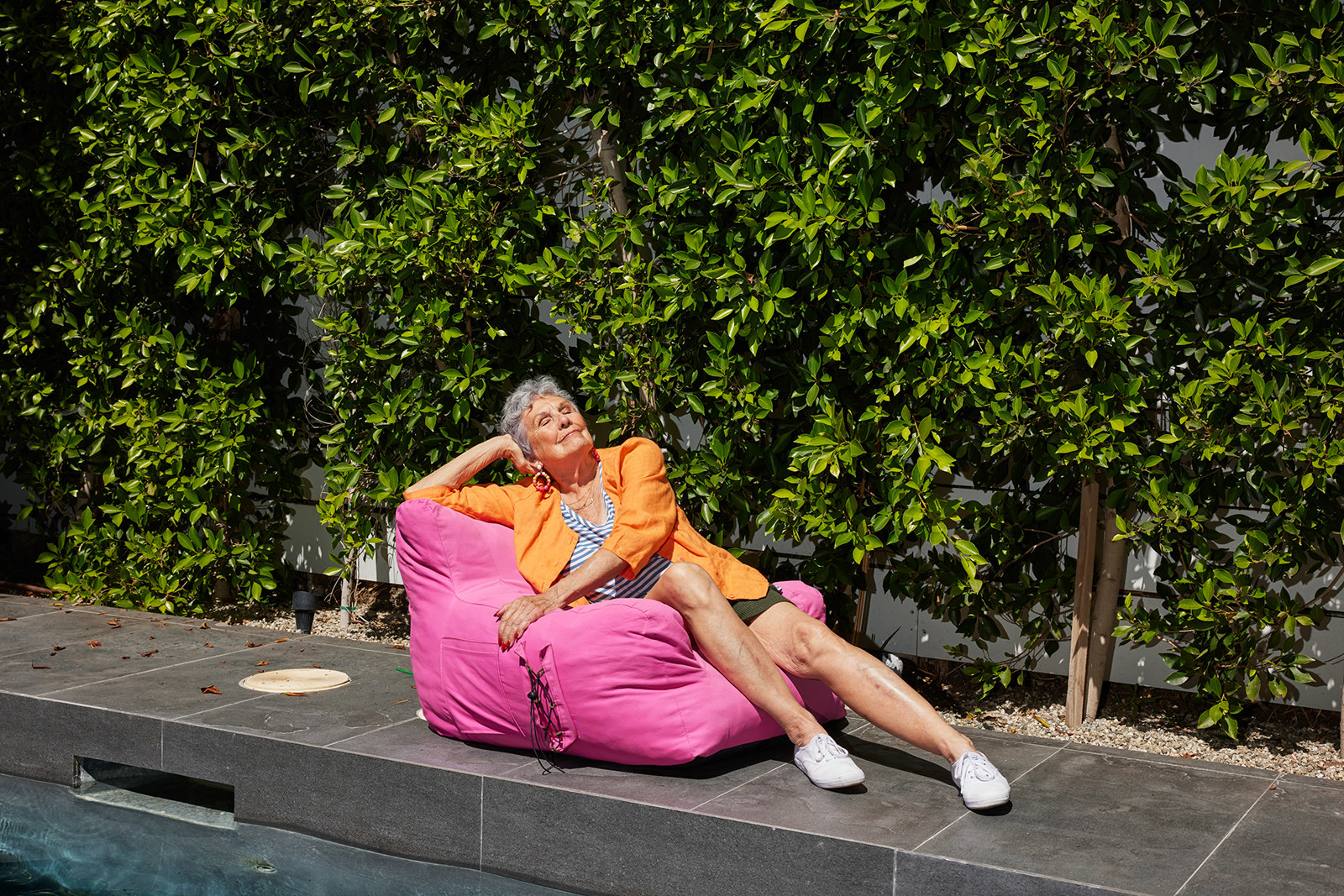 Back from her third outfit change of the day, 85-year-old Gaylynn Baker, known on TikTok as Mabel, told me she has wanted to be a star since her doctors recommended she take up performing to overcome a childhood speech impediment. In her early 20s, she worked as an actor and model, but it only lasted three years due to an experience as a young woman she now dubs "MeToo nonsense," which made her, like generations of other young women who tried to make it in Hollywood, feel like stardom wasn't the right road for her.
She dabbled in work behind the camera — documentary production and writing — after her two children grew up. Now in her 80s, she has had more opportunities to perform than ever, but considers her role in the Retirement House to be her favorite so far.
"I come into work and laugh all day long. I just can't stop laughing," she said. "We're changing people's minds about what it means to age by having fun."
There are a handful of popular "grandfluencer" accounts on TikTok. Most popular is the "Old Gays," a group of real-life friends who were encouraged by a 35-year-old neighbor to make videos on behalf of Grindr in 2020. They now have 7.6 million followers. Many grandfluencers, like @ourfilipinograndma and Ross Smith's "Granny," are collaborations between a grandchild and their grandparents that find humor in the generational divide and the inherent silliness of seeing an older person do something you'd expect from a teenager. Since the relationships are real, the content seems more authentic. That's where Retirement House — which found its six stars through a casting call — is different.
The account's creators, 27-year-old Adi Azran and 25-year-old Brandon Chase, were working at creative studio Flighthouse Media when Azran stumbled upon a video of @ourfilipinograndma delivering a pickup line, which scored 12 million views. He shared it with Chase, who shared in his moneymaking epiphany: Older influencers are a massively overlooked demographic, but they sure get views. They assembled their own content house.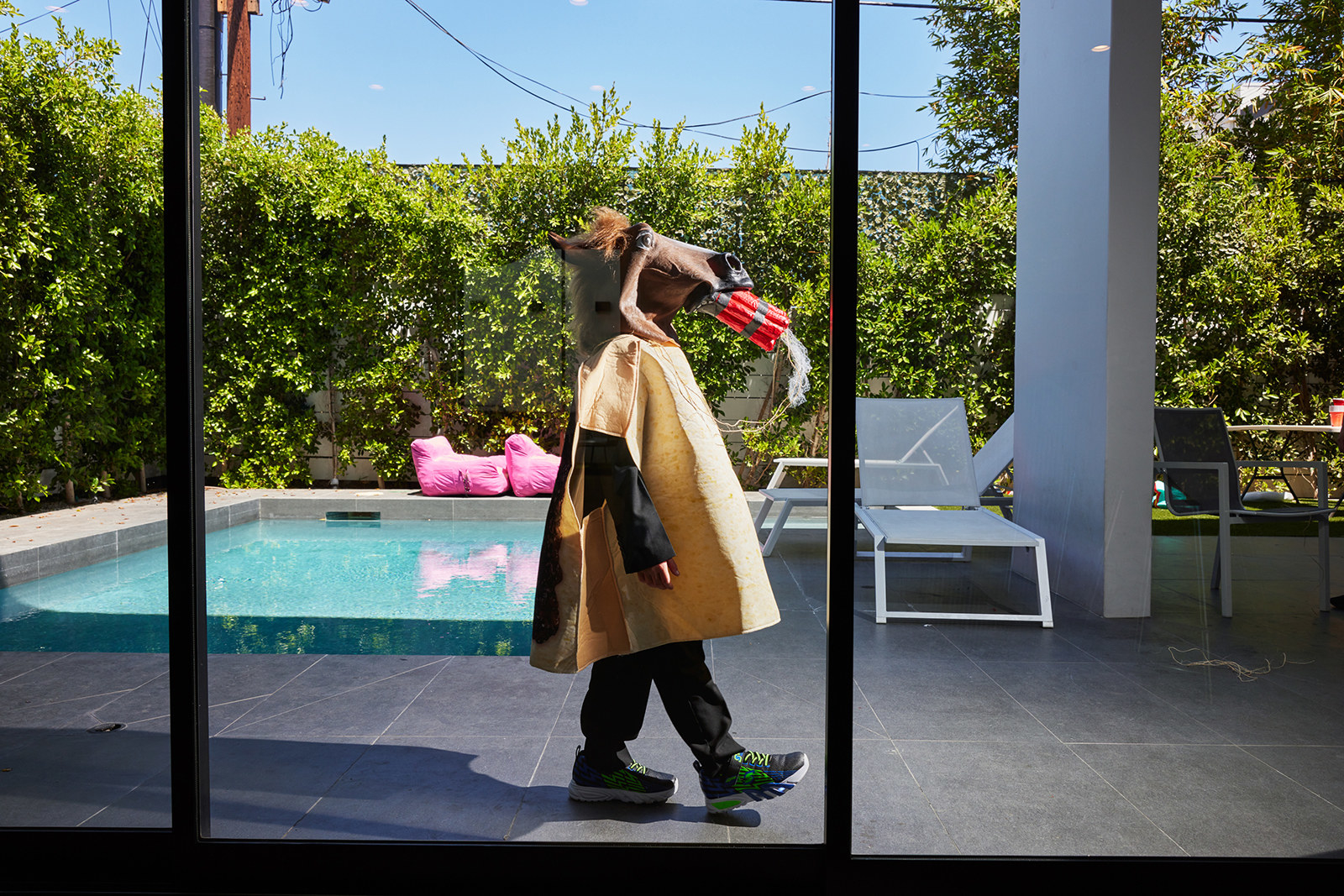 "Seniors have been left out of the spotlight in the entertainment industry," Azran said in a phone interview.
Azran and Chase hope a streaming platform or network wants to pick up a Retirement House TV show, but they knew they would have to build a following through off-the-cuff trend posts on TikTok before they could convince viewers to watch more highly produced content. They dropped hints that the content wasn't entirely organic by calling members of Retirement House "stars" and announcing a new "season," but waited until they had 2 million followers before posting a sketch.
TikTok is notoriously critical of content that seems inauthentic or to be an "industry plant" — but viewers seem to accept that six older people don't really live in a mansion and sing Top 40 songs together all day.
"They don't care that these characters aren't really coming up with their own video ideas. They just have fun and enjoy watching it," Azran said. "The bottom line is that people want to see that when they get old, they won't be boring," Chase added.
The producers know that getting their audience to watch longer scripted content as much as they watch trend videos is going to be an "uphill battle," although a few have been highly lucrative — namely the ads they've done for Fenty Beauty, Twisted Tea, and KFC.
Azran and Chase both said they were thrilled about a new video they had just posted called "Neighborhood Watch," a professionally produced one-and-a-half-minute sketch similar to something you'd find on TV. Comments were positive, but it fell short of 100,000 views, which pales in comparison to the 6 million garnered by a quick and silly meme about the Minions movie posted days later.
Scores of commenters would be jealous of the child actor on set — there's a common plea for Retirement House members to adopt them as their own grandchildren. "We're your new grandparents," declares the caption of the first-ever Retirement House TikTok. With each post, the cast offers the opportunity to build a bond with a wise-but-fun older person to fill the space left by a death or a strained relationship.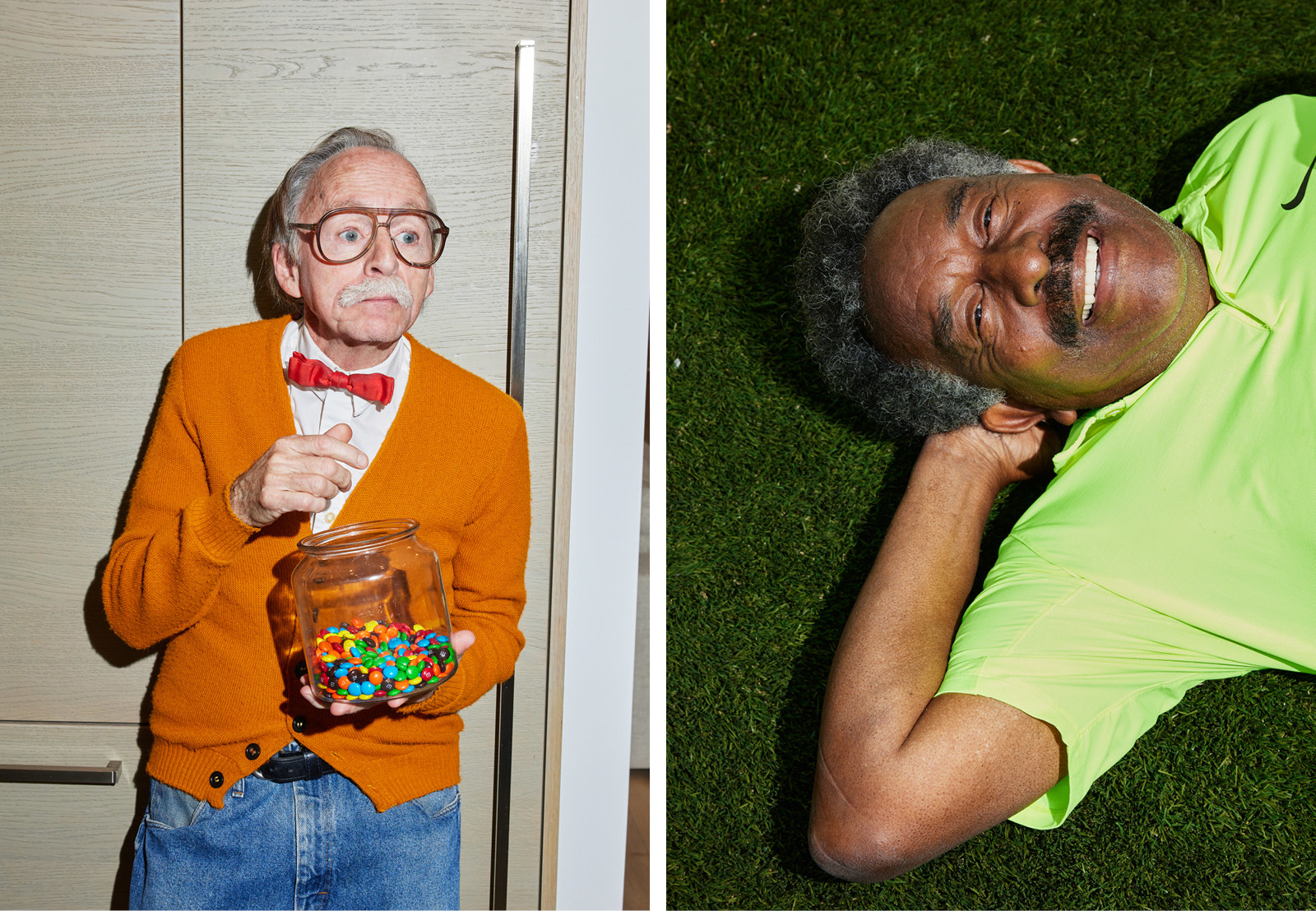 Jerry Boyd, a 77-year-old from Alabama who plays the uptight-but-goofy Curtis, doesn't have any grandchildren of his own but spent much of his downtime on set chatting with his 8-year-old colleague. As a child in a family of sharecroppers, Boyd said he was about 10 years old when he started longing for a better life.
"One day, I was out working and the sun was hitting me. I looked up and said, 'Lord, if there's a better life for me, may I have it?'" he told me. "That Saturday when — I hate to say this, but it's true — all the Black people were allowed to go to town, I saw my first television show through the window. I wanted to be the kid on TV."
Years later, Boyd found himself in Hawaii after serving in Vietnam. He met a man in a nightclub who told him he should audition for a role as a pimp in Hawaii Five-O. He got the part, but that was his last on-camera opportunity for a long time.
"I never made anything out of it. I was absolutely messed up in the head," he said with a shrug. "I was chasing skirts and doing drugs." Leaning into his Alabamian accent, Boyd declares that "time waits for no one." Boyd feels that Retirement House has given him, decades later, the chance to be the actor that he wasted in his youth. At this phase of his career, he appreciates the love for him on the internet, but he's not going to trouble himself by reading any comments.
Monterey Morrissey, on the other hand, loves them. The 71-year-old San Franciscan, who plays the rap-loving Larry, is taking a break from dramatically flinging himself on a couch for a shot by scrolling through Reels on his phone. Morrissey said he was thrilled that followers tell them how much they enjoy the content, because he loves making people laugh.
"I was always doing goofy things as a kid, like wandering into an industrial building and seeing how far I could make it without someone stopping me, then I'd run from the cops," he said. "I tried radio theater and voiceover work, but when I had a son, I knew I had to get serious." He buckled down for decades, taking care of his wife when she became ill and dabbling in small acting roles on the side.
After their home was affected by two different California wildfires in recent years, his wife suggested they go to Los Angeles to see if he could "make something of himself." On his second day in the city, he auditioned for the Retirement House role, but at first was nervous to take it because he thought people might not take him seriously as an actor.
"Then I figured — hey, my phone's not hanging off the hook here — I'll give it a shot," he said. "Now I've got these guys, plus Adi and Brandon, so who could ask for anything better than that?"
Reatha Grey, the 73-year-old Los Angeles native behind the feisty Rose, had to leave the set before I arrived. She told me during a phone call after that after discovering the thrill of being applauded as a child onstage, she was cast in a few small roles throughout her career — but the highlight was her stint as a "hip, sexy, ready-to-party-senior pranksters on the TV show Betty White's Off Their Rockers." She said that working with White taught her how to be "kooky."
"I have grandkids who don't even understand TikTok. They've never understood my acting, either, because I've never done traditional things," she said. "The sketches are so unlike who I am in real life. They give me license to act out."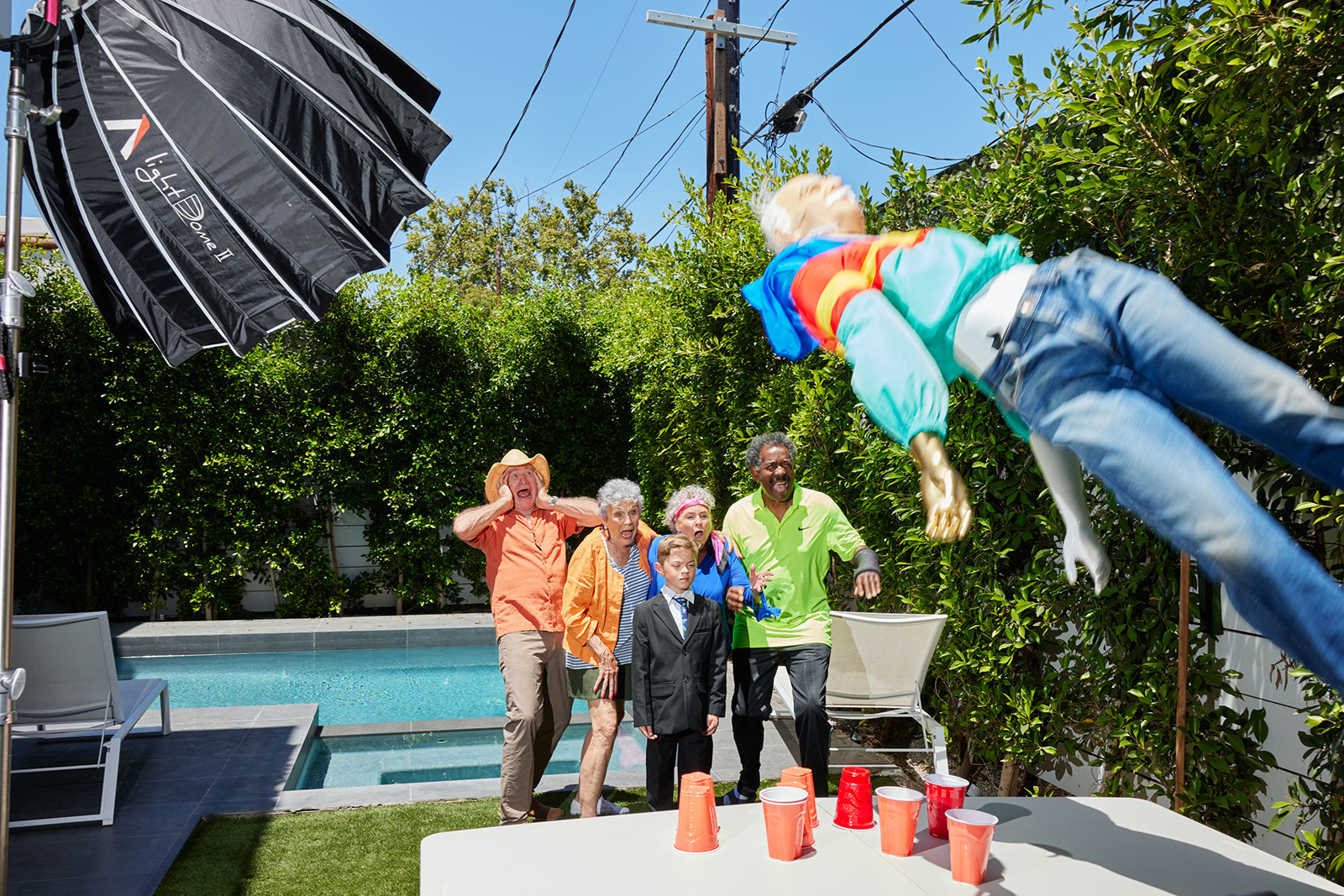 Back on set, five of the Retirement House cast members have wrapped filming for the day and are sinking into a couch Morrissey described as "comfy, but it doesn't suck you in like the last one we had." Boyd is battling a fly that has been circling him. The cameras are off, but the charisma is at an all-time high because I've just told them that it's my birthday. They start to reminisce on where they were in life at my age, from raising two kids to getting settled after military service to trying new forms of comedy.
The most popular Retirement House TikToks are the ones that position age and misunderstanding as the punchline, but as a group, the cast members told me that they don't mind when people make fun of them for not understanding pop culture references.
"I don't know about 'sick' and 'dope.' My character and I are not hip," Lacey said. "I mentioned the Fonz and no one knew who I was talking about, but I didn't know who Jack Harlow was."
"Jack Harlow? Who cares about him," Baker joked, rolling her eyes. "Sorry you don't know about Burt Lancaster. Mmmm."
If having people laugh at you is the price to pay for bridging age gaps and bringing different generations together, the members of Retirement House are willing to pay it.
"I think my spiritual path may be showing people that aging is mostly in the mind," Baker said. "I've never had such a good time. I don't know how much longer I'll be on this planet, but I hope I'll always be having this much fun." ●