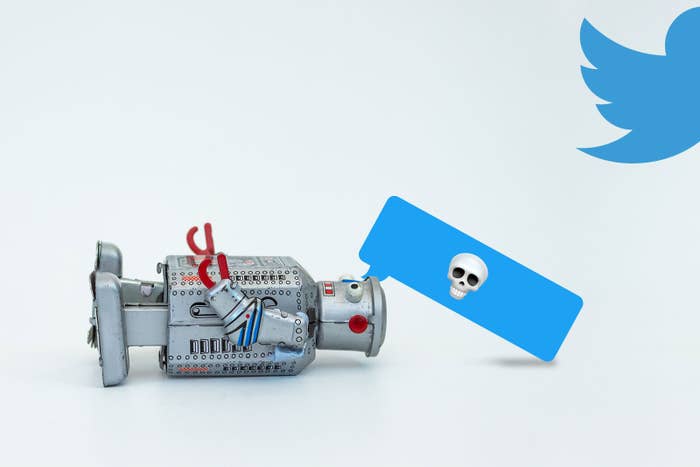 One of the most popular bots on Twitter is @MakeItAQuote, which has more than 565,000 followers. You can reply to any tweet and tag @MakeItAQuote, and the bot will respond with the tweet's text overlaid onto an image, creating some funny results. But now, the fun may be over, as Twitter is making a change that could effectively kill off all free bots.
Twitter just announced that starting next week, it "will no longer support free access" to its application programming interface, the trove of data that bots like @MakeItAQuote need to use in order to reply, search for text, and produce automated tweets.
While this seems like a good step toward cracking down on annoying or spammy bots (and making Twitter some much-needed money), it has a hugely unfortunate side effect: It will stop some of the "good" bots that have long made up part of the fabric of Twitter.
Daniel, the 23-year-old student in Germany behind @MakeItAQuote, told BuzzFeed News he would have never started it if there were a fee attached. "It's a step in the wrong direction, as most of the API usage brings a lot of value to the platform," he said. "And the fact that even myself, operating one of the biggest bots on the platform, has to consider shutting it down is very concerning. There are a lot of awesome, less popular bots. I don't think any of them can be sustainable."
The exact pricing of API access is not yet clear, and representatives for Twitter did not respond to requests for clarification. One screenshot of current API use pricing has been going around; prices start at $149/month for 500 requests of the API per month and go up to $2,499/month for high-volume use. On Thursday evening, Twitter owner Elon Musk posted a tweet suggesting that access to the API would cost $100/month and require ID verification.
There's a long history of beloved bots on Twitter. @Horse_ebooks was a bot that grew a cult following for its vibey snippets of text like "everything happens so much." (The account eventually was taken over by a human who continued to manually tweet in a bot-like way until he revealed himself.)
Other bots are newsworthy, like @TrumpsAlert and @BigTechAlert, which tweet whenever Trump and his advisers or Big Tech CEOs, respectively, follow or unfollow a new person.
Álex Barredo, who runs @BigTechAlert, told BuzzFeed News he's open to paying a small fee to keep the popular bot running, but not if it costs $100 a month. He also has other options. He's aware that most of the actual spam bots don't even use the API to operate (which means charging for API access isn't really going to wipe out spam), so one option he's considering is to rework the bot so it doesn't need the API. He's also considering either open-sourcing it or moving it to its own website or a different platform.
"It was a fun thing, a thing that actually provided Twitter with more value," Barredo told BuzzFeed News.
Some bots are just pleasant and surprising additions to your timeline. Joe Schoech of Vermont runs @_restaurant_bot (random photos of restaurants from Google Maps), @_weather_bot_ (current weather conditions from randomized places around the world), @everygoodfella (screenshots of every second of the movie Goodfellas), and a few others. He also doesn't plan on paying and is considering moving them all to Mastodon.

"It's over," he told BuzzFeed News. "Bots are maybe the best part about Twitter! I follow a ton of them, they're cool and weird, and I will miss them. Fuck Elon, I never liked that guy."
Neil Freeman, who runs @everylotnyc, a bot that tweets photos of each lot on Google Street View from tax records, shares a similar sentiment. "Any amount of money would be too much to pay to post on a site that doesn't even ban Nazis," he told BuzzFeed news.
John Emerson, a designer and programmer in Brooklyn, runs 24 bots, mostly ones that tweet out images from the collections of various art museums. He told BuzzFeed News if he has to pay to keep the bots running, he'll abandon them. "I had ideas for other more active and interactive bots, but it's pretty clear Twitter is no longer a place for that kind of experimentation or innovation," he said.
Other bots are simply just fun. @ca_dmv_bot tweets out vanity plates that were rejected by the California Department of Motor Vehicles, along with the DMV's reasoning. The bot's creation was inspired by a Los Angeles magazine article about rejected plates, which revealed that they're often incredibly funny.
@ca_dmv_bot is run by RJ, a 15-year-old in California who requested that BuzzFeed News not use his full name for privacy reasons. At the current API usage rates, it would cost over $3,400 a year to keep @ca_dmv_bot running. RJ told BuzzFeed News over DM he might be willing to pay a lower amount, "but it'd have to come from tips/donation money entirely since I'm not paying a dime to Elon lol."
Rob Dubbin, founder of the collaborative scriptwriting app Scripto, created the bot @oliviataters — a bot that tweets out fragments that read like the ramblings of a teenage girl, which are based on snippets of text found through search on the API. He said that he had no plans to pay any amount to keep his bot going.
"Vichy Twitter had already stopped being a cool place to put bots or art in general, but the fact that until today you could still run your bots if you wanted to was a tether to a better time in its history, when it was more of a social canvas for goofy experimentation and feedback," Dubbin told BuzzFeed News. "Is charging for API access a good business idea? Who cares! It's another castle built on shit."
UPDATE
This post has been updated with quotes from Álex Barredo and Neil Freeman about their accounts and plans.

Correction: John Emerson runs 24 bots, 16 of which are dedicated to museums. An earlier version of this post misstated the number.