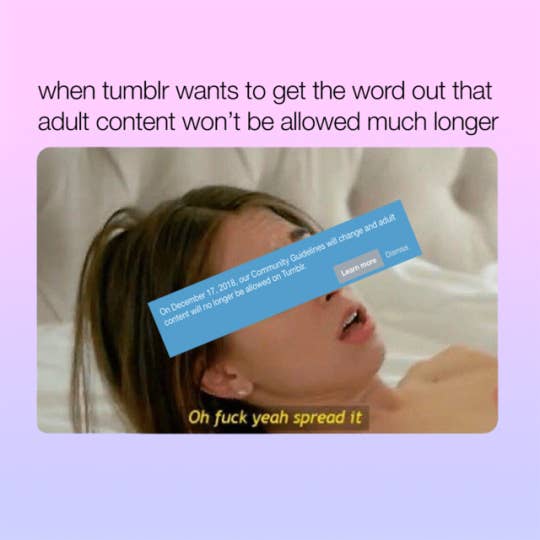 Today, Tumblr announced it will ban all adult content (with a few exceptions for wholesome nudes) starting in two weeks. After that, porn will become invisible to everyone but the owner of the blog where it's posted.
Allow me to illustrate how I feel about this decision using a photo I found on Tumblr (warning: NSFW):
This will kill a small but significant chunk of the internet. Much like this (warning: very NSFW) GIF, it's hard to even consider how to measure the impact of this — I'm guessing there are hundreds of thousands (millions?) of blogs that will be shut down and disappear forever. Some were abandoned years ago, but others are still very active. And god knows how many millions of individual posts contain what is deemed adult content.
(According to Tumblr's blog post, some forms of nudity, like gender-confirmation surgery photos or the weenus on Michelangelo's "David," will still be allowed. Though most "female-presenting nipples" are banned, breastfeeding and childbirth nudity will also be allowed. There was no mention on "unbirthing," the subgenre of vore where something — usually a cartoon furry — shoves another cartoon furry back up its vagina. A glaring oversight.)

This is not the beginning of the end of the internet as we know it. That began years ago, maybe starting with Yahoo's deletion of Geocities in 2009. (Yahoo also bought Tumblr in 2013 — are you sensing a pattern?) Then there was Myspace's removal of all your manicured Top 8s, and just recently, the removal of hotlinked images from Photobucket.
Now we're living through the middle of the end. At some point around 2020, we'll wake up, look around, and realize all our old photos from college are gone, we can't see our old wall posts from friends because we deleted Facebook in protest of whatever the 2019 outrage was, and worst of all, we have absolutely nothing left to jerk off to.
A lot what Tumblr is banning is just gratuitous porn GIFs, and the internet is not lacking options when it comes to free pornography. But Tumblr is also a thriving place for the kind of sexual expression that you won't find on Pornhub. "Tumblr sex sites created spaces for ALL KINDS of people who don't have access to sexual community elsewhere," wrote Steven Thrasher. It has always been a safe haven for young people exploring and expressing their sexuality. There is tasteful erotica, supportive places for people to post their own bodies — including those that don't look like typical porn bodies — and to consume and engage with the wide swath of human sexual experience that can't be replicated by logging on to xHamster and being greeted with a blast of extremely aggressive heterosexual facials.
And of course, where else could one go to see erotic fan art of the Laughing Cow cow having sex with the Lactaid cartoon cow? Personally, I enjoyed the funny crude/nude humor on Tumblr (I do a joint Tumblr, along with a few of my colleagues, called "Worst Things on the Internet," which is very NSFW), and I'll miss that. But I care more about the massive loss of internet history that will happen when all these images vanish forever.
This is especially painful coming a month after the announcement from Flickr that the site will soon limit free account holders to 1,000 photos and begin deleting old photos beyond that. This too will amount to a staggering loss of internet history — in this case, people's personal history and data. When a home gets hit by fire or flood, the destruction of old family photos is often one of the most heartbreaking details, and yet news of the looming deletion of millions of personal photos got little attention when Flickr first announced it.
Part of the death of the old internet is down to a series of bad moves by a handful of particularly bad companies. Flickr was bought by Yahoo for $35 million in 2005, and for a while was a great community and a safe place to store your Nikon Coolpix photos. But it fell out of favor for a bunch of reasons — Facebook and Instagram became better social networks for sharing photos, and the rise of smartphones and decline of digital cameras changed the way we take and store photos.
Yahoo was bought by Verizon in 2017, and under its umbrella formed a new subsidiary along with AOL called Oath. That corporate shuffle involved all the pain and layoffs you can imagine, and CEO Tim Armstrong resigned this fall. A bunch of the smaller pieces of Yahoo's and AOL's businesses were sold off — Moviefone was sold to MoviePass (we know how that went), and fashion site Polyvore was sold to an e-commerce site called Ssense, which promptly shut it down, converting its users to a mailing list. In June, Verizon closed down its streaming video site Go90, taking a write-down of $658 million in the process. This April, Flickr was sold to SmugMug, a photo storage company, which six months later announced its plans to delete a massive number of photos.
Tumblr was also part of this grim corporate dance: It was bought by Yahoo for $1 billion in 2013 (that's the same price Facebook paid for Instagram for in 2012, which, lol). Tumblr's founder, David Karp, left the company in November 2017.
"Like you, we love Tumblr and what it's come to mean for millions of people around the world," Tumblr's new CEO Jeff D'Onofrio wrote in the staff blog today about the change in policy around adult content. "Our actions are out of love and hope for our community."
Did Karp leaving Tumblr make it vulnerable to a new leader drastically changing the culture and DNA of the platform? Maybe! This isn't unprecedented. Instagram's founders, Kevin Systrom and Mike Krieger, left a few months ago due to rumored clashes over the Facebook-ification of their app. You may have noticed that there's been a lot more Facebook integration in your Instagram in the last couple of months.
But there's a more pressing issue that Tumblr's porn ban seems to be addressing. About two weeks ago, the Tumblr app disappeared from the Apple App Store, and a bunch of Tumblr blogs mysteriously went into "safe mode." On Nov. 16, Tumblr posted an announcement that it had discovered child exploitation content on private blogs.
Tumblr, like Gmail and other digital services, uses a database of known child exploitation images managed by the National Center for Missing and Exploited Children. The database offers a "hashed" form of the images — basically a digital fingerprint — that can be used for automated scanning. During a routine manual search, it discovered new images that weren't already part of the database. That's very bad.
D'Onofrio alluded to this incident today. "Posting anything that is harmful to minors, including child pornography, is abhorrent and has no place in our community. We've always had and always will have a zero tolerance policy for this type of content," he wrote.
It's unclear if the ban on adult content was a long-planned crackdown or a quick response to the recent discoveries, or some mix of the two. But it's not hard to imagine a scenario where executives at Verizon, upon hearing "hey, that weird not-too-profitable social network we own, that peaked in 2012? It's rife with the worst and most illegal images possible," threw up their hands and said fuck it, just ban all adult content, we're not paying for any more moderators. A representative for Oath pointed to the official staff blog in response to a request for comment.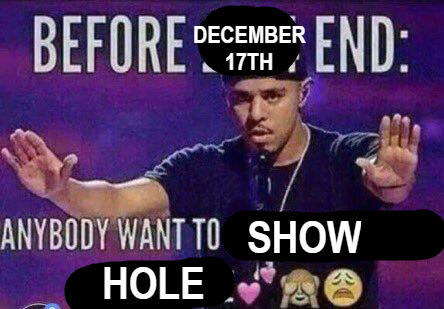 It's not easy to be a platform founded on the digital free speech ideals of the early to mid-2000s in this nightmarish year of our Lord Satan, 2018. Twitter was founded by people who described themselves as the "free speech wing of the free speech party," and in recent years, they have woken up to the idea that perhaps we need to do something about the Nazis on here. A few years ago, Google tried to make all adult content on Blogger — remember .blogspot.com? — go "private" (visible only to other Blogger followers), which would have affected things as innocuous as a blog that reviews romance novels. Google reversed the decision, but, I mean…who uses Blogger anyway? Craigslist removed its entire personals section this spring after Congress passed the Fight Online Sex Trafficking Act and Stop Enabling Sex Traffickers Act (FOSTA-SESTA), which holds websites liable for sex trafficking posts by users. This has had the unintended (or, some believe, totally intended!) effect of making sex workers' jobs more dangerous.

Tumblr allowed adult content from the beginning, and it ended up discovering a festering child porn problem. Moderating this stuff isn't easy or cheap — human moderators are expensive, and this kind of work is especially exhausting. There are real-world consequences to the festering hate on Twitter or Gab, and there are real victims of sex trafficking and child exploitation.
There are also real-world consequences, though much more subtle, to the wholesale deletion of the recent past on the internet. Our digital lives are our real lives, and digital culture — Tumblr culture — is real culture. When we lose that, we lose whole communities, friendships, methods of communication, jokes, and artifacts. Perhaps we never should have believed all this would last forever — are we all still going to be just tweeting things when we're 75? — but the march to delete the internet of the 2000s seems to be moving along much faster than the march to make today's internet a better place.