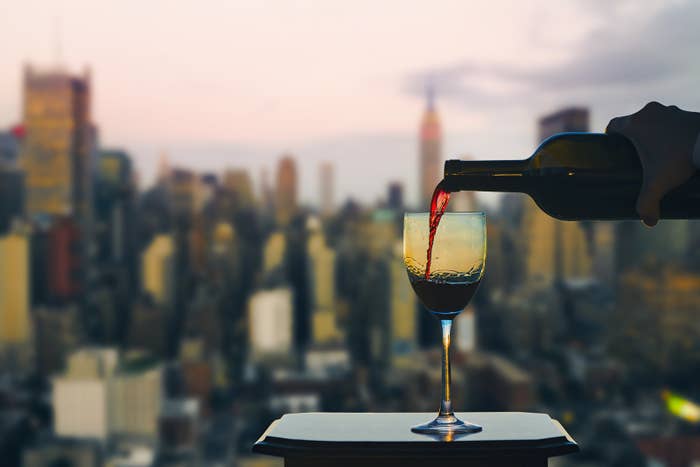 Chris Buetti had a problem: Dining out in New York was getting too expensive. He saw was one obvious solution — becoming an Instagram influencer and asking restaurants to give him free meals to post about them — but that process would be time-consuming and require annoying soft skills like "being good at taking photos" and "creating content people enjoy." Anyway, he already had a job.
So Buetti, a data scientist by trade, decided to use his actual skills and automate the hard work of influencing by writing a program that recruited an audience of 25,000 (by autofollowing their accounts in hopes of getting a follow back), and reposted photographers' eye-catching photos of New York City for his growing entourage to engage with ("😍🤗🤗🤗great shot💕," one person commented). Poof: @beautiful.newyorkcity was born — an active, popular, and 100% artificial Instagram account. For Buetti, it's the perfect solution if you don't want to actually dedicate time to curating an online following, but still want to score free spaghetti from restaurants seeking publicity. His program even finds restaurant accounts in New York, and sends them direct messages offering to promote them to followers in exchange for a comped meal — and no, it does not disclose that @beautiful.newyorkcity is run by a robot.
Behold the latest chapter in the dark art of social media influencing, which despite being widely plagued with bots and fake engagement, continues to attract real interest from marketers and businesses. Buetti's account has (at least some) real followers, but the influencing itself is being handled by some code rather than an eager personality. It's a lifestyle brand generated by something that's not alive.
Buetti isn't stopping at @beautiful.newyorkcity either. He also cofounded Social Rise Consulting, which uses similar tactics to grow clients' followings online (for now, that's namely mass following accounts to get follow backs). So far, Social Rise has 42 clients, according to its website. It's all part of Buetti's portfolio of automation-related work; he considers the free food hustle a showcase for his talents as a data scientist, which he detailed in a Medium post. Buetti told BuzzFeed News so far @beautiful.newyorkcity has earned him about 10 free or discounted meals at some pretty nice restaurants.
Does his scheme foreshadow a future in which influencing is automated? Buetti says there's no reason influencing has to be personality driven — there's another kind involving impersonal aggregators. "@FuckJerry is where I got the idea," he said, referencing the controversial meme kingpin. "He never needs to show his face, he just posts memes he finds on the internet; mostly he just steals them." He saw this as the perfect use case for automated posting: "I was thinking, this guy never needs to touch [by hand] his account ever."
But is it ethical for a man to get a free lunch based on a following his bot generated using a bunch of photos reposted without photographers' permission? "None of the content my account posts is owned by me," he wrote on Medium, but his program automatically credits photographers' handles when it reposts their images (one of the photographers BuzzFeed News reached out to, Christina Danza, aka @downtownnative, didn't mind that her work was reposted by AI).
In the end, Buetti argues, a post from an automated account is worth as much to an advertiser as an endorsement from an account run by, you know, a human. He said several restaurants have followed up, saying customers came in after seeing their food posted on @beautiful.newyorkcity (the sponsored posts are labeled as ads). "I spent a lot of time and effort writing this script and I'm offering them a service and they're offering me a free meal," Buetti said.
BuzzFeed News contacted one restaurant owner who gave @beautiful.newyorkcity a $25 dining credit in exchange for a post, and described how Buetti's automated account works. "I guess in the end we were satisfied because it's still an ad posted and showing us to their followers," said the owner, who nonetheless asked to remain anonymous to prevent other would-be influencers from trying to dine for free.
Advertisers may not mind, but human influencers are wary of automating their profession. "To be honest, seeing someone create such a large following through automation and AI is pretty discouraging for me, and for anyone else who has put blood, sweat, and tears into building their online brands," Skyler Bouchard (@diningwithskyler), a New York City–based food Instagrammer with 175,000 followers, told BuzzFeed News. "But it's also kind of fascinating."
Last year, influencer marketing company Mediakix ran a stunt in which it created a fake travel influencer — @wanderinggirl — using stock images, and bought fake followers. To test how vulnerable businesses were, it then reached out to hotels and restaurants asking for freebies (Mediakix declined all offers in the end). Evan Asano, founder and CEO of Mediakix, called Buetti's approach "pretty sophisticated and not something that can be easily replicated by the masses" compared to simply buying followers. But he warned, "most of Instagram is influencer and personality-driven, and this type of posting can't ever replace the draw of personalities."
Skyler Bouchard agrees. "Being human still has the most power when it comes to influencing others, and nothing beats that."
Instagram may not allow Buetti and his cohorts to mooch off @beautiful.newyorkcity without putting in at least some effort for long (Buetti gave the log-in to a friend, and said he has moved on to other accounts). A representative for Instagram told BuzzFeed News certain kinds of automation, in particular sending DMs, are in violation of the terms of service.
Buetti told BuzzFeed News he's given up the free meal racket for now — it just wasn't worth his time and effort to schlep across Manhattan neighborhoods just for a free dinner. "I'd rather do something where I can see the dollars in my bank account going up," he said. He's also considering an attempt at traditional food influencing, with real photos of himself.