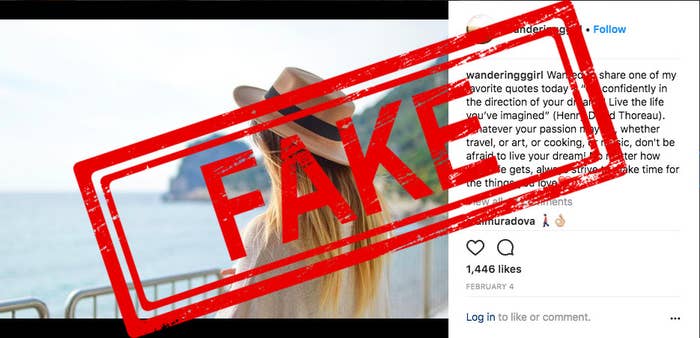 "Bali has been such an unforgettable experience, this is a destination you MUST have on your bucket list!" read a caption by Amanda Smith, @wanderingggirl, in a May Instagram of herself lying in a hammock in a treehouse overlooking a lush jungle. A few weeks earlier, she was in New Zealand, posting photos of breathtaking views of the ocean and cliffs. A few weeks earlier, she posted droolworthy tacos in Tulum, Mexico. Before that, she was in Europe, posting photos of a ski gondola. She appears to have no obvious job other than thanking hotels and restaurants occasionally and being a beautiful, blonde travel influencer.
On some level, none of these photos should have been posted — and it's a miracle Amanda Smith still lives. If her name sounds familiar, it's probably because you've already heard of @wanderingggirl before: It's the handle of an Instagram influencer with 63,000 followers who turned out to be a total fake, a persona created by a team at digital marketing agency Mediakix. They curated a glamorous feed of stock photos and bought followers as an experiment to see how easy it would be to get brand endorsement deals with a fabricated account.

Mediakix came clean to the press last summer about its stunt to make a point about how far a fake influencer could go and show how brands and advertisers aren't savvy about looking out for fake followers or fake engagement on Instagram. It expected Instagram to shut down @wanderingggirl after it went public about the hoax — but it didn't. So Mediakix decided to keep going, this time with the travel industry.
For its second act, Mediakix said it selected eight hotels and nine restaurants in Philadelphia, Nashville, and a few other midsize cities. It stuck with well-rated places from TripAdvisor, but not the priciest or absolutely best-rated places. It reached out over email asking for a free stay or meal in exchange for a social media post.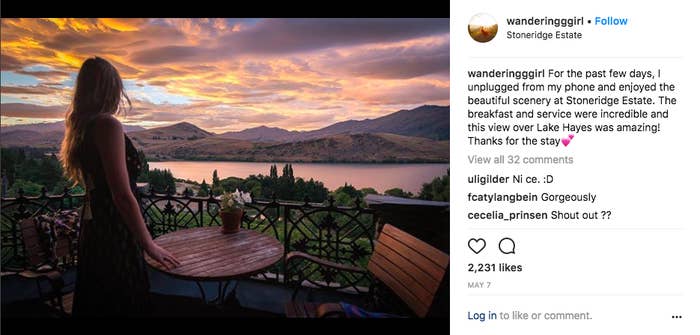 Instagram has become an important platform to the hospitality industry, especially restaurants, for whom becoming a 'gramworthy destination can make or break the business, making it as critical as Yelp or TripAdvisor ratings. So the hospitality industry is awash in Instagram influencers asking for freebies in exchange for a few grams.
"That's an area where we think it's really pervasive," said Mediakix CEO Evan Asano. (The firm's methodology is featured on its blog today.) "Not everyone can or has the resources to vet it out. Influencer marketing is exploding and these small businesses see that and want to be part of it and just say yes."
Yet the world of influencer marketing is fraught. It's very cheap and easy for a fake account owner to buy fake followers and fake engagement, as a recent BuzzFeed News investigation into Instagram illustrated.
"We'd love to host you. Would you be able to guarantee a post on your feed as well as Stories?"
While the virtues of deliberately punking businesses to prove a point is questionable, Asano asserted to BuzzFeed News that Mediakix is really the good guy here. "The bad actors are the people who are out there doing this, approaching business like hotels or restaurants and having bought their audience at some point," he said.
Asked about the survival of @wanderingggirl even a year after revealing itself as a fake, Asano said, "We don't expect the industry to change instantly, but there's been a huge increase in awareness of the problem."

Kate McCulley (@adventurouskate) is a real travel influencer and photographer from New York who agrees the problem of fake followers is real. "There are so many influencers that buy followers, and even more that use bots on Instagram."

Chloe Ting (@chloe_t), an Australian travel vlogger and fitness influencer, told BuzzFeed News, "You can easily tell [someone is using bots] by looking at the activity page and seeing these accounts liking photos from all over the world and being online 24/7."
As for @wanderingggirl, this time, four of the eight hotels Mediakix contacted offered Amanda Smith a free or discounted room. (Mediakix never actually took advantage of the offers.)
"We might be able to make this work, but would be looking for 5-10 high-res images with non-exclusive usage rights in order to do a trade," wrote back a hotel in Scottsdale, Arizona. "We are launching a new restaurant at the end of June and would love to get some content of the space and food as a part of this trade."
"We might be able to make this work, but would be looking for 5-10 high-res images..."
Another hotel wrote, "unfortunately we cannot do a full trade, but we would be happy to give you our corporate rate."
For the restaurants, only one of the nine rejected the offer. "We'd love to host you," replied one Nashville restaurant. "Would you be able to guarantee a post on your feed as well as Stories?"
Contacted by BuzzFeed News, none of the hotels or restaurants replied to requests for comment. Instagram did not respond to a request for comment.
With shady operators in the influencer business, "It's brands' responsibility to research the influencer as well," McCulley told BuzzFeed News. "I feel bad for small brands that got swindled by faux influencers, but in this day and age, it's getting harder to claim ignorance."
Yet as the success of @wanderingggirl shows, it's often too tempting for businesses to buy into the illusion.