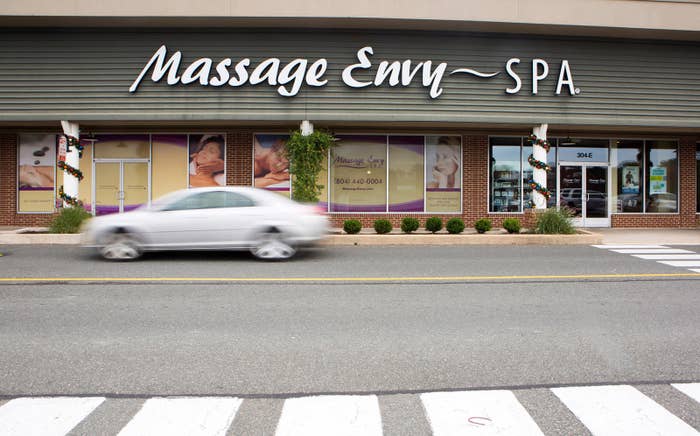 Sixteen women claim they were sexually assaulted at Massage Envy spas in two lawsuits recently filed in California and Florida, adding to the hundreds of women who say they were abused by therapists employed by the billion-dollar massage chain.
Their attorney said many of the women came forward after BuzzFeed News' 2017 investigation, which found that more than 180 women had filed sexual assault lawsuits, police reports, and state board complaints against individual Massage Envy spas, their employees, and the national company. Many of those women said their claims were mishandled or ignored.
At least a dozen other people around the country have also claimed that they were sexually assaulted by Massage Envy therapists in separate lawsuits brought since BuzzFeed News' investigation last year, court records show.
Shortly after the BuzzFeed News report, Massage Envy, the US's largest chain of massage franchises and employer of massage therapists, announced sweeping changes in how it instructs its spas to handle sexual assault allegations. But Massage Envy still does not require its franchisees to report sexual assault of customers by massage therapists to law enforcement or state licensing boards.

Some of the Jane Doe plaintiffs in the two new lawsuits went to Massage Envy for relief from pain following double mastectomies and spinal injuries, or to recover from childbirth. A mother and daughter came to the spa to celebrate Mother's Day. Instead, the lawsuits claim, these women suffered assaults on the massage table ranging from groping and digital penetration to vaginal and anal rape.
A July lawsuit filed in San Mateo County, California, includes claims that multiple women were sexually assaulted by two Massage Envy therapists even after those therapists had been reported to their franchisees and the corporate office for sexually assaulting other customers.
After one woman told a Northern California Massage Envy that she was raped by a massage therapist during a November 2017 session, the spa owner told her the therapist would not be fired because his story "did not match up" with hers, the lawsuit claims.
An August lawsuit filed in Palm Beach County, Florida, includes claims from the mother and daughter who purchased a Mother's Day package for two in May 2017. They asked for female massage therapists at a Florida Massage Envy spa in advance but were told when they arrived that none were available. Then, the lawsuit claims, both women were sexually assaulted in separate rooms.
Massage Envy has "systematically and intentionally conspired and concealed" sexual assault complaints, attorneys Jennifer Lipinski and Brian Kent wrote in the lawsuit.
"Massage Envy's policy of telling staff to 'not go to police' was singularly designed to continue its profit and protect the brand at the expense of the safety of unsuspecting customers," they wrote.
Massage Envy said it couldn't comment on active litigation but noted that the lawsuits mostly refer to incidents prior to BuzzFeed News' November 2017 investigation. (The new claims date from 2016 to 2018.)
"We believe victims are finding their voice and feeling more comfortable reporting (and in some cases filing lawsuits), which was anticipated" in the wake of BuzzFeed News' investigation, a spokesperson said. "We can tell you that we remain committed to our Commitment to Safety plan, which is further strengthening our existing policies. Safety is and will always be our priority and we will never stop working on it."
Kent, one of the lawyers who filed both lawsuits, said more sex abuse lawsuits would be brought against Massage Envy later this week in New Jersey, Pennsylvania, and Delaware.