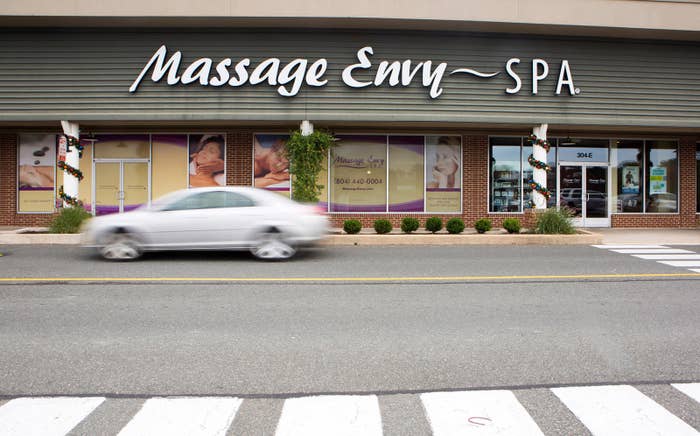 Massage Envy, the billion-dollar international massage chain, announced sweeping changes today in how it will instruct franchisees to handle sexual assault allegations.
The changes come just over a week after a BuzzFeed News investigation found that more than 180 women have filed sexual assault lawsuits, police reports, and state board complaints against Massage Envy spas, their employees, and the national company. Many of those women say their claims were mishandled or ignored.
The company has until now instructed spa owners to conduct their own inquiries into misconduct claims, but provided almost no guidance on how to do so, and has not told spas to contact police or state regulatory boards except in the few places where local laws require it. Some spas kept massage therapists on staff even after multiple misconduct complaints, or allowed them to move on to other locations.
On a conference call with reporters, Joseph C. Magnacca, Massage Envy Franchising's CEO, said the company had "certainly felt the impact" of recent news and that there had been a "relatively moderate" drop-off in membership.
"While we believe the BuzzFeed story did misrepresent our brand, it also gave us new perspective on these issues, and led us to look carefully at how we can do more," said Melanie Hansen, the company's general counsel. "The Commitment to Safety plan we announced this morning is the outcome of that work."
According to the new plan, if a Massage Envy client reports sexual assault, spas will be required to offer contact information for local law enforcement, as well as a private room in which to call if the person chooses to do so.
In addition, the 20,000 massage therapists employed at nearly 1,200 Massage Envy spas will now undergo background checks every year, rather than only when they are hired. The company also announced a partnership with RAINN, the nation's largest anti-sexual violence organization, which will review Massage Envy's sexual assault policies and procedures, set up a specialized reporting hotline, and serve on the company's new safety advisory council. Danielle Dick, one of the victims interviewed by BuzzFeed News, will also serve on that council.
"These types of culture changes take time," Kati Lake, RAINN's vice president of consulting services, told BuzzFeed News. "We chose to partner with Massage Envy because we saw that dedication and commitment that we'll need over the next few months when we dig into these difficult issues."
Dick released her own statement, in which she praised the new policies. "Massage Envy leadership has finally demonstrated that they are taking this issue seriously, and that they are committed to establishing themselves as a leader in this area," she said.
Some current and former Massage Envy employees expressed less optimism about the changes.
"I'm happy that they're finally doing something, but why did it take so long?" said Stephanie, a massage therapist and staff trainer who has worked at Massage Envy for more than five years. "Why did they have to get called out to finally do something?"
After BuzzFeed News's report, dozens of people wrote in to share their own experiences. Many complained that Massage Envy spas also mishandle allegations by employees, against colleagues or clients.
"While the initial changes seem promising on the surface, when you really look at the substance of what they're saying, there's still a lot to be desired," said Shelby Bryant, who worked at a Massage Envy spa until earlier this year. "Especially for the employees, considering they were specifically not mentioned in the release." Asked about allegations by employees, Massage Envy clarified that they would be handled in the same way as allegations by clients.
"Just as our therapists, managers and franchisees are ready, willing and able to ensure the safety of members and guests, we, too, are laser focused on providing a safe environment for those 20,000 therapists who make the business what it is today, and what it will be tomorrow," Hansen said.
Massage Envy had long been aware that sexual assault allegations were a problem, according to interviews with former corporate employees and internal documents.
"These changes are important, but they've known about this for years," said one former corporate employee who would only speak anonymously because of a non-disparagement agreement. "This would have continued going on for years if they weren't forced to act now."
In the past, Massage Envy has argued that as a company that sells franchise agreements rather than an employer of individual massage therapists, it couldn't control day-to-day operations at spas and should bear no liability in clients' sexual assault lawsuits. In some cases, lawyers representing Massage Envy intimidated women who were sexually assaulted at spas, and even blamed them for the incidents, according to a follow-up article in the Miami New Times. The company said on the call that it would not comment on pending litigation. One sexual assault civil case against the national company is scheduled to go to trial in January.
At least two lawsuits have been filed since BuzzFeed News' initial report. A New York woman said she told a spa that she was "sexually attacked" by an employee, but he wasn't fired, even though the spa knew of his "propensity and history for such actions." In Nevada, a woman said her massage therapist touched her breasts and stuck his finger in her vagina.