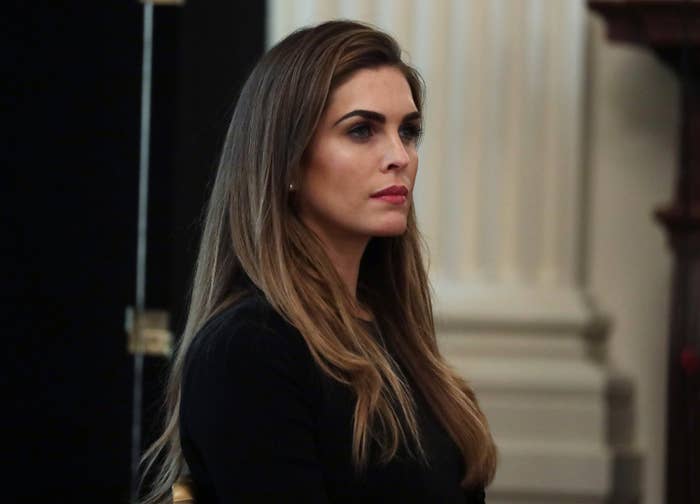 Update: President Donald Trump and Melania Trump announced on Friday morning they have COVID-19. Read full coverage here.
WASHINGTON — Hope Hicks, one of the people closest to President Donald Trump, has tested positive for the coronavirus.
"So she did test positive. I just heard about this. She tested positive," the president told Sean Hannity on Fox News on Thursday night. "She's a hard worker, lot of masks. She wears masks a lot. But she tested positive."
Trump added that both he and first lady Melania Trump had taken a test after the news, and the results hadn't come in yet.
Soon after the interview aired, he tweeted that he would begin to self-quarantine, but did not specify what that would entail. Trump currently has a packed Friday schedule planned, including a campaign rally in Florida.
"I just went out for a test. They just do it. It'll come back later, I guess. And the first lady also, because we spend a lot of time with Hope. And others," Trump told Hannity. "So we'll see what happens."

Multiple news outlets reported Thursday that Hicks tested positive after traveling to Ohio on Air Force One with the president for Tuesday's first presidential debate. Hicks was with Trump as recently as Wednesday, when she traveled with the president for a Minnesota campaign rally.

Hicks is the latest member of the administration to test positive for the virus. More than 7 million Americans have tested positive for COVID-19 since the pandemic was declared in March. And last week, the country surpassed 200,000 coronavirus-related deaths.

"The President takes the health and safety of himself and everyone who works in support of him and the American people very seriously," White House spokesperson Judd Deere said in a statement. "White House Operations collaborates with the Physician to the President and the White House Military Office to ensure all plans and procedures incorporate current CDC guidance and best practices for limiting COVID-19 exposure to the greatest extent possible both on complex and when the President is traveling."
Hicks served as the White House communications director for less than a year in 2017. She was named counselor in the administration in February 2020. During her break with the administration, she was a witness during the Mueller hearing, where she stonewalled members of Congress, refusing to answer questions related to her time on the campaign.

Wire photos on debate night show members of the Trump family, including Ivanka, Don Jr., and Tiffany Trump, entering the auditorium at Samson Pavilion of the Health Education Campus, all wearing masks. All but Melania appeared to remove their masks once they were seated. Attendees who came to support Joe Biden wore masks and sat on the other side of the debate hall. The Biden campaign did not immediately return questions about whether any of the Democratic nominee's supporters came into contact with Hicks.