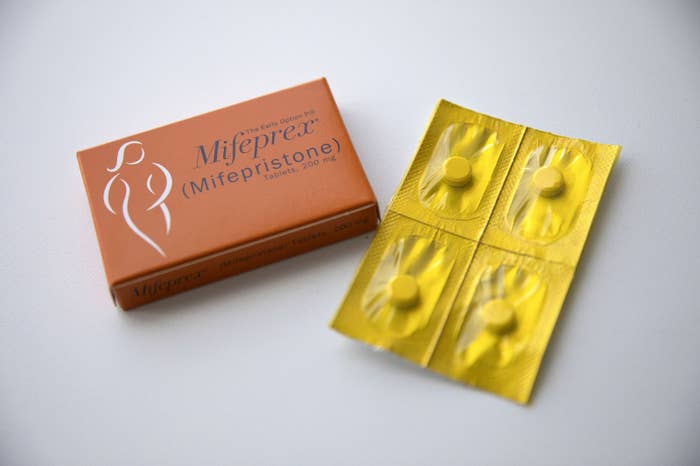 The abortion pill mifepristone can remain on the market, but with tight restrictions that would severely reduce access to it nationwide, a federal appeals court ruled Wednesday night.
As part of the three-judge panel's ruling, mifepristone could not be sent to patients by mail, and the latest it could be used to end a pregnancy was dropped from 70 days down to 49, or about seven weeks, before many people know they're pregnant.
The case is now likely to head to the Supreme Court.
The Wednesday decision came less than a week after a conservative federal judge in Texas ruled to suspend the FDA's approval of the drug, saying regulators had failed to consider "the psychological effects of the drug or an evaluation of the long-term medical consequences of the drug." US District Judge Matthew Kacsmaryk, based in Amarillo, Texas, made the ruling on Friday but put the suspension on hold for seven days in order to allow the Biden administration a chance to appeal.
On the same day as Kacsmaryk's original decision, US District Judge Thomas O. Rice, a federal judge in Washington state, issued a competing ruling to prohibit the FDA from pulling the drug off the market. That ruling, however, would only apply to the 18 plaintiff states in the case, which include Washington, Oregon, Arizona, Colorado, New Mexico, and Vermont.
A judge ordering the removal of an FDA-approved drug — especially one that's been in widespread use for over 20 years — is an unprecedented decision, and it was not immediately clear what the two opposing rulings would mean for nationwide abortion access.
Wednesday's ruling essentially walked back many changes the FDA had made since 2016 that made it easier for patients to access medical abortion, including allowing abortion medication to be prescribed by providers other than doctors, to be dispensed by mail, and to be used later in pregnancy. The appeals court judges wrote that it would be "difficult" to argue that these changes "were so critical to the public" given that the US was "without them for sixteen years."
The judges voted 2–1 to tighten these restrictions. The two who voted in favor, Judges Kurt Engelhardt and Andrew Oldham, were appointed by President Donald Trump. The one against, Judge Catharina Haynes, a President George W. Bush appointee, supported temporarily blocking Kacsmaryk's order until they could hear oral arguments.
Since the Supreme Court overturned Roe v. Wade in June 2022, mifepristone — one of two drugs used in medication abortions, often referred to more simply as the "abortion pill" — has become more crucial than ever, particularly in states where abortion is now banned or seriously restricted. Of the hundreds of thousands of abortions administered every year across the US, more than half are done by medication, according to a 2022 survey from the Guttmacher Institute.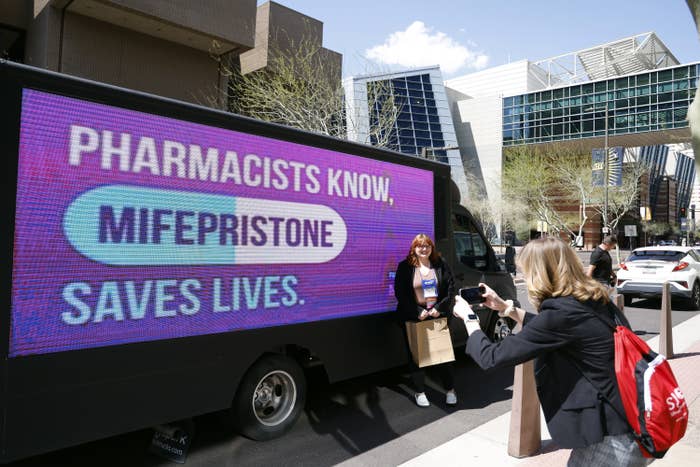 Medication abortion is usually carried out by ingesting two pills: mifepristone, which blocks the hormone progesterone and stops a fetus from developing, and misoprostol, which induces the expulsion of pregnancy tissue from the uterus. The drug, which must be prescribed by a healthcare provider, was approved for use in the US in 2000.
The Texas judge's original ruling stemmed from a lawsuit brought by the anti-abortion group Alliance for Hippocratic Medicine, which aimed to force the FDA to withdraw its approval of the drug by emergency order.
During a hearing for the case in March, Erik Baptist, the group's attorney, suggested mifepristone could be harmful or even deadly. In reality, scientific evidence overwhelmingly shows that mifepristone is safe. As of 2018, FDA data shows, 24 people out of 3.7 million have died after taking mifepristone, though their deaths could not be conclusively tied to the drug. Department of Justice attorneys, who defended the FDA, said 99.9% of mifepristone users show no major side effects.
Kacsmaryk, who was appointed as a judge in 2019 by then-president Trump, has a long history of staunchly conservative beliefs and rulings. Last year, he ruled that minors in Texas could not access birth control without a parent's permission.
He has also expressed significant and repeated opposition to the rights of LGBTQ Americans. In a 2015 journal article, he criticized federal protections for LGBTQ individuals, arguing that instituting these laws would "give no quarter to Americans who continue to believe and seek to exercise their millennia-old religious belief that marriage and sexual relations are reserved to the union of one man and one woman." In a 2016 media article, he slammed a school district for allowing a trans student to use the bathroom matching their gender identity, and he also served as the defense attorney for the owners of an Oregon bakery who had refused to bake a wedding cake for a same-sex couple.
The Supreme Court has not yet indicated whether it will step in to rule on the case, but the DOJ has already said it intends to ask the court to do so. "The Justice Department strongly disagrees with the Fifth Circuit's decision … to deny in part our request for a stay pending appeal," Attorney General Merrick B. Garland said in a statement on Thursday. "We will be seeking emergency relief from the Supreme Court to defend the FDA's scientific judgment and protect Americans' access to safe and effective reproductive care.